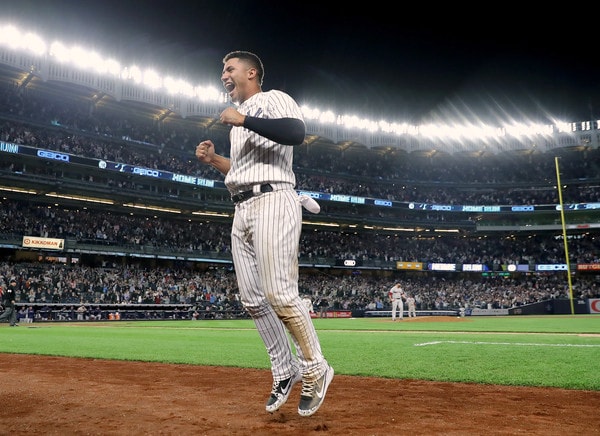 It is May 10th, the Yankees are not yet one-quarter of the way through the 2018 season, and here they are trying to win nine straight games for the second time this year. Incredible. The Yankees are 17-1 in their last 18 games and they've played those 18 games against the best non-Yankees teams in the American League. What a run this is.
CC Sabathia is on the mound tonight trying to clinch the sweep — the Red Sox have hit .227/.283/.367 (73 wRC+) against southpaws this season, I should note — and gosh, I could really go for a blowout win. So could the bullpen. Don't get me wrong, all these comeback wins are awesome. A nice stress-free blowout win would be cool though. Score runs early, let the big man and B-team relievers take it home. Here are the lineups:
New York Yankees
1. CF Brett Gardner
2. RF Aaron Judge
3. SS Didi Gregorius
4. LF Giancarlo Stanton
5. C Gary Sanchez
6. 1B Tyler Austin
7. DH Miguel Andujar
8. 2B Gleyber Torres
9. 3B Ronald Torreyes
LHP CC Sabathia
Boston Red Sox
1. CF Mookie Betts
2. LF Andrew Benintendi
3. DH Hanley Ramirez
4. RF J.D. Martinez
5. SS Xander Bogaerts
6. 1B Mitch Moreland
7. 2B Eduardo Nunez
8. 3B Rafael Devers
9. C Christian Vazquez
LHP Eduardo Rodriguez
It is cool and cloudy in the Bronx tonight and the internet tells me there is some rain in the forecast later on. Hopefully it's nothing that delays the game. These Yankees vs. Red Sox games are long enough as it is. Tonight's game is scheduled to begin at 7:05pm ET and you can watch on WPIX locally and MLB Network out of market. Enjoy the game.