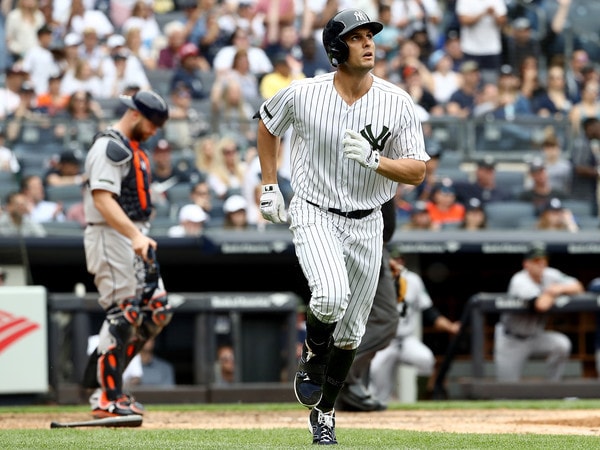 The Yankees lead the 2018 version of the 2017 ALCS three games to two. They took three of four in Houston a few weeks ago before dropping yesterday's opener at Yankee Stadium. A win tonight clinches the season series victory. A loss sends the season series to a decisive Game Seven tomorrow. There'd be much less at stake in that Game Seven than the last one though.
Anyway, CC Sabathia is on the mound tonight and the Yankees are looking for him to bounce back from three subpar starts. Last time out Sabathia was excellent for three innings before the wheels came off in the fourth. With Domingo German and Sonny Gray still finding their way, it sure would be cool if Sabathia could get back on track and be that steady third starter. Here are tonight's lineup:
New York Yankees
1. LF Brett Gardner
2. RF Aaron Judge
3. 1B Greg Bird
4. DH Giancarlo Stanton
5. C Gary Sanchez
6. SS Didi Gregorius
7. CF Aaron Hicks
8. 3B Miguel Andujar
9. 2B Gleyber Torres
LHP CC Sabathia
Houston Astros
1. RF George Springer
2. SS Alex Bregman
3. 2B Jose Altuve
4. 3B Yuli Gurriel
5. DH Evan Gattis
6. 1B J.D. Davis
7. LF Marwin Gonzalez
8. C Max Stassi
9. CF Tony Kemp
RHP Charlie Morton
Nice warm evening for baseball. A little too humid for my liking, but I'll live. Tonight's game will begin at 7:05pm ET and you can watch on WPIX locally and MLB Network out of market. Enjoy the game.
Awards!: Congrats to Gleyber Torres, who was named the AL's Player of the Week for last week. He went 7-for-19 (.368) with five homers last week. Beating out Shohei Ohtani for AL Rookie of the Month — Ohtani is hitting .254/.371/.458 (133 wRC+) with a 2.25 ERA (2.71 FIP) in May — won't be easy, but Torres has a chance to do it. Gleyber is the first Yankee to be named AL Player of the Week since Didi Gregorius last month, during the week of April 29th.