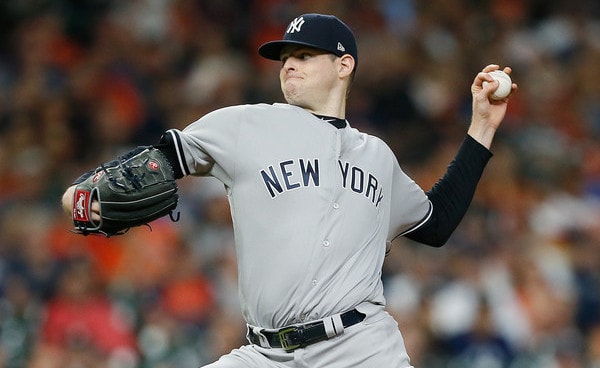 9:00pm ET: Montgomery left the game with left elbow tightness and will return to New York to be evaluated tomorrow, the Yankees announced. Yuck.
"We didn't have any concern (before the game), but yeah, always when a pitcher comes out with forearm/elbow tightness, that's a concern," said Aaron Boone during an in-game MLB Network interview. "Hopefully we can get some answers on it tomorrow."
8:38pm ET: Jordan Montgomery left tonight's start after one inning with an injury. He tossed a 1-2-3 first inning on seven pitches and looked like regular old Jordan Montgomery, though replays showed him flexing his left arm a bit as he walked off the field. That's not good. His velocity was fine though.
Here's the video of Montgomery's final pitch and the arm flex:
The injury just happened, so the Yankees have yet to announce any updates. It goes without saying losing Montgomery for any length of time would really suck. Domingo German, who replaced Montgomery out of the bullpen, is presumably next in line for a rotation spot.
For what it's worth, Montgomery has been very durable throughout his career, all through the minors and college. He hasn't missed a start since high school, maybe earlier. There's no injury history here. Hoping for good news. Fingers crossed.