Oh well, can't win 'em all. The Yankees lost for only the fifth time in their last 27 games Tuesday night, dropping the middle game of the series 6-4 to the Rangers. The sixth starter against the other team's ace went how the sixth starter against the other team's ace usually goes.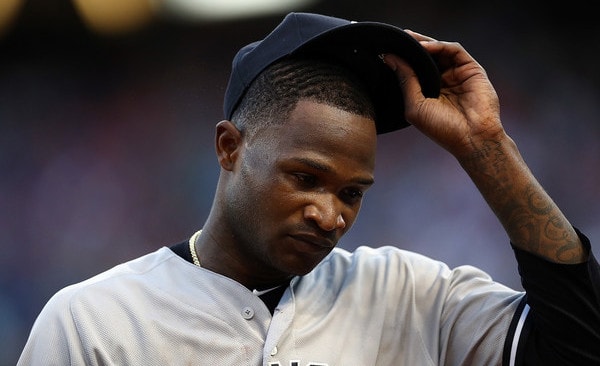 Wild Domingo
Domingo German was pitching for the first time in ten days Tuesday night and boy did it show. His first two innings featured three walks, a hit batsman, three wild pitches, five runs, and 53 total pitches. An infield single and a walk set up Jurickson Profar, he of the .336 SLG since 2013, for the three-run home run in the first inning. To dead center field too. German left a fastball out over the plate and Profar muscled it out.
The second inning was a total mess. The Rangers scored two runs without a hit, and they didn't even hit a ball out of the infield. German plunked Robinson Chirinos to start the inning, moved him to second with a wild pitch and a grounder, then allowed him to score on a strikeout/wild pitch. Two walks and a weak grounder to first base pushed across another run. German's pitch locations in that second inning tell the story: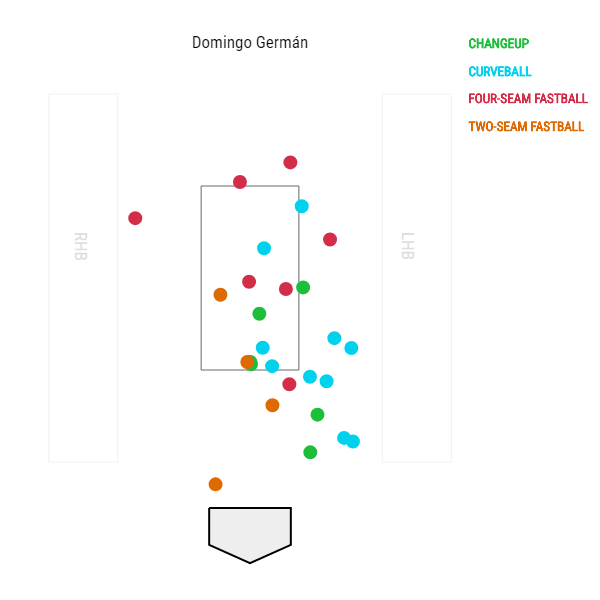 All over the place, and mostly out of the strike zone. German threw 27 pitches in that second inning and only 13 of them were strikes. Five runs and only two hits allowed in two innings? With no errors made behind him? That is frustrating. German gave the Rangers way too many free baserunners and they took advantage. By time he (kinda sorta) settled down, it was too late.
German's final line: 3.2 IP, 4 H, 6 R, 6 ER, 3 BB, 6 K, 3 WP, 1 HB, 2 HR on 85 pitches. All he needed was a balk to complete pitcher bingo. The good: German struck out six and got six ground outs compared to zero in the air. The bad: Literally everything else. Little Sunday has allowed 12 runs and 17 baserunners in two starts and 8.2 innings since throwing six no-hit innings in his first career start.
Hole Camels
I will be disappointed if at least one of the tabloids doesn't run a "Hamels shows Yankees why they should trade for him" piece in the morning. The Yankees had their hands full with Cole Hamels all night, scoring just two runs in seven innings against the veteran southpaw on solo homers by Gleyber Torres and Miguel Andujar. The box score says Hamels put six men on base in his seven innings but I don't believe it. Seems wrong.
Hamels threw 100 pitches on the nose in his seven innings and, of the 28 batters he faced, only six hit the ball out of the infield. His average exit velocity allowed: 83.1 mph. That's all. Torres and Andujar crushed solo homers, so that's cool. Basically nothing else Hamels allowed was hard hit. He has that new slider this year and he was throwing it under the hands of New York's righties all night. Really effective pitch. His final line: 7 IP, 4 H, 2 R, 2 ER, 0 BB, 7 K, 2 HR on 100 pitches. Not much more to say. Very good pitcher was very good.
Late Rally Falls Short
The Yankees did make things interesting in the eighth inning, after Hamels was out of the game, so that's cool. Lefty Jake Diekman came on for the eighth and he allowed a single to Giancarlo Stanton and a two-run homer to … Austin Romine? Austin Romine! That's homers in back-to-back at-bats for Romine going back to the Royals series. He went opposite field too. How about that?
Didi Gregorius stroked a single — he swung 3-0 against Diekman, who went into the game with 14 walks in 16 innings — after the Romine homer, bringing the tying run to the plate. Alas, Tyler Austin expanded the zone and struck out, then Andujar grounded out to first base to end the inning. The Yankees had the two young hitters with power with the platoon advantage representing the tying run in the eighth inning, and both made outs. Rats.
Leftovers
Why was Romine in the game? Because Gary Sanchez left the game in the sixth inning with cramping in his calf. Doesn't sound like a big deal. With the off-day Thursday, I would bet the farm on Sanchez sitting out Wednesday's series finale to give the calf two straight days to heal up. Second time this season Gary's had to leave a game with cramps in his calf. Stay hydrated, dude. Eat a banana.
Nice work for the bullpen after German's exit. Well, maybe nice is an overstatement. A.J. Cole, Chasen Shreve, and Gio Gallegos combined to put seven men on base in 4.1 innings. They also struck out six and didn't allow a run. Yankees pitchers walked eight batters in this game. Way too many, especially against a crummy hitting Rangers team.
Torres had a homer and a single, and Sanchez had two walks. They were the only Yankees to reach base multiple times. Aaron Hicks, Stanton, and Gregorius all singled while Romine and Andujar homered. The 4+ homers and 8+ extra-base hits streaks ended at three games apiece. One more homer and the Yankees would've set a new record for consecutive games with 4+ homers. Alas.
And finally, congrats to Aaron Boone for his first career ejection (as a manager). He was tossed for arguing balls and strikes in the sixth inning. Boone gave home plate umpire Pat Hoberg a mouthful but absolutely did not get his money's worth. Throw a hat, kick some dirt next time, skip.
Box Score, WPA Graph & Standings
ESPN has the box score and updated standings, and MLB has the video highlights. Here's our Bullpen Workload page and here's the loss probability graph:

Source: FanGraphs
Up Next
The final game of the series and the final game of the road trip. The Yankees will look to clinch their ninth consecutive series win Wednesday night. CC Sabathia and Doug Fister will be on the bump.