You can not defeat the Yankees. You can only make them stronger. Another day, another miraculous comeback, another win. The Yankees beat up on Craig Kimbrel on Wednesday night to earn a thrilling 9-6 win over the Red Sox. They're now 17-1 in their last 18 games and they've played all 18 of those games against the best non-Yankees teams in the American League. You're watching history, folks.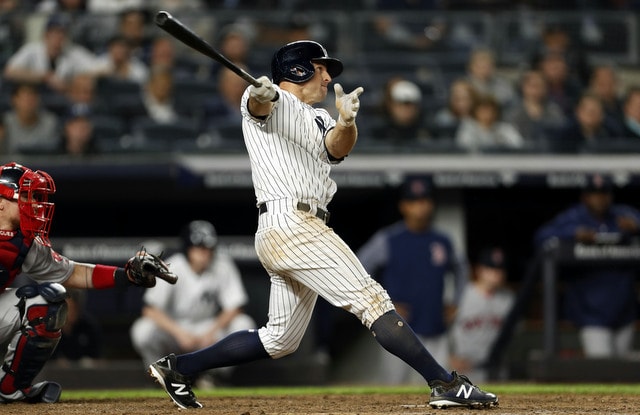 The Day Gardner Woke Up
It's no secret this season has been a slog for Brett Gardner. He went into Wednesday's game hitting .198/.320/.248 (25 wRC+) and Aaron Boone was asked about moving him down in the lineup. "Right now I'm comfortable enough with what I'm seeing out of Gardy to keep him where he's at," said the skipper. Downright prescient. It's a different hero every day for these Yankees, and Wednesday it was Gardner's turn.
Right in the very first inning, Brett set the tone with a leadoff double into the right-center field gap. Aaron Judge drove him in with a single one pitch later. Another Gardner leadoff double followed in the third inning, that one to left field, and Brett eventually scored on Giancarlo Stanton's two-run, two-strike double to right field. A wonderful piece of hitting by Giancarlo, who has hammered the Red Sox this season. Add an Aaron Hicks sac fly and the Yankees had a 4-2 lead.
Gardner went into this game with four extra-base hits on the season. He was robbed of his third double of the night by a diving Mitch Moreland in the fourth inning — it was a tremendous play on a ball hit down the line — but Brett did get his third extra-base hit of the game later on, and hoo boy, was it big. The Yankees were down 6-5 heading into the eighth inning when designated rally starter Neil Walker started a rally. Let's update this:
Thursday: Leadoff walk to start three-run ninth inning.
Friday: Leadoff single to start four-run fourth inning.
Saturday: One-out walk to start four-run fifth inning.
Sunday: Leadoff walk to start the three-run eighth inning.
Monday: No game!
Tuesday: One-out double to start the go-ahead seventh inning rally.
Wednesday: Leadoff double to start the four-run eighth inning.
Walker's double and Gleyber Torres' one-out walk put the wheels in motion. This game had a postseason-like atmosphere and Red Sox manager Alex Cora showed postseason-like urgency when he went to his all-world closer for the five-out save. It's weird that it's still noteworthy when a manager goes to his best reliever in the biggest moment of the game, but whatever. Two men were on, there was one out, and Kimbrel was set to face Gardner.
Going into Wednesday's game Gardner was 0-for-6 with five strikeouts against Kimbrel, and I was really hoping he'd have the 3-0 green light. You knew Kimbrel was going to throw a fastball 3-0 — he's got a great heater and he doesn't want to walk Gardner to load the bases — and if the at-bat continues, the chances of a strikeout go up. Kimbrel's just so good. Alas, Brett took the 3-0 cookie. He fouled off two more pitches, then came extra-base No. 3 of the night.
My goodness. Yankee Stadium was Didi Gregorius homer in the 2017 AL Wild Card Game loud. Gardner split the outfielders with authority — how often does Kimbrel get squared up that well to the opposite field? — and drove in both the game-tying and go-ahead runs. The 6-5 deficit became a 7-6 lead. And Gardner was at third base with one out. Biggest hit in a season already full of big hits? Yup.
But wait! The Yankees were not done. These Yankees vs. Red Sox games are always close, so getting Gardner in from third for an insurance run felt really important. Aaron Judge did one better. Kimbrel put a two-strike 97 mph heater right out over the plate, and Judge hit a missile into Monument Park for a two-run homer and a 9-6 lead. Look at this. Just look at it:
Are you not entertained?!

This is #THERIVALRY. pic.twitter.com/LD9h7FZd2o

— MLB (@MLB) May 10, 2018
Statcast says that homer topped out at 55 feet above the ground but I don't believe it. That looked maybe 30 feet off the ground. It was the type of line drive only Aaron Judge (and maybe Stanton) can hit. Jaw-dropping, truly. Kimbrel's a great pitcher with a great fastball, and Judge still hit a video game homer. Amazing. Gardner though, he was the hero. He went 3-for-5 with two doubles and the go-ahead triple, and he could've had another double as well. Go Gardy.
Masahiro Grinds
Neither starting pitcher was good in this game. Rick Porcello went into this one having not allowed more than three runs in any start this season, but the Yankees had four on the board before the end of the third inning. Tanaka gave up the #obligatoryhomer as well as a #bonusdinger. He and Porcello had weirdly similar pitching lines:
Tanaka: 5.1 IP, 8 H, 4 R, 4 ER, 2 BB, 3 K on 91 pitches
Porcello: 5.1 IP, 8 H, 5 R, 5 ER, 3 BB, 3 K on 91 pitches
It was a minor miracle Tanaka was even around long enough to throw a pitch in the sixth inning. The Red Sox worked him in the early going, so much so that he'd thrown 67 pitches in the first three innings. Egads. Some key double plays allowed Tanaka to get his pitch count in check — he started the sixth inning at 83 pitches — but he couldn't get through the sixth. I thought it was the right move to send him out that inning. Didn't work though.
Overall, Tanaka faced 24 batters and ten reached base, including three via extra-base hits. He got only nine swings and misses, and from where I was sitting, it seemed Tanaka's location was off juuust enough to make life easy for the Red Sox. He either missed well out of the zone for an easy take or over the plate for a hittable pitch. Mookie Betts worked Tanaka for an eleven pitch at-bat to start the game. That kinda told you right there he wasn't sharp.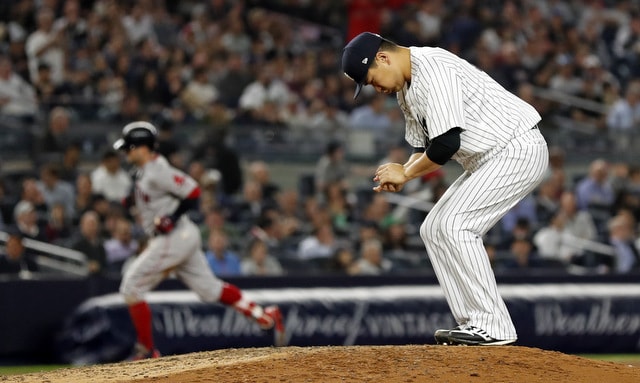 Let's Talk About The Bullpen
So, clearly, Dellin Betances is not yet all the way back in the Circle of Trust™. Boone went to Chad Green to escape the sixth inning jam and while he allowed a sacrifice fly after inheriting a runner on third and one out, he limited the damage. At that point the Yankees had a 5-4 lead. With the top of the lineup due up in the seventh, Boone's options where:
A rested Betances, who still hasn't pitched since Sunday.
A fatigued Green, who was pitching for the second straight day and about to throw his second inning of the night.
Boone went with Green, not Betances, and it cost the Yankees the lead. Green needed 27 pitches to navigate that seventh inning, during which he allowed a two-out walk to Andrew Benintendi and a rocket go-ahead two-run homer to Hanley Ramirez. He hung a slider right out over the plate …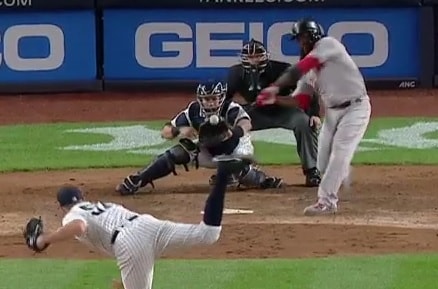 … and Hanley did what Hanley does to pitches like that. Another single followed before Green ended the inning. I dunno, man. I get that Betances still isn't all the way back to All-Star form yet, but by and large he's been pretty good this year. I would've rather seen a rested Dellin in that seventh inning than a gassed Green. At least the Hanley homer wound up being a footnote.
The unsung hero: Jonathan Holder. I was at the game with my brother and I told him if Holder stranded those two runners in the top of the eighth, the Yankees would win. I kid you not. Chasen Shreve allowed a walk and a double to start the eighth, giving the Red Sox a chance to pad what was then a 6-5 lead. Shreve rebounded to fan Rafael Devers. In came Holder and he escaped the mess by striking out Christian Vazquez, intentionally walking Betts, and getting Benintendi to ground out. Some numbers:
Red Sox win probability if they score one insurance run: 85.2%
Red Sox win probability if they score both insurance runs: 92.8%
Red Sox win probability after stranding both runners: 70.5%
That's a pretty good sized swing there. Holder has caught a ton of crap on these internet pages, but he did a hell of a job in that eighth inning to strand those two runners. Huge moment in the game. Props to him. Aroldis Chapman handled the ninth inning and he squeezed a J.D. Martinez single in the middle of three strikeouts to end the game. I know he blew the save against the other day, but man, Chapman has been nails this season. He has a 1.59 ERA (0.39 FIP) with a 50.0% strikeout rate. Hell yeah.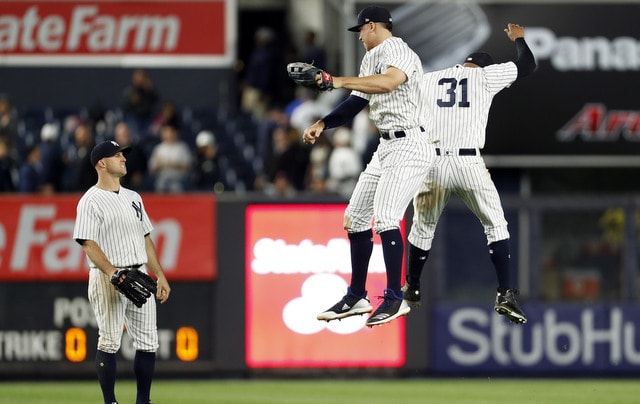 Leftovers
How about that Stanton dude? Hard to believe he was getting booed not that long ago. He ripped a two-run double in the third and was pretty pumped when he arrived at second — they don't play games like this in Miami, eh Giancarlo? — and is 10-for-19 (.526) with seven runs driven in in five games against the Red Sox so far this season. That's one way to endear yourself to the fan base, I'd say.
Three hits for Gardner, three hits and a walk for Judge, two hits and a sacrifice fly for Gary Sanchez, and another single and a walk for Torres. My dude is hitting .333/.381/.491 (133 wRC+) in 17 big league games. He looks like a ten-year vet. Didi's slump continued with an 0-for-4 — he's now in an 0-for-18 rut — but he did turn a nifty double play, so that's cool. He helps the team win even when he's not hitting.
The Yankees went 5-for-10 with runners in scoring position and they continue to be out of their minds in high leverage situations. No one can say this team lives and dies by the home run, that's for sure. Their only homer Wednesday was Judge's two-run insurance shot.
And finally, the Yankees have won their last eleven home games, which is a new record for the new Yankee Stadium. They actually set the record at ten games with Tuesday's win, but I forgot to mention it. Love this team, you guys.
Box Score, WPA Graph & Standings
Head over to ESPN for the box score and updated standings — at 26-10, the Yankees now have sole possession of the best record in baseball — and MLB for the video highlights. Here's our Bullpen Workload page and here's the win probability graph:

Source: FanGraphs
Up Next
The Yankees will go for their ninth straight win and the series sweep Thursday night. CC Sabathia and Eduardo Rodriguez are the scheduled starting pitchers. RAB Tickets can get you in the door if you want to feel that postseason intensity in May in person.