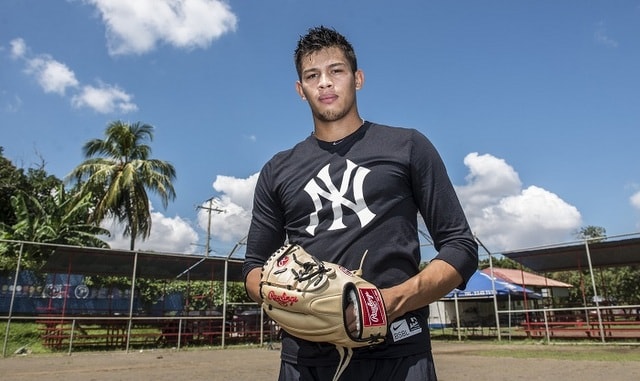 I gotta say, if you would've told me in March that Jonathan Loaisiga would join the rotation on June 15th, I would've guessed all hell broke loose. The dude had pitched in one game above the short season minor leagues prior to this season and it seemed like he would be pretty far down the rotation depth chart. Instead, the Yankees have the best record in baseball and Loaisiga is debuting on June 15th. Shows what I know.
Loaisiga is only 23 but he's endured a lot to get here. He's had a ton of injuries, he was released by the Giants, and he actually agreed to join a team in Italy before the Yankees signed him out of a tryout camp. Now he's a big leaguer, and deserving one. The man affectionately known as Johnny Lasagna threw 43 innings with a 2.30 ERA (2.39 FIP) and great strikeout (31.6%) and walk (2.3%) rates for High-A Tampa and Double-A Trenton prior to Saturday's 49-pitch tune-up start.
What should you expect from Loaisiga tonight? A mid-90s fastball as well as a good curveball and a good changeup, for starters. I also wouldn't expect very many innings. The Yankees capped him at five innings per start in the minors this year and he hasn't thrown more than 89 pitches in a game. Hopefully Loaisiga can get them through five innings. Hopefully the offense can score more than four runs. Here are the lineups:
New York Yankees
1. LF Brett Gardner
2. RF Aaron Judge
3. SS Didi Gregorius
4. DH Giancarlo Stanton
5. 1B Greg Bird
6. C Gary Sanchez
7. CF Aaron Hicks
8. 3B Miguel Andujar
9. 2B Gleyber Torres
RHP Jonathan Loaisiga
Tampa Bay Rays
1. DH Matt Duffy
2. 1B Jake Bauers
3. C Wilson Ramos
4. 2B Joey Wendle
5. SS Willy Adames
6. CF Mallex Smith
7. 3B Christian Arroyo
8. LF Rob Refsnyder
9. RF Johnny Field
RHP Nathan Eovaldi
It is cloudy and on the cool side in New York, though there's no rain in the forecast, and that's all I care about. Tonight's game will begin at 7:05pm ET and you can watch on WPIX. Enjoy the game.
Roster Move: Tyler Austin was sent down to Triple-A Scranton following last night's game to make room on the roster for Loaisiga, the Yankees announced. Austin was great when the Yankees needed him in April. He hasn't been all that good since. Can't say it's a surprise he was sent down.