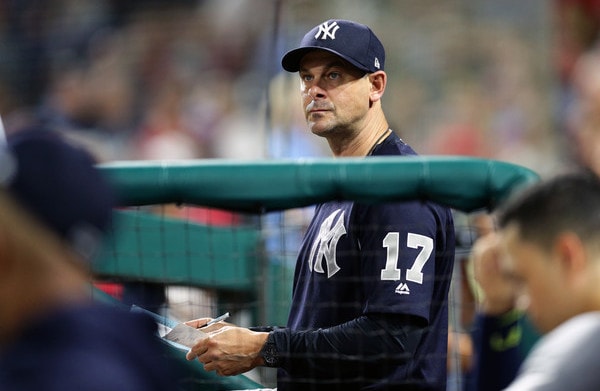 The six-game road trip through Tampa and Philadelphia is over and now the Yankees return home for a six-game homestand. Three against the Red Sox and three against the Braves. This is their final homestand of the first half, you know. The Yankees have a ten-day, eleven-game road trip after this homestand, then it's the All-Star break. Anyway, I have some thoughts on things, so let's get to 'em.
1. I've come to the conclusion that neither the Yankees nor the Red Sox are ever going to take control of the AL East. Both teams are just so good that I think they're going to remain neck-and-neck all season. The division race will come down to the final three games of the regular season, when the Yankees visit Fenway Park. It's been far too long since we had a truly great Yankees vs. Red Sox race and it seems like the baseball gods are making up for lost time this season. MLB and the television networks must love it. The Yankees do have a schedule advantage in the second half, at least on paper, though I don't think that means much. Of course injuries or a big trade deadline acquisition could change the AL East outlook, but right now, I see no reason to believe either the Yankees or the Red Sox are capable of pulling away from the other team. They're both just too damn good. This race is going down to the wire, and as stressful as that may be, it is a great thing for baseball overall.
2. There is still more than half-a-season to be played, but it sure looks like the AL postseason field is already set now that the Indians are beginning to pull away in the AL Central. The five likely postseason teams (Astros, Indians, Mariners, Red Sox, Yankees) have separated themselves from the rest of the league, and the only thing that remains undecided is seeding. The Indians are heavy favorites to win the AL Central, the Yankees and Red Sox are both going to the postseason, and the Astros and Mariners are both going to the postseason as well. Seattle has a seven-game lead on the second Wild Card spot at the moment. Who wins the AL East (and AL West) and who settles for the Wild Card Game? That's what still needs to be decided. Of course, there are still lots of games to be played and things can and will change — I'd bet on some random team getting to within three games of the second Wild Card spot at some point before the end of the season — but right now, the AL races will not be about who makes the postseason, but who wins the division and avoids that stupid one-and-done Wild Card Game. The NL is much more wide open. The AL cream of the crop has already emerged.
3. I get that they needed another bullpen arm after the 12-inning game Sunday, but I really would've liked the Yankees to keep Clint Frazier on the roster for this weekend's Red Sox series. Boston is throwing three left-handers in the series (Eduardo Rodriguez, Chris Sale, David Price) and the extra right-handed bat could've been useful. Because of the ten-day rule, the Yankees can't recall Frazier for this weekend without placing someone on the disabled list. Maybe they'll call up Brandon Drury instead? He is currently hitting .310/.417/.487 (156 wRC+) in 47 Triple-A games, though he's also stuck in a 4-for-34 (.118) skid at the moment, so maybe it's not the best idea to run him out there against three good to great southpaws. The Yankees could've sat Brett Gardner twice and Aaron Hicks once this weekend (or vice versa) to get Frazier into the lineup all three games. Alas. Seems like a real lost opportunity here. Frazier's performed well in his (extremely) limited big league time this season and any sort of advantage the Yankees can gain in these head-to-head games with the Red Sox is worthwhile. Maybe the Yankees will put Chasen Shreve or Gio Gallegos on the phantom disabled list and bring Clint back that way.
4. Jonathan Holder is this season's Chad Green. He's not going multiple innings as often as Green did last year and he's not missing as many bats either, but he's made the same jump from inventory arm to potential high-leverage weapon. That Aaron Boone can use Holder in the middle innings because he has Green and Dellin Betances (and David Robertson) for late-inning situations is a real luxury. I've written about Holder a few times already. He's scrapped his curveball and is going with the slider and changeup as his two secondary pitches, and it's made a significant difference for him. Holder's effectively replaced Tommy Kahnle, right? Kahnle had the biceps/shoulder injury and wasn't the guy we saw last year before being sent to Triple-A. An opportunity presented itself and Holder has run with it because he made some adjustments. Pretty awesome. With Holder emerging and Betances back to kicking butt, the Yankees are deeper than than other team in the bullpen. I don't see another relief crew that can match this. Betances, Green, Robertson, and Holder would each be the ace setup guy on, like, 18 other teams. The Yankees boast an incredible bullpen crew right now.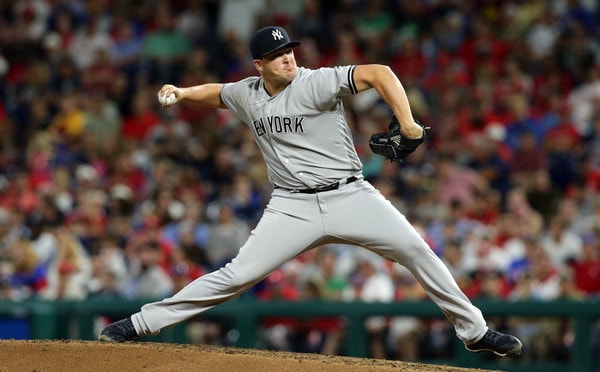 5. As for Shreve, clearly the Yankees like him. He wouldn't have stuck around this long otherwise. I do think he is nearing the end of his leash if he doesn't turn it around soon, however. The scoreless ninth inning the other night was a good start, but Shreve will need to do a lot more to erase all those disaster outings from the last few weeks. The thing is, even if the Yankees hang on to him, what's the upside? That he goes back to dominating like he did the first four months of 2015? Yeah, I guess so, but that was a long time ago. Last season he had a 3.77 ERA (4.55 FIP) with 29.3% strikeouts in 45.1 innings. Is that what they're waiting for? For that guy to return? Aside from Gallegos, who is presumably on the roster temporarily, Shreve is the weak link in the bullpen, and the Yankees may have better options in Triple-A (Kahnle, most notably). And you know what? I'm guessing that if another team cut Shreve loose, we'd look at him as a potential scrap heap pickup given his ability to miss bats (26.0% strikeouts) from the left side, and his multiple years of team control. As bad as he's been lately, my guess is the Yankees are going to stick it out with Shreve another few weeks, unless he just totally bombs the next few times out. I think the Yankees are getting closer to pulling the plug but are not there quite yet.
6. The "opener" is starting to gain traction around the league. The Dodgers and Mets have both had relievers start games recently, and the strategy is working for the Rays — since May 19th, the first time they used the opener, Tampa has an MLB best 2.86 ERA in 36 games — so I get the sense more teams will do it. I can't see the Yankees doing it anytime soon, but if they did want to go that route, Domingo German is the obvious candidate to be paired with an opener. He's had some big time first inning problems this year — German's allowed a first inning run in each of his last four starts and in five of his last six starts — so maybe let a reliever face the top of the lineup in the first inning, then turn it over to German. Holder or Adam Warren would be perfect for that role. Or heck, maybe let Robertson do it. Baseball is a copycat league. The Rays are using openers and having some success doing it, so it's only a matter of time until more and more teams try it. We're already starting to see it, really. And maybe it'll prove to be a terrible strategy long-term because relievers and long men can't handle the workload. I don't see the Yankees doing it anytime soon, and really, they don't need to either. German's the only candidate for an opener in my opinion and he's young enough and talented enough that he deserves a chance to work through his first inning issues.
7. The 2018 Futures Game rosters should be announced very soon — very soon as in possibly later today or tomorrow — and with Gleyber Torres and Miguel Andujar (and Jonathan Loaisiga) in the big leagues, Justus Sheffield is the obvious candidate to represent the Yankees. Teams do have input into the rosters and I do wonder whether the Yankees will hold Sheffield out of the Futures Game because they're considering him for a call-up at some point. They reportedly held Luis Severino out of the 2015 Futures Game because they were planning to call him up in the second half. Same thing could happen with Sheffield. Estevan Florial and Freicer Perez are hurt, and Chance Adams has not been good this year, so they're not Futures Game candidates. Albert Abreu and Dillon Tate are potential Futures Gamers — Abreu is a top 100 prospect and Tate has the whole "former fourth overall pick" thing going for him — and maybe someone like Trevor Stephan could sneak in should Sheffield be held out. Sheffield is, far and away, the team's best Futures Game candidate at the moment. If the Yankees decide to hold him out, then we could be in for a surprise Futures Gamer or two. Intrigue!