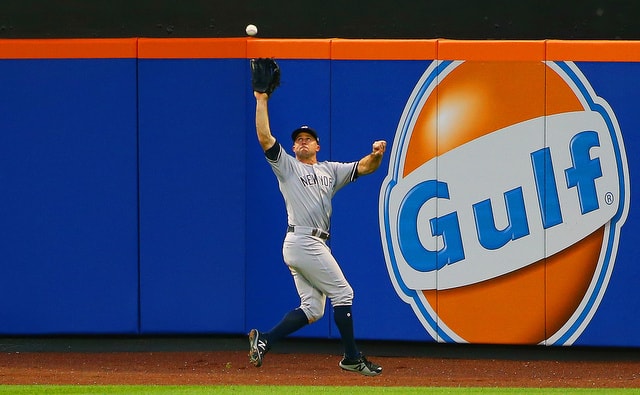 Tonight the Yankees begin a 17 games in 16 days stretch, though it's really more like 16.5 games in 17 days because one of those games is the completion of the suspended game in Washington. I'm sure this stretch will be broken up by a rainout or three though (sobs). Anyway, I have some thoughts on the Yankees' current state of affairs, so let's get to them.
1. The Yankees have the best record in baseball at 42-19 — they have the second most wins in baseball despite playing the fewest games because of all the postponements — and it still feels like they have so much room for improvement. We haven't seen the best of Giancarlo Stanton yet. We haven't seen the best of Sonny Gray either. We certainly haven't seen the best of Gary Sanchez. Greg Bird has been active for two weeks. The offense is in a little funk right now — the Yankees scored 20 runs in their last six games, or 3.33 per game — but I am not anywhere close to being concerned. The highest scoring offense in the game (5.54 runs per game) having a subpar week is just part of baseball and part of the 162-game season. Besides, the Yankees won four of those six games anyway. Point is, the Yankees have been no worse than the third best team in baseball, and there are still so many ways they can be better. And we're not talking squint your eyes and things can improve either. Expecting Stanton and Sanchez to perform at or close to their career averages the rest of the season isn't outlandish, and neither is expecting Bird to contribute more as he gets further away from ankle surgery.
2. Speaking of Sanchez, he's currently hitting .190/.291/.430 (96 wRC+) on the season, which is better than the .230/.305/.376 (86 wRC+) league average for catchers, but far below what we all expect from Gary Sanchez. We're at the point now where his season numbers can't recover. My quick math says that if Sanchez hits .300 the rest of the way and finishes with the same number at-bats as last year, his end-of-season batting average will be .252. Meh. The season numbers are going to be whatever they're going to be. No saving them now. Getting Sanchez to hit like Gary Sanchez the rest of the year is the most important thing. To me, he is so very clearly pressing at the plate, so this is beyond a normal baseball slump or a mechanical funk. Ken Singleton says you can tell when a hitter is starting to come out of a slump by the outs he makes, and Gary ripped a line drive right at Todd Frazier to end Sunday's game. Maybe that's a good sign? As long as Sanchez is healthy, I don't expect the slump to continue much longer at all. He's too talented and too good a hitter. His chase rate (32.9%) is a career low and, if you're believer in expected wOBA, Gary is due to see better results (.355 xwOBA vs. .308 wOBA) based on the quality of his contact. Or heck, maybe Sanchez is having a 2008 Robinson Cano season and forgot how to baseball for a year. It happens. That the Yankees have been this good while Sanchez has been this bad should scare the crap out of other teams.
3. As for Bird, gosh, I really don't like that he's already been anointed the No. 3 hitter. The Yankees love him — who doesn't love Greg Bird? — and we've heard several people in the organization — including Aaron Judge — call Bird the best hitter on the team. First of all, I don't buy that one bit — Judge is the Yankees' best hitter and best all-around player, full stop — and secondly, how about we actually see that "best hitter on the team" version of Bird at some point before treating him like the best hitter on the team? He's a career .222/.308/.470 (108 wRC+) hitter in 399 plate appearances spanning parts of four seasons now. Yes, the injuries likely play a part in that, but injuries are part of the Greg Bird story. He just came back from another surgery and is hitting .191/.255/.426 (82 wRC+) with crummy strikeout (27.9%) and walk (3.9%) rates in the early going. He needs time to get settled in after the layoff? Okay, fine. Why can't that happen lower in the lineup? Drop him down, let him start hitting, then move him up if his performance warrants it. Hard to remember another player this injury prone and this unproven being treated like hitting royalty.
4. It's becoming commonplace in baseball now but I just can't get on board with the whole pitcher hitting eighth thing. Aaron Boone has done it in every game the Yankees have played in a National League park this season. Research has shown that, over the course of a 162-game season, batting the pitcher eighth equals a few more runs because having a real hitter hit ninth means more men on base for the top of the order. That's for an NL team that does it every single game though. The Yankees are an American League team that will play ten scattered regular season games in NL parks this year. They're not getting the long-term benefit. In an individual game, I want the pitcher hitting as low as possible to get the fewest at-bats as possible. Pitchers are hitting .112/.146/.142 (-24 wRC+) this season. AL pitchers are hitting .096/.115/.106 (-40 wRC+). Yeah, let's give that dude as few at-bats as possible. This is total nitpicking, I get it. We're talking about flipping the Nos. 8 and 9 hitters. I just don't like the strategy at all. Pitchers stink at hitting and I want to delay that near certain out as long as possible.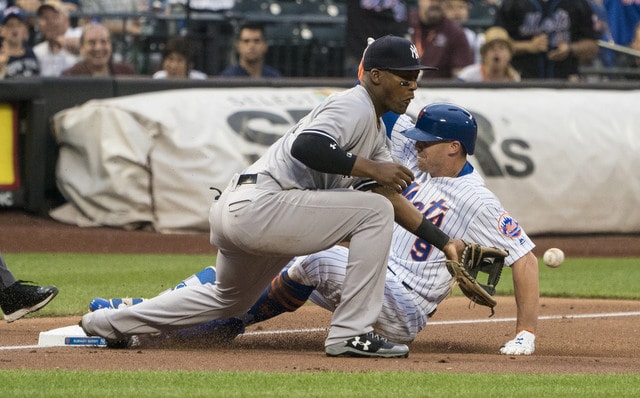 5. The Yankees have played sloppy defense more often than you'd like so far this season and I think that's the best way to describe it. Sloppy. They're in position to make plays and they just … don't. Didi Gregorius flubbed the transfer on a double play ball the other day. We've seen Gleyber Torres let some fairly routine grounders clank off his glove. Believe it or not though, the Yankees have a .727 Defensive Efficiency this season, fourth best in baseball. (That means they've turned 72.7% of batted balls into outs.) Only the Cubs (.738), Brewers (.731), and Athletics (.730) have been better. Anyway, I bring this up because I want play this game again: Game Seven of the World Series, one-run lead with the bases loaded and two outs in the bottom of the ninth, and the batter hits a rocket. Who do you want it hit to? I rank 'em:
Brett Gardner
Aaron Judge
Didi Gregorius
Aaron Hicks
(Giancarlo Stanton in right field would slot in here)
Gleyber Torres
Greg Bird
Miguel Andujar
Hitting a rocket to the catcher isn't a thing that happens and I'm sparing the pitcher in this exercise. (I do think Masahiro Tanaka is a Gold Glove caliber defender though. He's excellent.) That leaves seven other defenders, and even at age 34, Gardner remains an excellent outfielder and I want the ball hit to him over anyone, regardless of whether he's in left field or center field. Judge is ultra-reliable in right, and both Gregorius and Hicks are capable of spectacular plays. At the bottom of the list is Andujar, who I love, but can be shaky in the field. That order seem right to you?
6. Clint Frazier has played 14 of his 31 Triple-A games this season in center field, and they are the first 14 games he's played in center field since the trade. Frazier played lots of center field with the Indians way back when, but, after the trade, the Yankees stuck him in the corners full-time. Now he's playing center field again. To me, this is 5% getting reacquainted with the position in case he's needed there in the Bronx, and 95% a trade showcase. It's no secret Frazier is the team's best trade chip (among guys they'll actually trade) as a highly regarded young player with no clear path to playing time in the big leagues, and making him play some center field can only increase his value. If it works, great! If not, well he just goes back to being a corner outfielder. I'd love love love the Yankees to find a way to keep Clint and get him into the lineup next year. Realistically though, I just don't see how it happens. Gardner remains very productive and a team leader, and I would bet the farm on him being a Yankee next season. Unload Hicks? Okay, but then who plays center? Frazier or soon-to-be 35-year-old Gardner? Clint just doesn't fit. He is the team's top trade chip and I think the whole center field thing in Triple-A is a showcase. I don't see the Yankees using him out there unless it's an emergency.
7. Man, the Shohei Ohtani injury really stinks, doesn't it? He's a great and fun player, and I am pro-fun. The Angels say they are hopeful he will play again this season, but when a pitcher goes from a Grade I elbow sprain in the offseason to a Grade II elbow sprain at midseason, it's easy to assume the worse, which in this case means Tommy John surgery. Hopefully Ohtani gets healthy and plays again this year. For the Yankees, the Ohtani injury means the AL Rookie of the Year race is suddenly very wide open. They had the 2016 AL Rookie of the Year runner-up (Sanchez) and the unanimous 2017 AL Rookie of the Year (Judge). It is entirely possible Torres and Andujar will finish first and second (in either order) in the 2018 AL Rookie of the Year voting now that Ohtani is going to be out a while. The AL rookie crop after Torres, Andujar, and Ohtani stinks right now. Joe Jimenez and Joey Wendle are the best of the rest. I suppose someone like Dustin Fowler or Fernando Romero could play their way into AL Rookie of the Year consideration come September, but right now, those three dudes are clearly a cut above the rest. Ohtani's injury could very turn the AL Rookie of the Year vote into a two-man race between Andujar and Torres. That'd be neat even though the Ohtani injury totally sucks overall.