Another series win in the books. The Yankees picked up a 4-1 win over the thoroughly nonthreatening Rays on Saturday afternoon to improve to 14-1-2 in their last 17 series. That is: Good.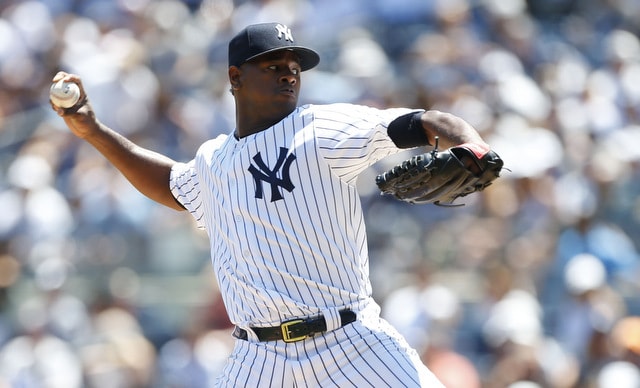 Sevy Strong
The first few innings Saturday were a bit uncharacteristic for Luis Severino, who didn't locate all that well and had to pitch around baserunners in the first and second innings. Something seemed to click around the third or fourth inning though, and Severino cruised the rest of the way. He retired 19 of the final 21 batters and he faced and only four of those 21 batters hit the ball out of the infield.
Like so many of his starts this season, once he got locked in, Severino's dominance seemed almost effortless. His fastball averaged 98.6 mph and topped out at 100.2 mph, and he of course held that velocity deep into games. His final fastball, pitch No. 101, was clocked at 98.5 mph. Good gravy. Also, Severino did the baseball equivalent of posterizing Gary Sanchez when he stole a foul pop-up right out of his mitt. Look at this:
Severino's final line: 8 IP, 3 H, 0 R, 0 ER, 2 BB, 9 K on 102 pitches. He threw 71 strikes. I thought maybe Aaron Boone would send Severino back out for the ninth inning given how well he was pitching, but I'm glad he didn't. No reason to push him on a hot afternoon at this point of the season. Save those bullets for another day, you know? The Yankees are now 13-2 in Severino's 15 starts this year and 26-4 in his last 30 starts dating back to last season. Pretty awesome.
Delaying The Inevitable
The Rays started reliever Ryne Stanek on Saturday because, according to the "opener" theory, he'd face the top of the lineup before a lesser pitcher came in for multiple innings. Stanek allowed an Aaron Judge double in the first inning and nothing else, so in that sense, the opener worked. Except the Yankees were able to push runs across against Ryan Yarbrough in the second and third innings, so I'm not sure how much the opener really helped.
In the second, Greg Bird walked and Aaron Hicks singled with one out, and Bird was able to score on Gleyber Torres' double to third baseman Matt Duffy. Duffy dove and was able to slow the ball down, but not stop it. He did prevent it from going into the left field corner though, which would've allowed Hicks to score from first. The Yankees got just the one run on that. Then, in the third, Didi Gregorius served a little ground ball single the other way immediately after Judge's second double of the game. Gleyber gave the Yankees and early 1-0 lead and Didi pushed it to 2-0.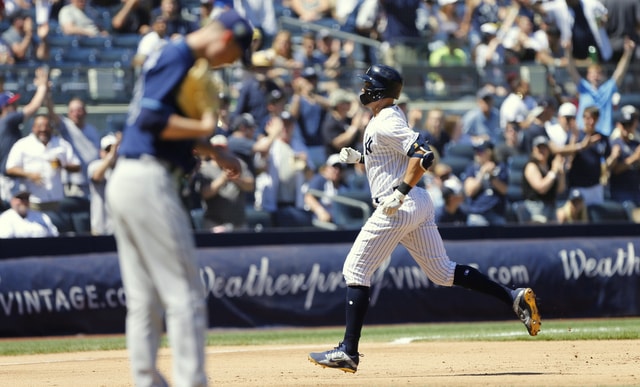 Back-to-Back
It's no secret Giancarlo Stanton and especially Sanchez have had disappointing seasons to date. Stanton went into Saturday's game hitting .242/.318/.472 (112 wRC+) overall, and while we've seen flashes of greatness — Giancarlo hit four homers in six games just last week, all against righties — he's yet to look like the reigning NL MVP. Or even 2011-16 Stanton. Gary went into Saturday's game hitting a woeful .189/.294/.427 (97 wRC+). He at least had the bases-clearing double Friday night.
In the fifth inning Saturday, Stanton and Sanchez were nice enough to remind everyone that yes, the premium hitting ability is still in there, and no, you shouldn't give up on them. The duo swatted very loud back-to-back solo home runs against Yarbrough. Giancarlo sent a missile out to left field while Sanchez visited Monument Park. To the action news footage:
As disappointing as they've been overall, Stanton is still on pace for 39 homers and Sanchez is still on pace for 32 homers. Gary leads all catchers in homers, so even with the ugly batting line, he's still providing elite power relative to position. Also, lolwtf at this Giancarlo golf shot. It was an 81.2 mph changeup below that zone that he hit 103.6 mph while looking extremely off balance.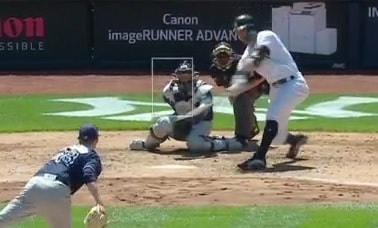 Stanton's home runs are just different than everyone else's. We've seen Judge hit some incredible homers the last year and a half. I'm not sure I ever remember seeing the ball jump off a player's bat the way it jumps off Giancarlo's. Good to see him and Gary do some damage. They needed those dingers. And wasn't the point of this "opener" business to limit Yarbrough's exposure to the middle of the lineup? Yet he faced the middle of the order with his pitch count approaching 90 anyway? Whatever.
Leftovers
It took Chasen Shreve four pitches to lose the shutout. He served up a solo homer to Duffy in the ninth. His 12th pitch was a rocket to center field that went in-and-out of Hicks' glove on the run for a triple. Not an easy play, but it was in Hicksie's glove. Anyway, two batters, two rockets for Shreve, and that was that. Aroldis Chapman retired the next three batters and was able to strand the runner at third for his 20th save. Would've been nice to get him another day off. Alas.
Judge had two doubles, Stanton and Sanchez had their homers, Gregorius singled in a run, Torres doubled in a run, and Bird and Hicks had singles. In the eighth inning Bird was thrown out at third when he tried to advance on the throw to first base on a routine grounder to third. Duffy made the throw across the diamond and the return throw from C.J. Cron beat Bird. Someone should sit Greg down and tell him he's not fast.
Bird did draw two walks in this game — Hicks had the team's only other walk — which is notable because he hasn't been walking much since returning from the disabled list. He had two walks in his first 15 games and 63 plate appearances of the season. Then he drew two walks in his first two plate appearances Saturday. A welcome sight. Walks are part of what makes Greg Bird Greg Bird.
And finally, the seldom used A.J. Cole threw a simulated game on the field following Saturday's game. He hasn't pitched since May 28th — May 28th! — and he needed to face some batters to stay sharp. Cole faced three batters and threw maybe 15-20 pitches, so he'll be available Sunday, if needed.
Box Score, WPA Graph & Standings
For the box score and updated standings, go to ESPN. MLB has the video highlights and we have a Bullpen Workload page that can help you keep track of who is and who isn't available on a given day. Here's the win probability graph:

Source: FanGraphs
Up Next
The Yankees and Rays wrap up this four-game series Sunday afternoon. CC Sabathia is the scheduled starter for the Yankees. The Rays will start right-hander Wilmer Font on Sunday. He's pitching for his third team already this season and has allowed eleven homers in 28.2 innings. Revolutionary!