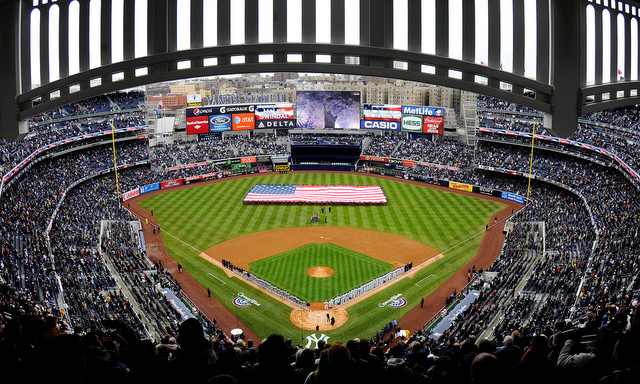 Happy Fourth of July, folks. Make sure you get a good look at Yankee Stadium this afternoon. You're not going to see it for awhile. This afternoon's Independence Day matinee is the final home game of the first half. The Yankees have an off-day tomorrow, then they'll head out on a ten-day, eleven-game road. The next home game? June 20th against the Mets.
Anyway, the Yankees and Braves will play the rubber game of this three-game series today, after trading cheap short porch home runs the last two nights. The Braves are a pain in the butt, aren't they? Lots of exciting young talent on that team. I'm glad the Yankees won't see them in interleague play again until 2021. Here are today's lineups:
New York Yankees
1. LF Brett Gardner
2. RF Aaron Judge
3. CF Aaron Hicks
4. DH Giancarlo Stanton
5. SS Didi Gregorius
6. 2B Gleyber Torres
7. 1B Greg Bird
8. C Kyle Higashioka
9. 3B Neil Walker
LHP CC Sabathia
Atlanta Braves
1. CF Ender Inciarte
2. 2B Ozzie Albies
3. 1B Freddie Freeman
4. RF Nick Markakis
5. C Kurt Suzuki
6. DH Ronald Acuna Jr.
7. 3B Johan Camargo
8. LF Charlie Culberson
9. SS Dansby Swanson
RHP Julio Teheran
Another crazy hot day in New York. At least the real feel temperature is only 95° and not 107° like the other day. Today's game will begin at 1:05pm ET and you can watch on YES. Enjoy the game.
Injury Update: Austin Romine (hamstring) is doing better and available to play. With the off-day tomorrow, it seems like the Yankees want to give him this extra day to rest up … Masahiro Tanaka (hamstrings) is making a rehab start with Triple-A Scranton today. He's scheduled to throw 70 pitches.