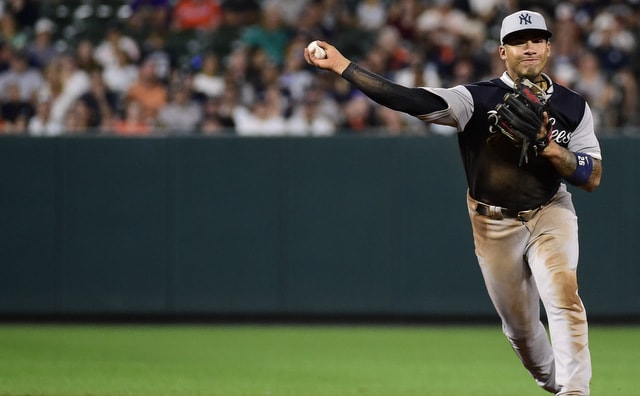 All things considered, this has been a wildly successful season for rookies Miguel Andujar and Gleyber Torres. They might finish first and second in the AL Rookie of the Year voting (in either order) and both will almost certainly finish in the top three. More importantly, they've both established themselves as long-term infield building blocks. It's awesome.
Both Andujar and Torres have shined offensively this season — they rank first and second among all American League rookies with a 129 wRC+ and a 123 wRC+, respectively — but they've left something to be desired defensively. We've seen the errors and the misplays. It's no secret. Here are some defensive numbers (among 133 players with 700+ defensive innings for rate stats):
Errors
1. Rafael Devers: 21
2. Jurickson Profar: 20
3. Marcus Semien: 19
…
7. Gleyber Torres: 15
…
16. Miguel Andujar: 13
Defensive Runs Saved
133. Charlie Blackmon: -28
132. Miguel Andujar: -20
133. Rhys Hoskins: -19
…
92. Gleyber Torres: -1
Ultimate Zone Rating
133. Charlie Blackmon: -14.5
132. Miguel Andujar: -13.2
131. Adam Jones: -10.6
…
120. Gleyber Torres: -5.2
Not great. I don't take defensive stats as gospel — I don't think they're accurate enough to put an exact run value on a player's defensive contributions — but they work well enough directionally, and both DRS and UZR tell us Andujar and Torres are below-average glovemen, especially Miggy. They're also among the league leaders in errors. Errors can be nebulous. It is a universal truth that a lot of errors is a bad thing though.
Andujar and Torres have both been very good offensively while leaving something to be desired defensively. To me, their defensive problems are very different. In Andujar's case, there is a clear lack of range, and also times he can be a little slow with his transfers and throws. He'll double clutch a bit before making the throw. We saw it last night. As for the lack of range, this play over the weekend is a good example: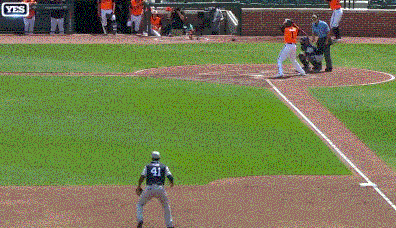 Based on the exit velocity and launch angle and trajectory and all that, Statcast says that batted ball from a right-handed hitter goes for a base hit 27% of the time. Statcast's hit probability isn't perfect — it doesn't take into account shifts — but I like that there's some science behind it. It considers how hard the ball was hit and where it was hit, and that's not nothing. Per Statcast, that batted ball goes for a hit 27% of the time.
Andujar didn't even get a glove on it. His first step was a tad slow and the dive came up short. At the very least, you want your third baseman to knock that ball down and hold the batter to a single. Instead, the ball got by Andujar and rolled down the right field line, allowing the batter to get to second. That batter eventually came around to score too, which is kind of a big deal. That run isn't entirely on Andujar, but his lack of range played a part.
That play is scored as a double. It doesn't show up as an error. It does show up in DRS and UZR though, and plays like that — Andujar's lack of range have led to a lot of plays like that — are why those two metrics rank Andujar among the game's worst defensive players. Can't make an error on a ball you don't get to, you know?
As for Torres, his defensive issues are not the result of a lack of ability. He has plenty of range in both directions and a strong arm. His defensive problems stem almost exclusively from botching routine plays. This happened over the weekend: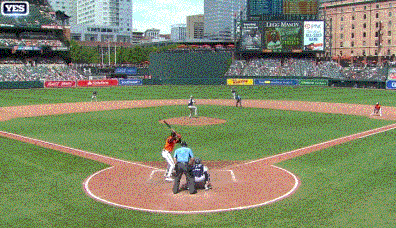 A play that has to be made, clearly. Gleyber would be the first one to tell you that. That play is as routine as it gets — the batter, Adam Jones, flung his bat in frustration because he made such weak contact — and it was the third out of the inning. Instead, Torres booted the routine ground ball and the inning continued, forcing J.A. Happ to throw more pitches. Fortunately the error did not lead to the run, but Happ having to throw more pitches is not inconsequential.
Torres made a similar error Friday night — that error led to a leadoff baserunner who later came around to score on a two-run homer — and a similar error Wednesday night, in the series finale against the Marlins. Before an error free nightcap in Saturday's doubleheader, Torres made an error in three straight games, and all three errors came on fairly routine ground balls a Major League infielder has to convert into an out.
In Andujar's case, his defensive issues result largely from a lack of range. There's a physical deficiency there. He can't get to the ball quick enough. Andujar generally makes plays just fine when the ball is hit at him, or maybe a step or two in either direction. Anything beyond that has been a challenge. As for Torres, his defensive problems are careless mistakes more than anything. He's there and in position to make the play, but he just doesn't.
Gleyber's recent defensive issues are far more noticeable than Andujar's — few things in baseball stand out as much as a routine play not being made — but it seems to me his problems will be much easier to correct. He's in position to make those plays. He's there. But either due to a lack of focus or improper technique — is he not getting his glove down in time? — he's not making the play. That seems to be easily correctable, at least to me.
With Andujar, we're talking about developing more mobility and improving reads and first steps. That ain't easy. It's not easy and Andujar might never be able to do it. Not because he won't work at it — I'm not exactly a seasoned BBWAA guy here, but I've never seen an infielder go through as much pregame infield work as Andujar, he's out there every single day — but because playing third base is hard. He may never develop the quick reactions necessary for the position. Wouldn't be the first guy.
Andujar and Gleyber are both rookies who have yet to play a full MLB season. Development does not stop when a player reaches the big leagues, and, at this point, the only thing the Yankees can — and should — do is continue working with them. It's too early to discuss a position change with Andujar and it's too early to say Torres lacks the focus for the middle infield. They're both struggling defensively this year, no doubt, but they just have to keep working at it. Again, they're two rookies. Still lots of time to gain experience and get better.