I'm sorry, which team is the one that gave up on the season? It sure as hell didn't look like the Orioles. Terrible pitching, sloppy defense, listless offense. The Yankees deserved the ass-whooping the last place Orioles gave them Wednesday afternoon. The final score was 7-5. The Yankees are the more talented team pretty much every time they take the field. It would be nice if they started playing like it.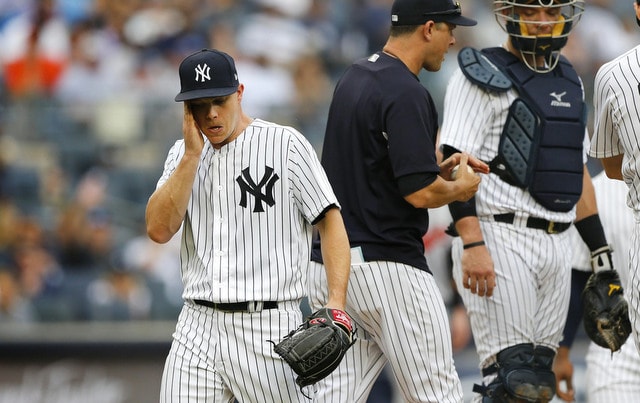 A Sonny Disaster
A truly pathetic showing from Sonny Gray. The Orioles have given up on the season. They traded their best hitter (Manny Machado) and another guy who was probably no worse than their third best hitter (Jonathan Schoop), and they were winless in their last eleven road games. In those eleven straight road losses, the Orioles scored more than two runs only five times, and more than three runs only three times. And Gray didn't make it out of the third inning.
The second inning is when everything fell apart and, as poorly as Gray pitched, it was not all on him. Gleyber Torres was late covering first base on Caleb Joseph's bunt and the Yankees were unable to get the free out the terrible O's were trying to give them. Then, on Renato Nunez's double to right, Shane Robinson misread the ball and initially broke in, which allowed it to sail over his head. I'm not sure he would've caught it anyway, but it was ugly.
As for Gray, he was up in the strike zone with everything. He was behind in the count a bunch (as usual) and, when he had to come over the plate, he really came over the plate. The action pitches in that second inning: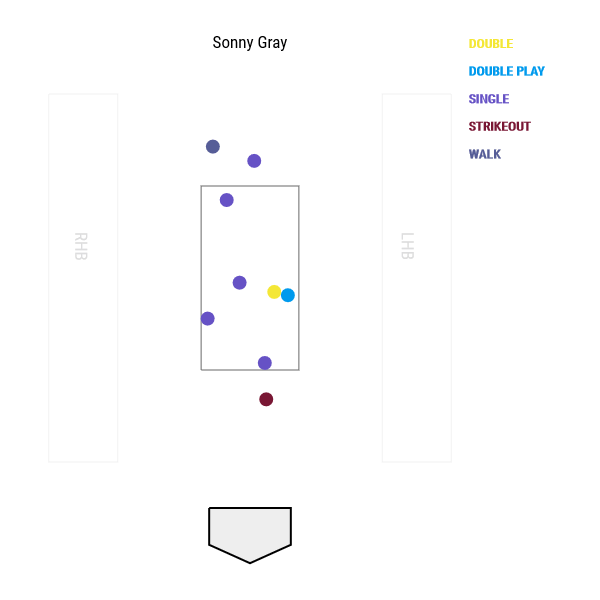 The highest pitch is ball four to walk Chris Davis, putting runners on first and second with one out. The second highest pitch was Joseph's bunt. He reached base to loaded the bases with no outs when Torres was slow covering first. The third highest pitch was the hanging curveball Trey Mancini pulled to right field to drive in the game's first run. Then there's a bunch of pitches middle-middle and the Orioles made Gray pay.
Gray allowed two more runs in the third inning, though he was only on the mound for the first. He gave up a solo homer to Mancini on another hanging curveball. A walk and a single later, the Orioles had runners on the corners and Gray was deservedly booed off the mound. One of those inherited runners scored on a ground ball because Torres was again slow to cover a base, this time second. Gleyber wasn't at second for the inning-ending force and Didi Gregorius didn't have much of a chance to get the out at first. He tried, but the throw was too late.
Sonny's final line: 2.2 IP, 8 H, 7 R, 7 ER, 2 BB, 3 K, 1 HR on 57 pitches. With a Game Score of 12, this was the worst start of Gray's career. For real. Against an Orioles team that has traded its best players and might be the worst team baseball has seen since the 2003 Tigers. Robinson broke the wrong way on Nunez's double and Torres made two lackadaisical plays, but Gray made mistake pitch after mistake pitch, and a crappy Orioles lineup roughed him up. Abysmal.
It is now August 1st and Sonny Gray has a 5.56 ERA (4.42 FIP) in 103.2 innings this season. Ninety-one pitchers have thrown 100 innings this season and only four have a higher ERA than Gray: Lucas Giolito (6.26), Jason Hammel (5.95), Alex Cobb (5.83), and Felix Hernandez (5.58). The Yankees have been patient — very patient — with Gray, but they're in a division race and this can not continue. Put Lance Lynn in the rotation and move Sonny into low-leverage relief work. Sending him out there every fifth day, even against bad teams, just isn't working.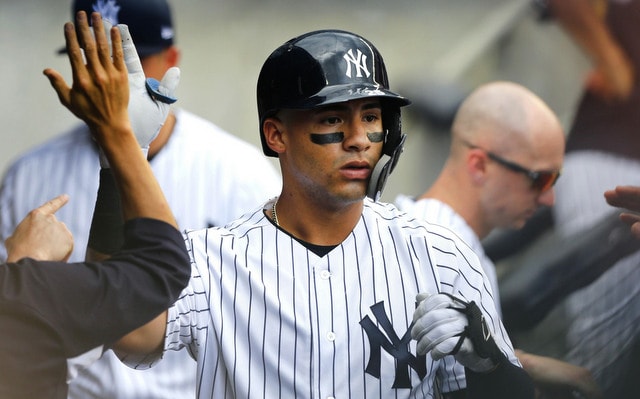 Too Little, Too Late
The Orioles put five runs on the the board in the top of the second and the Yankees, to their credit, tried to make a game of it in the bottom half. Torres hit a leadoff homer into the short porch, Greg Bird bunted against the shift (again), then Austin Romine and Brett Gardner picked up singles to load the bases with two outs. Romine blooped his into center. Gardner beat out an infield hit. So a homer, a bloop single, and two infield singles in the inning.
Anyway, the bases were loaded with two outs, and up to that point, the Yankees were hitless in their last 14 at-bats with the bases loaded (with four sac flies). Their last bases loaded hit was July 11th against the Orioles, coincidentally enough. Giancarlo Stanton extended the hitless streak to 15 at-bats with an inning-ending strikeout. The regression to the mean with the bases loaded will be glorious.
The Yankees scattered four baserunners from the third through seventh innings — Miguel Andujar and Romine reached on back-to-back errors in the fourth, then Shane Robinson grounded into an inning-ending double play — but, in the eighth, a bloop single and two walks loaded the bases, again with no outs. Andujar broke that 15 at-bat hitless streak with the bases loaded with a single to right. Hooray! Then Romine struck out and pinch-hitter Neil Walker hit into an inning-ending double play. Sigh.
In the ninth, when the game was largely out of reach, three straight Yankees reached base with two outs and two strikes. Gregorius singled, Aaron Hicks went from 0-2 to a walk, and Torres clocked a three-run home run into the left field seats. Second homer of the ballgame. Homers are cool and I'll take it, especially since Torres has been scuffling since coming off the disabled list, but all that home run did was make the game seem closer than it really was.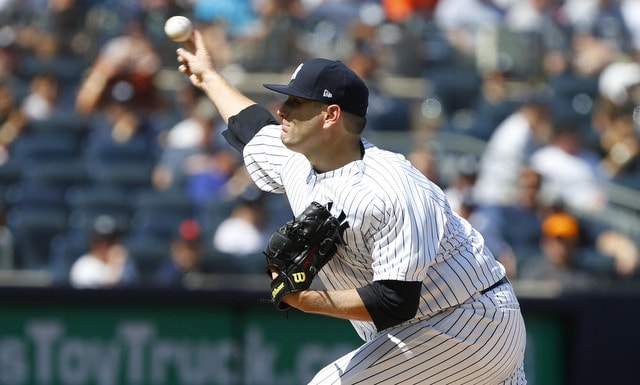 Leftovers
Welcome to the Yankees, Lance Lynn. He came out of the bullpen and threw 4.1 scoreless innings after Gray bowed out early. His final line: 4.1 IP, 5 H, 0 R, 0 ER, 0 BB, 5 K on 71 pitches. This was Lynn's day to start with the Twins, so he was on normal rest and able to soak up innings. Also, Lynn threw 70 (!) fastballs among his 71 pitches, so the Yankees haven't turned him on to the anti-fastball lifestyle yet.
Every starter had a hit except Robinson. The No. 9 spot in the lineup managed to make six outs in four plate appearances. Gregorius had three hits, Torres had his two homers, Andujar had two hits, and everyone else had one hit. Torres and Greg Bird drew back-to-back walks in that eighth inning mini-rally and Hicks drew a walk to set up Gleyber's three-run bomb. Too little, too late.
Box Score, WPA Graph & Standings
ESPN has the box score and updated standings and MLB has the video highlights. Here's our Bullpen Workload page and here's the loss probability graph:

Source: FanGraphs
Up Next
A big four-game series at Fenway Park is next. The Yankees have to make up ground this weekend if they want to win the AL East, or, at the very least, they have to split and not lose ground. I would much prefer gaining ground. Chris Sale was placed on the disabled list earlier this week and will not start Thursday night's series opener as scheduled. It'll be lefty Brian Johnson instead. CC Sabathia will be on the mound for the Yankees.