In the biggest and most important series of the season, the Yankees couldn't look more overmatched and out of their element. The Red Sox have made it crystal clear they are the superior team in pretty much every way. Better offensively, better pitching, better defense and baserunning. The Yankees lost 4-1 on Friday. They're now into their sixth consecutive week of mediocrity.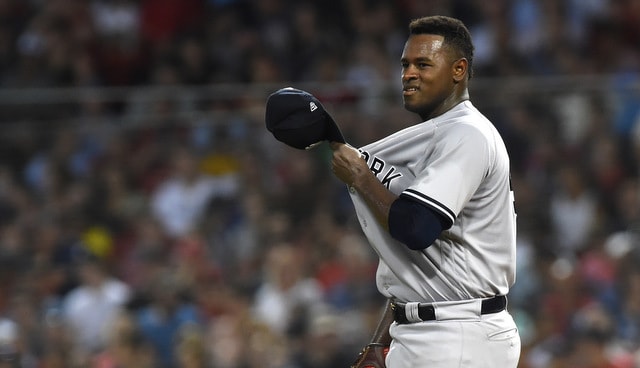 Severino Grinds It Out
The good news: Luis Severino looked much better in innings two through six Friday night than he had at any point in his previous four starts or so. The bad news: The first inning happened. And it was an eventful first inning too. Severino's first pitch was up and in on Mookie Betts, an obvious intent pitch a little too close the head for my liking. But, clearly, Severino threw up and in on Betts because Brett Gardner took an 0-2 fastball to the arm to start the game.
The purpose pitch led to both benches being warned — it was a weird delayed warning by home plate umpire Adam Hamari, can't remember ever seeing an umpire take a few seconds before issuing the warnings — and Red Sox manager Alex Cora lost it. Yelled at the ump, got ejected, the whole nine. Once the game resumed, Severino was unable to back up the tough guy act. One-out double by Andrew Benintendi, two-run home run by Steve Pearce, his fourth of the series. The Red Sox bench gave Severino the business and it was 100% deserved.
A walk, yet another stolen base, and a bloop single to center gave the Red Sox their third run of the first inning. Exactly what the Yankees didn't need. They got their asses handed to them Thursday night, then they were down three runs in the first inning Friday night. A terrible start for Severino. More of the same, unfortunately, given his last few outings. Mistakes out over the plate and non-competitive pitches way out of the zone.
Severino did settle down after that first inning, which is pretty much the only positive to take away from this game. He settled down but certainly wasn't back to where he was in the first half, though I suppose that'll take him some time. The light bulb wasn't suddenly going to turn on and bam, the dominant Severino would be back. It never happens like that. It'll be a process and innings two through six were part of that process.
Severino put five men on base on innings two through six but only one of them, a Betts double in the second, was really hard hit. To me, his location was much better, and that's the most important thing. Severino's stuff never really wavered during this rough stretch — his fastball averaged 97.6 mph Friday, essentially identical to his 97.7 mph season average — but his location was trash. It was less trash after the first inning.
The final line: 5.2 IP, 7 H, 4 R, 4 ER, 3 BB, 2 K, 1 HR on 115 pitches. I definitely would not have sent Severino back out for the sixth inning after cramming 101 stressful pitches into only five innings. More walks than strikeouts for the first time this season and only five swings and misses though? Severino's still not right. He wasn't getting swings and misses in the last four starts too. Hopefully the last few innings are the start of something.
One Hit
Rick Porcello probably had to go down to the bullpen to get all his pitches in after this one, Spring Training style. This game could've gone eleven innings and he still would've been out there. One-hit shutout on 86 pitches. 86 pitches! CC Sabathia threw 77 in three innings last night. Porcello threw 18 balls in nine innings. Every batter was strike one, strike two. Look at his pitch locations: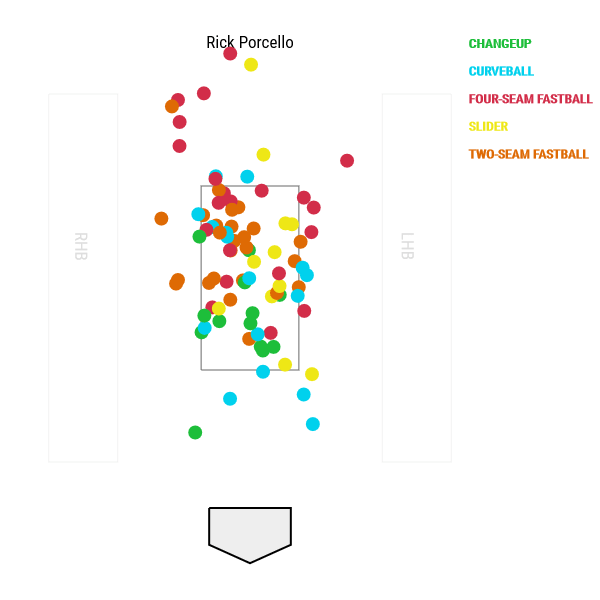 Almost everything in the zone. Fortunately the one hit was a Miguel Andujar solo home run, so the Yankees didn't get shut out. Their only other baserunner on the night was Gardner's hit-by-pitch to start the game. Hit-by-pitch, five straight retired, solo home run, 21 straight retired. The Yankees sent 28 men to the plate and only nine saw more than three pitches in their at-bat. Complete and thorough domination. Not one single at-bat was a battle.
On one hand, you have to tip your cap to Porcello. He was outstanding. On the other hand, this is the third different iteration of "pathetic" in the last three games. Sonny Gray got bombed by the crappy Orioles on Wednesday, the bullpen completely melted down Thursday, and now the Yankees laid down and put up zero fight Friday. Hugely important series and this is how they respond? Disappointing doesn't even begin to cover it.
Leftovers
Gleyber Torres continues to struggle. He went 0-for-3 with two strikeouts and is 6-for-30 (.200) with ten strikeouts since returning from the disabled list, and that includes the two-homer game. Torres also let a ground ball get under his glove for a run-scoring single in the sixth. He had to run a bit to get there, but it's a ball he has to knock down at the very least. Also, Torres is fine after feeling a cramp in his forearm in the eighth inning. The sooner Gleyber goes back to being good, the better.
Welcome back to the big leagues, Tommy Kahnle. He struck out one and retired all three batters he faced. His fastball averaged 96.0 mph and topped out at 96.6 mph, which is right where he was earlier this season, meaning down quite a bit from last year. David Robertson, the only other reliever used, retired all four batters he faced, one via strikeout.
Box Score, WPA Graph & Standings
Head over to ESPN for the box score and updated standings, and MLB for the video highlights. Here's our Bullpen Workload page and here's the loss probability graph:

Source: FanGraphs
Up Next
The Yankees and Red Sox are halfway through this four-game set. They'll play the third game Saturday afternoon — that's a 4:05pm ET start — when Chance Adams will make his big league debut. Former Yankee Nate Eovaldi will be on the mound for the BoSox.