Good end to the homestand, at least as far as the outcome of the game is concerned. The Yankees clobbered the Blue Jays on Sunday afternoon to complete the three-game sweep and a 7-4 homestand. I was hoping for eight or even nine wins during the homestand, but seven will have to do. Sunday's final score was 10-2 good guys. At 78-46, the Yankees are a season high 32 games over .500. They are 32 games over .500 for the first time since the final day of the 2011 season.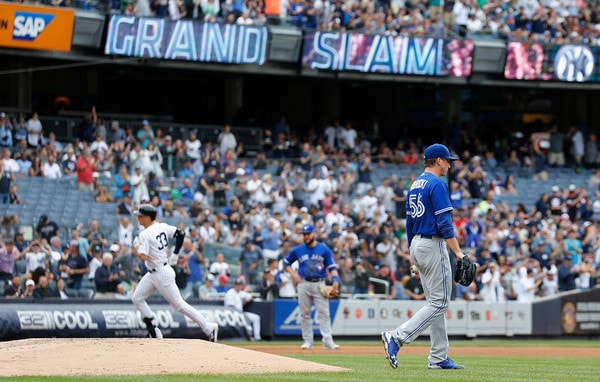 An Early Six-Spot
Is there a better way to start the final game of a 20 games in 20 days stretch than with a six-run first inning? No. No there is not. Well, maybe with a 12-run first inning, but let's not get greedy. Six runs will do just fine, thank you very much.
The Yankees scored six runs Sunday before making their first out, and, impressively, the first five men they sent to the plate reached base in two-strike counts. They went into this game with a team .246 OBP in two-strike counts, which is exactly league average. Then five straight reached base in two-strike counts to begin the game. Let's annotate the play-by-play.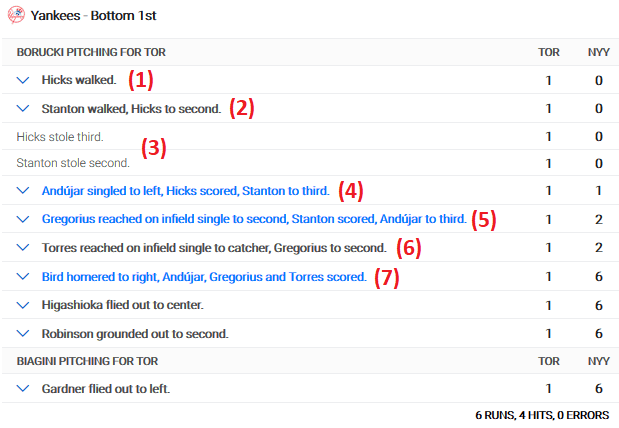 (1) How awesome has Aaron Hicks been? All season, really, but especially lately. He went into Sunday's game with a .251/.367/.473 (129 wRC+) overall batting line and a .292/.453/.489 (162 wRC+) line in 22 games since Aaron Judge got injured. His 15.3% walk rate was sixth highest in baseball and second highest in the American League behind Mike Trout (20.5%). So, naturally, Hicks started the first inning with a six-pitch walk. The 3-2 pitch could've been called a strike. Instead, home plate umpire Hunter Wendelstedt said it was a ball, and the rally started.
(2) As great as Giancarlo Stanton has been this year, there is one aspect of his game that is lagging: Walks. He went into Sunday's game with an 8.5% walk rate, the lowest of his career. Stanton had a 12.3% walk rate last year and a 12.9% walk rate from 2013-17. This year though, it's down to 8.5%. Despite that, Giancarlo worked a full count walk to reach base — he took a great big hack at the 3-0 changeup and missed by a mile (guessing he had his 300th career home run on his mind there) — putting two on with no outs.
(3) The Yankees ran on rookie catcher Danny Jansen all weekend. They stole only one base Saturday, but they also advanced on pitches in the dirt three times. Jansen's arm is not good — he went 9-for-39 (23%) throwing out runners in Triple-A this year — and whenever there was an opening, the Yankees ran. And, in the first inning Sunday, Hicks and Stanton pulled off a double steal after the back-to-back walks. The Yankees are not a base-stealing team at all — they went into this game 25th in baseball with 48 steals — but they went whenever possible against Jansen.
(4) Shout out to the Blue Jays for playing Russell Martin at third base. They have only four infielders on the roster, so when someone needs a day, Martin plays the infield. This was his tenth start at third base this year. He's also started a game at shortstop (!). And Martin looked very much like a 35-year-old catcher playing third base on Miguel Andujar's (two-strike) single. It was a ground ball in the hole and Martin's range was about as far as he could fall down. Off the bat, I thought it was a grounder to third with a potential play at the plate on the contact play. Instead, it rolled into left field for a 1-0 lead.
(5) A costly play, this was. Didi Gregorius pulled a (two-strike) ground ball to the right side that I thought was ticketed for right field. Second baseman Devon Travis made a great play to snag the ball and fire to first, only the throw was too late. The throw took Kendrys Morales into the baseline and Gregorius crashed into him. He remained in the game to run the bases and play defense in the next half-inning, but was taken out after that. A run scored for a 2-0 lead, but Gregorius suffered a "pretty significant" bruised heel, and could win up on the disabled list. Sigh.
(6) The Yankees had a 2-0 lead with runners on the corners and no outs, and they did that with one hard-hit ball. That was Andujar's single, which left his bat at 98.4 mph. Didi's infield single? A cool 65.0 mph off the bat. Then Gleyber Torres reached way out of the zone for what amounted to a swinging bunt, a swinging bunt hit so weakly Statcast couldn't even record an exit velocity. Torres beat Jansen's throw to load the bases. Five batters into the game, the Yankees had a 2-0 lead and the bases loaded with no outs. Pretty awesome.
(7) Two home runs in two at-bats for Greg Bird, who went deep in the eighth inning Saturday and again in the first inning Sunday. Saturday's dinger was a solo homer for an insurance runs Sunday's was a game-breaking grand slam. The common thread: Bird turned on a fastball on the inner half. He got around on a 94.8 mph fastball from Luis Santos on Saturday. On Sunday, it was a 93.0 mph sinker from Borucki. Bird was able to keep it fair:
Prior to Bird's grand slam, Borucki had thrown 52 innings in the big leagues and allowed just one home run. J.D. Martinez got him for a solo home run two weeks ago. That works out to 0.17 HR/9 and 1.8% HR/FB. After Bird's grand slam. Borucki is up to a 0.34 HR/9 and 3.4% HR/FB. There is more regression to come, young man. Just not on Sunday.
After the grand slam Borucki got Kyle Higashioka to fly out and Shane Robinson to ground out, but he threw seven pitches to both guys. Forty-four pitches to get two outs. That was the end of his afternoon. Blue Jays manager John Gibbons pulled his rookie southpaw after five straight batters reached base with two outs, Bird walloped a 2-1 sinker into the right field second deck, and Higashioka and Robinson made outs. Not counting Tampa Bay's openers, Borucki joins Mike Wright as starters who failed to make it out of the first inning against the Yankees this year.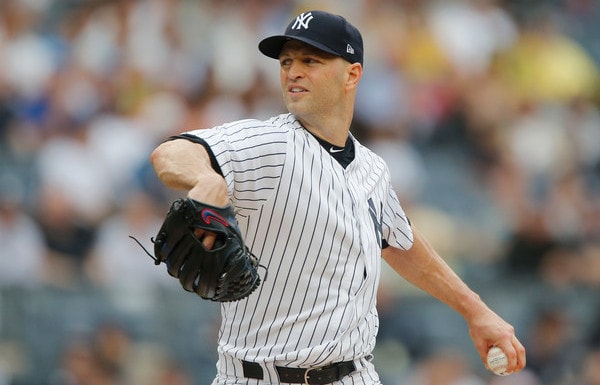 Five From Happ
Bit of a grind for J.A. Happ, who allowed a long solo home run to the third batter he faced (Randal Grichuk) and a long solo home run to the third-to-last batter he faced (Morales). Two singles followed the Grichuk home run, so there was a very important moment right in the top of the first inning. The Blue Jays had a quick 1-0 lead and two men on base. Happ bounced back to strike out Teoscar Hernandez to end the inning.
The Blue Jays put two more runners on base in the second inning and got a one-out double in the fourth inning — Jansen hit a ball off the left field wall that was maybe three feet from being a home run — but couldn't score. Morales hit the home run to start the sixth inning and everyone was waiting for Aaron Boone to take Happ out. Didn't happen. Kevin Pillar followed with a double to left and everyone was waiting for Boone to take Happ out. Didn't happen again.
At this point Happ was at 98 pitches and the last two batters hit the ball hard after five not quite easy innings to start the game. Boone stuck with Happ because he carved Hernandez up all afternoon. Hernandez was 0-for-2 with a strikeout and a fly out up to that point, and he'd missed with four of the six swings he'd taken. Happ struck him out again in that sixth inning to end his outing. He threw 16 pitches to Hernandez, Hernandez swung at eight of them, and he missed five times. Happ's pitch locations to Teoscar: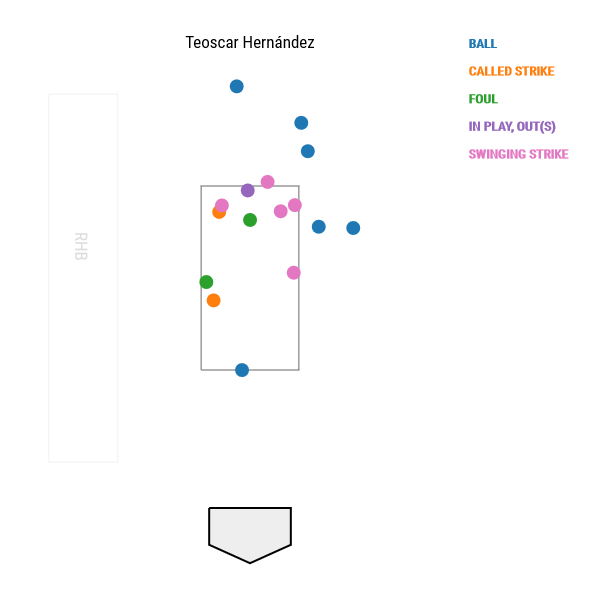 High fastballs was the plan and Happ executed that plan very well against a hitter with a meager .302 OBP, but also 18 home runs in 101 games. Make a mistake and Teoscar will hit the ball a mile. Happ didn't let him. His final line: 5.1 IP, 7 H, 2 R, 2 ER, 1 BB, 8 K, 2 HR on 103 pitches. Not great, not terrible. Somewhere in the middle. Good enough for a win with this offense. Four starts into his Yankees career, Happ has 2.22 ERA. That'll work.
Leftovers
The Yankees added four insurance runs in the sixth inning to really put this game to bed. Stanton singled in one run — he slapped a single the other way, it was not a "I'm trying to hit my 300th career home run" swing — Andujar got another run in with a fielder's choice, and Higashioka singled to center to score two more runs. Back-to-back games with double-digit runs after going 33 straight games without scoring 10+.
Every starter had a hit except poor Shane Robinson. Ronald Torreyes and Gleyber Torres were the only Yankees with multiple hits. Torreyes took over for the injured Gregorius and went 3-for-4 with a double off the bench. Gleyber went 2-for-4 with a walk and is 6-for-15 (.400) in his last four games. I hereby declare Gleyber: Coming around. He's coming around. Hicks (single, two walks), Stanton (single, two walks), and Bird (homer, walk) all reached multiple times.
I'm a bit surprised Aroldis Chapman did not pitch in this game, even to one batter. He's pitched once in the last eight days and that was a nine-pitch outing Tuesday. With the off-day Monday, Chapman is going to go at least six days between appearances. I suppose that's good for his achy left knee, but when Aroldis goes too long between appearances, things can go haywire. Well, whatever. Jonathan Holder and Sonny Gray finished the game after Happ.
And finally, with the win, Happ is a perfect 4-0 in his four starts with the Yankees. He is the first pitcher to win his first four starts with the Yankees since … David Cone in 1995. That surprised me. I would've guessed someone else had done it at some point these last two decades, but nope. Happ is the first since Cone. Neat.
Box Score, WPA Graph & Standings
ESPN is the place to go for the box score and updated standings. MLB has the video highlights and we have a Bullpen Workload page. Here's the win probability graph:

Source: FanGraphs
Up Next
An off-day, finally. First since July 30th. Following Monday's off-day, the Yankees will play a quick two-game series against the Marlins in Miami. Masahiro Tanaka and rookie righty Pablo Lopez are the scheduled starting pitchers for Giancarlo Stanton's homecoming Tuesday night. Would be pretty cool if he hits his 300th career home run in Miami.