Good series, good week. The Yankees roughed up the Rangers for a 7-2 win Sunday, clinching the four-game series win and a 6-1 week. Yeah, the White Sox and Rangers stink, but you can only play the teams on the schedule, and the Yankees took care of business this week. At 74-43, they've tied their high water mark at 31 games over .500.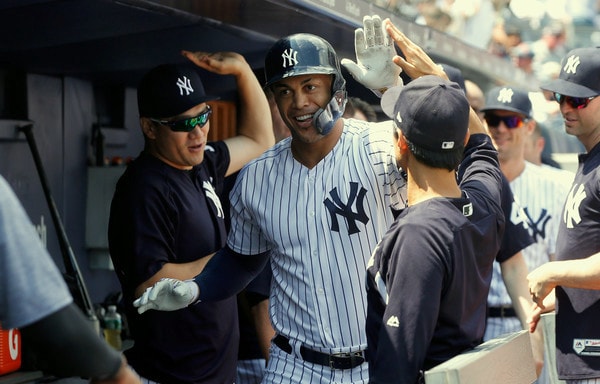 Broken Open
Another day, another Giancarlo Stanton dinger. He cranked a first inning solo home run for a quick 1-0 lead. It was his fifth homer in his last six games and his 30th of the season. Stanton's the first player with 30 homers in his first season with the Yankees since Mark Teixeira socked 39 in 2009. Alas, a bunch of quick outs followed Stanton's blast.
The third time through the lineup did not go well for Martin Perez. Neil Walker started the fifth inning with a first pitch ground out, then the offense went to work. Let's recap that five-run fifth inning with annotated play-by-play: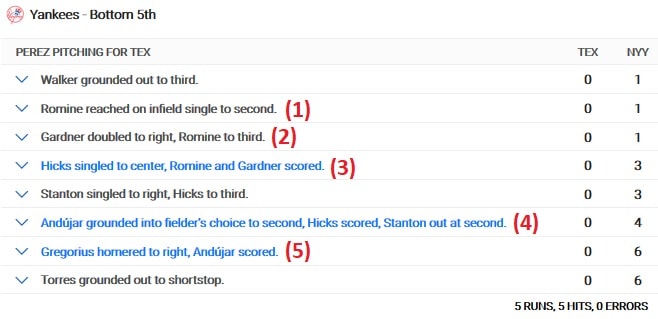 (1) Second infield single of the day for Austin Romine! Both times he hit the ball to Rougned Odor and both times Odor couldn't make the play. The first infield single was a weak grounder Odor couldn't get out of his glove. The second was a grounder up the middle. Odor ranged to make the grab but couldn't complete the Derek Jeter-esque jump throw. Romine was safe and the Yankees were in business.
(2) Been a weird few days for Brett Gardner. Is he hot or cold? I can't tell. He hit a home run the other night and has two multi-hit games within the last week, yet he went into Sunday's game 6-for-27 (.222) in his last seven games. Huh. Well, either way, Gardner was hot for at least one at-bat Sunday, when he roped a double into the right field corner and put runners at second and third with one out.
(3) As announcers are wont to say, this was a nice piece of hitting. Aaron Hicks poked a changeup on the outer half the other way into shallow right-center field for a two-run single. In the third inning Hicks singled to the left field side of center, and it looked to me center fielder Delino DeShields Jr. shaded Hicks toward left in that fifth inning. Had he played him more straight up, he probably turns that two-run single into an out. DeShields was only a few steps away from making the catch. Instead, two runs scored and the Yankees took a 3-0 lead.
(4) Stanton's second hit of the game was another rocket, a line drive single to right. Hicks went first-to-third and he belly-flopped into third base more than he slid. Not a textbook slide. Hicks laughed it off though, so all is good. With runners on the corners and one out, Miguel Andujar hit a weak tapper to second base, too weak to turn into a double play. Andujar beat it out and Hicks scored from third for a 4-0 lead.
(5) Nothing like a homer to cap off a big inning. Sir Didi Gregorius had a whale of a game defensively, and he put an exclamation mark on the fifth inning with a two-run home run into the short porch. It was his 21st home run of the season.
The two-run homer gave the Yankees a 6-0 lead and, for whatever reason, Rangers manager Jeff Banister stuck with Martin Perez. Pitching coach Doug Brocail went to the mound before the Andujar at-bat and I was surprised Perez stayed in the game at that point. Perez not only finished the fifth, he went out to start the sixth! Back-to-back singles created another run and ended Perez's afternoon. The third time through the order, the Yankees went 5-for-7 against him and broke the game open.
Six Strong For Sabathia
It is August 12th and CC Sabathia is currently ninth in the American League with a 3.32 ERA. He is right behind eighth place Luis Severino (3.11 ERA). Amazing. I love Sabathia, he is forever cool with me, but I never imagined he'd have a season like this. Sabathia limited the Rangers to one infield single in six scoreless innings and the infield single didn't even reach the pitcher's mound.
Sabathia had to pitch around three walks — all to left-handed batters, weirdly — and two Andujar errors, but pitch around them he did. Seven strikeouts, ten ground outs, one fly out. The average exit velocity allowed: 78 mph. Second lowest in any Sabathia start this season. Cutters and backdoor sliders and weak contact and timely strikeouts all afternoon long. It was late-career Sabathia at his best.
The final line: 6 IP, 1 H, 0 R, 0 ER, 3 BB, 7 K on 97 pitches. I actually though Sabathia had enough left in the tank to go out for the seventh — he retired eight of the last nine he faced and the one baserunner came on a routine grounder Andujar misplayed — though there's no sense in pushing him. Overall though, a very good outing in a season full of very good outings for Sabathia. Can't complain about a 3.32 ERA in 119.1 innings at all.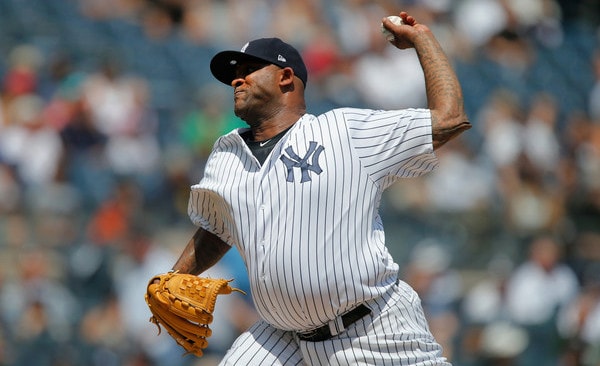 Leftovers
With a chance for one of those cheesy three-inning saves, Sonny Gray faced eight batters and allowed five base hits. He was charged with two runs in one inning. Jonathan Holder had to bail him out in the eighth inning. Twenty days. Twenty days until rosters expand and the Yankees can bury Gray in the bullpen and not worry about having to use him when they run out of arms. Holder got six outs to spare a bullpen that's worked a lot lately.
Gleyber Torres continues to struggle. He went 0-for-4 and is 10-for-61 (.164) since coming back from the disabled list. That has dragged his overall season batting line down to .265/.333/.505 (124 wRC+). Still really good! For anyone, really, but especially for a 21-year-old rookie middle infielder. But yeah, Gleyber is still struggling and it sure would be swell if he got back on track soon.
Every starter had a hit except Torres and Andujar, though Andujar did get a run with a fielder's choice in that fifth inning. He also made two errors and could've made a third if not for Luke Voit's nice scoop at first. We've seen the best of Andujar and the worst of Andujar this weekend. Hicks, Stanton, Didi, Romine, and Gardner had two hits apiece. Only four strikeouts on the day too. The Yankees struck out 16 times in the four games series, or 11.1% of their plate appearances. Huh.
Gregorius went 2-for-4 with a home run at the plate and he probably had a better day in the field than at the plate. He made several stellar players, including this one against DeShields:
According to
Statcast
, DeShields is the sixth fastest runner in baseball with a 30.0 ft/s sprint speed. Very fast runner, very tough play, and Gregorius made it. Pretty awesome. What a player Didi has become.
Box Score, WPA Graph & Standings
For the box score and updated standings, head over to ESPN. MLB has the video highlights. Here's our Bullpen Workload page and here's the win probability graph:

Source: FanGraphs
Up Next
Monday was supposed to be an off-day. Instead, the Yankees and Mets will get together for a makeup game at Yankee Stadium. They were rained out back on July 22nd, remember. The pitching matchup is a good one: Luis Severino vs. Jacob deGrom.