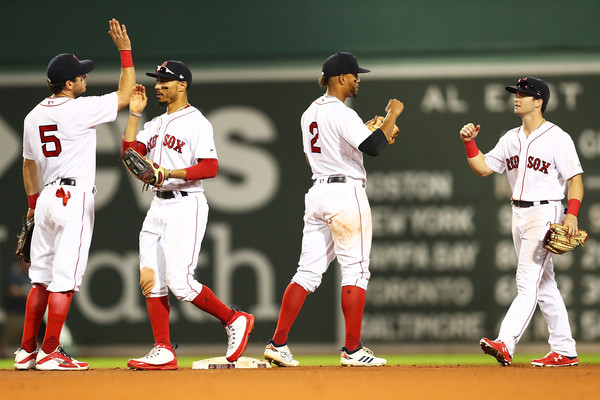 The Yankees opened their final homestand of the 2018 season by dropping two out of three to the Blue Jays, which isn't great. Luckily, the A's also lost two out of three this weekend – thank you, Tampa Bay (which is a sentence I feel strange writing) – so the Yankees remain two up in the loss column in the Wild Card race. And that's something.
Next up: the Boston Red Sox.
The Last Time They Met
Do we have to talk about this?
The Yankees visited Boston for a four-game set in the beginning of August, the result of which was a sweep in favor of the bad guys. The Red Sox outscored the Yankees 28-13, and secured their position atop the American League East. Let's try to find some positives from the series:
Giancarlo Stanton had three multi-hit games, and went 6-for-16 with two doubles and a home run overall.
Chance Adams had a decent big-league debut, going 5 inning and allowing three hits, three runs, and one walk, while striking out a couple.
That's about it. Check out Katie's Yankeemetrics post for more information.
Injury Report
Dustin Pedroia and Carson Smith are both done for the season. Matt Barnes is working his way back from hip inflammation, and has thrown a couple of bullpen sessions already – he could be back soon. Mookie Betts (oblique) and Eduardo Nunez (knee) are both banged-up, but neither is expected to hit the disabled list; and both should play this series.
Their Story So Far
The Red Sox are 103-47 with a +221 run differential, and have already clinched a postseason spot. Their magic number to clinch the AL East is two, so one win this series will do the trick. It's only a matter of time before they clinch home field throughout the playoffs, as well. They lead the majors in runs scored, they're third in runs allowed, and they're seventh in FanGraphs' defensive rating. This is a well-rounded team, to say the least.
The Lineup We Might See
While manager Alex Cora doesn't have a reason to rush Betts back into the lineup, I'll operate under the assumption that he'll be there for at least two of the three games. Based on that:
Mookie Betts, RF – .337/.431/.619, 29 HR, 28 SB, 180 OPS+
Andrew Benintendi, LF – .287/.363/.467, 16 HR, 20 SB, 123 OPS+
J.D. Martinez, DH – .328/.398/.628, 41 HR, 5 SB, 172 OPS+
Xander Bogaerts, SS – .288/.359/.519, 21 HR, 8 SB, 134 OPS+
Mitch Moreland, 1B – .246/.320/.440, 15 HR, 2 SB, 103 OPS+
Ian Kinsler, 2B – .249/.308/.394, 14 HR, 15 SB, 91 OPS+
Jackie Bradley, CF – .232/.310/.400, 12 HR, 16 SB, 91 OPS+
Rafael Devers, 3B – .238/.295/.415, 17 HR, 5 SB, 90 OPS+
Sandy Leon, C – .182/.240/.287, 5 HR, 1 SB, 42 OPS+
Steve Pearce (149 OPS+) will probably start at first against J.A. Happ, and Brock Holt (98 OPS+) could grab a start or two at any number of positions.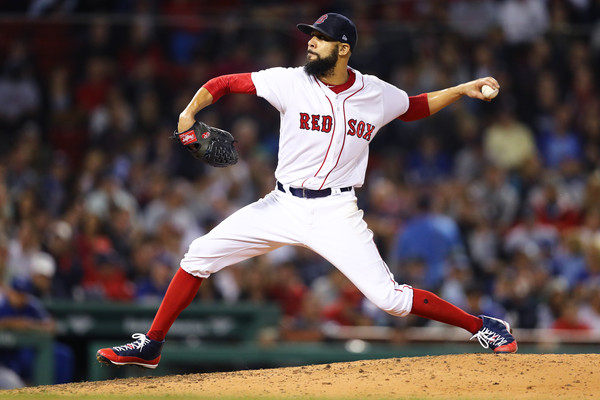 The Starting Pitchers We Will See
Tuesday (1:05 PM EST): LHP J.A. Happ vs. RHP Nathan Eovaldi
Eovaldi has been a solid pick-up for the Red Sox, pitching to a 4.17 ERA (105 ERA+) in 41.0 IP. His underlying numbers have slipped quite a bit, though, with his strikeout rate dipping by 7.8 percentage points and his walk rate jumping by 1.9 percentage points. It hasn't hurt him (or the Red Sox) thus far, though. And he did throw 8 shutout innings against the Yankees on August 4.
Last outing (vs. TOR on 9/11) – 3.2 IP, 3 H, 2 R, 2 BB, 4 K
Wednesday (7:05 PM EST): RHP Luis Severino vs. LHP David Price
Price has been incredible since the All-Star break, pitching to the following line: 57.2 IP, 39 H, 9 BB, 60 K, 1.56 ERA, 2.25 FIP. That stretch includes his outing against the Yankees on August 5, where he allowed two runs in 6 IP. Price's pitch selection hasn't changed all that much on a game-by-game basis, so this is simply a matter of a talented pitcher getting hot at the right time, it seems.
Last outing (vs. TOR on 9/12) – 7.0 IP, 3 H, 0 R, 0 BB, 7 K
Thursday (7:05 PM EST): RHP Masahiro Tanaka vs. LHP Eduardo Rodriguez
This year constitutes something of a breakout for the 25-year-old Rodriguez, who has career-bests in ERA (3.53), strikeouts (26.3%), and walks (7.1%). The Yankees have seen him twice this year already; he shut them out for five innings back on May 10, and then allowed five runs in 6 innings on June 29. I'm hoping for more of the latter this time around.
Last outing (vs. TOR on 9/13) – 6.0 IP, 5 H, 1 R, 0 BB, 7 K
The Bullpen
Craig Kimbrel had a bout of mortality coming out of the All-Star break, allowing runs in five of six games at one point and seeing his ERA climb by 0.86 in the process. He has settled down since then, though, pitching to a 0.82 ERA in his last 11 appearances.
31-year-old rookie Ryan Brasier has come out of nowhere to be a lights out late inning option for the Red Sox, pitching to a 1.53 ERA (286 ERA+) in 29.1 IP since being called-up in June, and he's been the team's best non-Kimbrel reliever in Barnes' absence. Drew Pomeranz was moved to the bullpen in August, and has struggled mightily in that role with a 5.79 ERA in 18.2 IP. Outside of those two, it's the usual suspects – Heath Hembree, Joe Kelly, etc. The bullpen is probably the closest thing to a weakness the Red Sox have, as it has been largely middle of the pack since the break.
Who (Or What) To Watch
The Red Sox have close to nothing to play for at this point, whereas the Yankees are fighting for home field advantage in a one-game playoff. That's a recipe for excitement, isn't it?