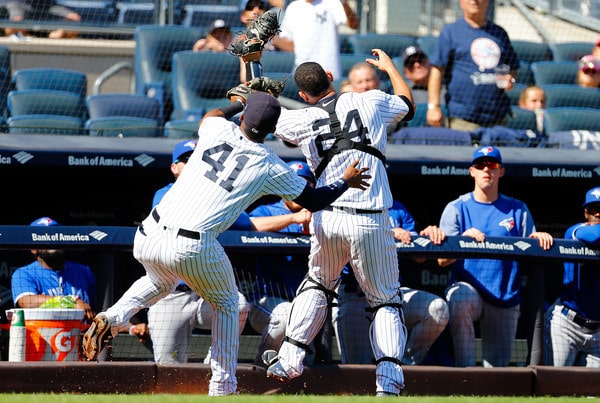 Thirteen games and 13 days remain in the 2018 regular season for the Yankees. Yesterday was the final off-day of the regular season, and tonight, the Yankees will open a three-game series with the Red Sox. A few weeks ago I was hoping this series would be much more meaningful than it actually is. For shame. Anyway, I have some thoughts, so let's get to them.
1. The Red Sox have a magic number of two to clinch the AL East title, so one win this series will do the trick, and man if that doesn't motivate the Yankees and bring out their best these next three days, I don't know what will. A sweep to stay alive in the division race is so very unlikely. The Yankees can't even win a series against the Twins and Blue Jays right now, and the Red Sox are actually good, so at some point this week they're probably going to celebrate the AL East title in Yankee Stadium. Again, if that doesn't irritate this Yankees group and give them a kick in the pants, I don't know what will. The Yankees should treat this series like a postseason series, both the players and Aaron Boone, and not only because the Red Sox might celebrate a division title at Yankee Stadium. Because the Yankees haven't clinched anything yet and because they've been playing mediocre baseball for two months now. They need a wake-up call. They won't get a better one the rest of the season than this series.
2. What if the 2018 Yankees are the 2016 Astros? It's not a perfect comparison because the 2016 Astros missed the postseason and the 2018 Yankees are a very good bet to make the postseason, but the idea is that the Astros broke out in 2015 and made the postseason, and rather than build on it in 2016, they took a step back and fell short of expectations. The Yankees broke out in 2017 and were expected to build on it in 2018, and so far they have! They're going to have a better record — the Yankees have already matched last season's win total with 13 games to play — and who knows, they might have a deeper postseason run ahead of them. The 2018 Yankees aren't the team so many of us expected them to be though. Their stars haven't been playing like stars and it seems like everyone is kinda waiting around for someone else to go do something to win a game, you know? Maybe this is their 2016 Astros season. Instead of building on last year's success, they fall short of expectations, then really break out and become a dominant team next year. It would be lame, but it's a reminder it's not unprecedented for an up-and-coming team to have a hiccup year before it all comes together.
3. Aaron Judge could return as a hitter this series — that is not set in stone, though Boone said there's a chance it'll happen — and, if it does, I imagine it'll happen tomorrow or the next day, not this afternoon. Sending him back out there against hard-throwing Nathan Eovaldi seems like a recipe for failure. Then again, there are only 13 games remaining this season. Judge has no more than 13 games to shake off two months of rust, so maybe they will let him play today, even if Eovaldi is a bad matchup (on paper). (For what it's worth, George King says Judge won't be in today's lineup.) Whenever he does return, where does he hit? Do the Yankees stick Judge right back in his customary No. 2 lineup spot? Or do they start him a little lower in the lineup while he works to get back up to speed? I can see the argument either way. Even if he's not hitting, Judge is still going to draw a ton of walks and get on base — when he was at his worst last August, he still had a .353 OBP — and that'll work atop the lineup. On the other hand, you'd rather give your most productive hitters the most at-bats, especially since nothing has been clinched yet. My guess is Judge goes back into the No. 2 slot for two reasons. One, he's still a good bet to get on base a lot. And two, he needs as many at-bats as possible, and if batting him second instead of sixth or seventh gets him a few extra at-bats the rest of the way, it's worth it. Heck, maybe Judge should leadoff when he returns! I bet he hits second. That's my guess.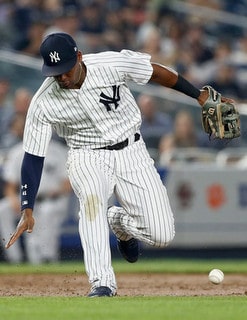 4. We've seen and heard (plenty) about pitchers having personal catchers. CC Sabathia has a personal third baseman. It's Neil Walker. Walker has started at third base in Sabathia's last two starts and in three of his last four starts, and, the one time he didn't start at third, Miguel Andujar made an error and one other defensive miscue that wasn't ruled an error, but was a play a big league infielder should make. Sabathia is a lefty who pitches in on right-handed batters a ton, and that means lots of batted balls pulled to the left side of the infield. Andujar is a pretty terrible defensive third baseman — I love the kid, but he is bad a third — so it makes sense to put a good defensive gloveman at the hot corner when Sabathia starts. I'm not sure Walker is the best way to go about it. He's not really good at anything. His bat cooled down a while ago and he's okay at best in the field, especially when it comes to range. I think the best thing to do is either go all-in on offense and start Andujar behind Sabathia, or go all-in on defense and start Adeiny Hechavarria. Walker is more of a half-measure. He's not guaranteed to help you at the plate or in the field when he starts. At least you know Andujar can have an impact offensively and Hechavarria will make all the plays. I say pick one of those guys and put him at third base when Sabathia starts. In the words of Ron Swanson, never half-ass two things, whole-ass one thing. Either go with offense (Andujar) or defense (Hechavarria), not a little of both (Walker).
5. So at what point does Greg Bird get more at-bats? My guess is this weekend against the Orioles and their junky pitching staff at the earliest, because the Yankees will see lefties David Price and Eduardo Rodriguez in the final two games of this Red Sox series, and of course Luke Voit will be in the lineup for that. Voit has (somewhat predictably) cooled off though — he is 4-for-22 (.182) in his last seven games, though five walks and a hit-by-pitch give him a solid .357 OBP during that time — and the Yankees can't just flat out ignore Bird. I mean, they can, but I wouldn't advise it. He needs some at-bats before the end of the regular season. If Voit has a difficult series against the Red Sox, especially with lefties lined up to start two of the three games, I say give Bird another crack at the first base job and see where he's at. And, if he's still bad and swinging through 90 mph fastballs, the Yankees can always go back to Voit. (Still wish they'd traded for Josh Donaldson to play first, you guys.)
6. Players have a way of disappearing once rosters expand in September. Some guys just get lost in the shuffle and rarely play. Bird has started twice in the last 16 games, for example, though that has more to do his (and Voit's) performance rather than a numbers crunch. A.J. Cole hasn't pitched in eleven games and he's pitched once in the last 16 games. Not necessarily a bad thing! Cole was pretty bad in late July and August. Clearly though, Luis Cessa and Tommy Kahnle are ahead of him in the bullpen pecking order now. Ronald Torreyes has played one inning in the last 14 games because Hechavarria has become the go-to reserve infielder thanks to his defense. I don't know where I'm going with this. It's just kinda funny how guys can go from regulars from April through August to being glued to the bench in September. Cole pitched in a lot of close games the last few weeks and now he's nowhere to be found. Torreyes started a bunch of games at second base while Didi Gregorius was on the disabled list, and now he's not even the main backup infielder. Baseball rosters can be weird sometimes.