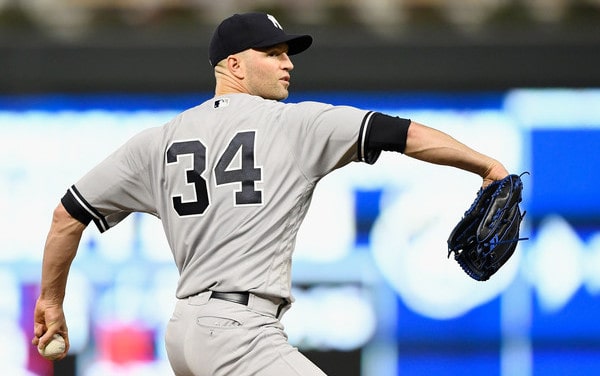 Coming into the season, the question was not "will the Yankees get a starter at the deadline?" The question was "which starter will they get?" It was a damn near certainly the Yankees would get another starting pitcher, especially after Jordan Montgomery went down with Tommy John surgery and Sonny Gray stayed healthy but went full Javy Vazquez. The need for another starter was clear.
A no-doubt ace never hit the market. Jacob deGrom was never really available and calling Chris Archer an ace at this point is a bit of a stretch. That was a bummer for the Yankees, who had the prospect capital to get pretty much any player they wanted. They could've made the best offer for deGrom. I'm not sure the Mets would've traded him to the Yankees, but the Yankees had the pieces to get it done.
So, with no clear cut ace on the market, the Yankees went for the next best thing: Reliability. That led them to left-hander J.A. Happ, who, funnily enough, really struggled before the trade. Remember when he allowed 26 runs in his final five starts and 31.1 innings with the Blue Jays? People freaked out and said he wouldn't be a good pickup. Then the Yankees traded for him, and there was more freakout.
Last night Happ made his eighth start as a Yankee, and, for the fifth time in those eight starts, he threw at least six innings and allowed no more than two runs. It was the sixth time he allowed no more than two runs period. Happ tossed six scoreless innings against the Twins last night and it could've been seven innings, but, once the Yankees broke the game open, there was no sense in wasting bullets.
"He's a very good pitcher, an easy guy to catch," said Gary Sanchez to Bryan Hoch following last night's game. "A guy that's aggressive, a guy that goes after strike one. He has a really good plan from the beginning, executes the plan. When you have a guy like that, it allows you to get on the same page with him and be able to work effectively."
Happ has had one disaster start with the Yankees — the Tigers tagged him for five runs and three homers in 4.1 innings in August 30th — but has otherwise been exactly what the team needed. He's been effective, he chews up innings, and he doesn't seem to be rattled by anything. Happ seems very low maintenance. The Yankees plugged him right into the rotation and away he went.
In his eight starts with New York, Happ owns a 2.70 ERA (4.45 FIP) — the homers in that start against Detroit did a number on his FIP — with 22.9% strikeouts and 4.8% walks. He's not getting ground balls (36.2%), though ground balls were never his thing anyway. He's more of a weak contact guy, and, this year, Happ has the 12th highest soft contact rate (20.6%) and 18th lowest hard contact rate (31.9%) in baseball. That'll play.
Beyond the quality innings, Happ also gives the Yankees a different look. They are still the most extreme anti-fastball team in baseball. Only 46.2% of their total pitches this year have been fastballs. No other team is below 49.2% and only three other teams are below 50.0%. Happ, meanwhile, is one of the most extreme fastball pitchers in baseball. The fastball leaderboard:
Bartolo Colon: 78.3%
Lance Lynn: 77.4% (88.6% with Yankees)
J.A. Happ: 73.0% (71.3% with Yankees)
Brad Keller: 70.2%
Trevor Williams: 69.7%
The Yankees acquired two of the top three starters in fastball usage at the deadline despite being the most extreme anti-fastball team in baseball. Coincidence? Yeah, I think so, actually. I think acquiring Lynn and Happ had more to do with who was available at the trade deadline than it was a certain pitching philosophy. Either way, the Yankees added Happ, he's stuck with throwing a ton of fastballs, and he's been very good for them overall.
At some point soon the Yankees will have to pick a starter for the Wild Card Game and, to me, it seems like it's down to Happ or Masahiro Tanaka. Luis Severino hasn't pitched well for two months now, and while I think the Yankees would be cool with running CC Sabathia out there in a winner-take-all game (they did it twice last postseason), Happ and Tanaka feel like the best options. I'm not sure there's a wrong answer here. Either works.
For now, the Yankees desperately needed someone to step in and provide rotation stability, and Happ has done that. Gray stunk, Montgomery got hurt, and Domingo German showed flashes of brilliance but was largely ineffective. They went out and got Happ, even after his rough final five starts with the Blue Jays, and he's given the team a real shot in the arm in the second half. He's been everything they could've possibly hoped.
"It's been exciting since I got here, and it's obviously still that way," said Happ to Hoch. "We're still trying to chase this thing down and we know that we've got to play good baseball to keep that spot. It's exciting. Every game means something and that little bit extra definitely helps."