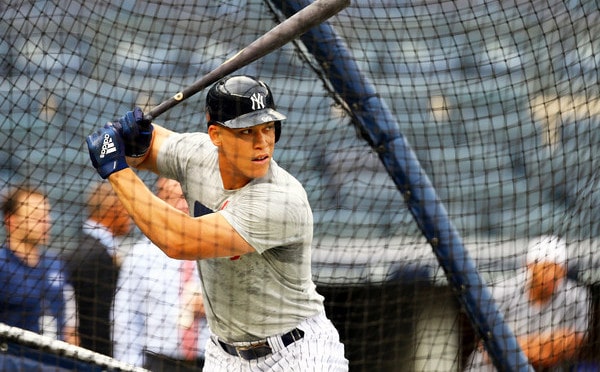 After missing close to two months, Aaron Judge returned to the Yankees last night. He went 0-for-4 in the series opener against the Red Sox after getting simulated at-bats the last few days, which is the best thing he and the Yankees could do with the minor league season already over. Now they've turned him loose in big league games. There are 12 games remaining this year and Judge will need all 12 to get his timing down at the plate.
"Hitting's a funny thing. Sometimes it happens real quick, sometimes it takes a little bit of time … Hopefully it clicks for him pretty quickly," said Aaron Boone yesterday when asked how long he thinks it'll take Judge to figure things out at the plate. "Physically, he's in a really good place. Physically, he's really strong. It's just a matter of getting that good timing and that's something that — even for great hitters — can come and go a little bit."
Prior to yesterday's delayed postponed game, Judge took simulated at-bats against minor league righty Adonis Rosa, and he looked very much like a player who's been out eight weeks or so. When he made contact, it was loud, but he was generally behind on fastballs and out in front of breaking balls. He did a nice job catching up to Nathan Eovaldi's fastball last night, which is encouraging, but it stands to reason his timing isn't all the way back yet. That's why getting him back into the lineup as soon as possible was so important. He needs at-bats.
What can the Yankees and Judge expect now that he's back in the lineup? Probably a bevy of fastballs. Teams will force Judge to show he can handle the heat before worrying about anything else. Billy Witz recently spoke to several players about their experiences coming back from wrist fractures, and this stood out to me:
Oakland's shortstop Marcus Semien required surgery to repair his fractured right wrist last season and missed nearly three months. Semien, a right-handed hitter like Judge, said he struggled at times with high fastballs, which require a strong top hand to handle.
Every injury is different. Judge broke his right wrist, his back wrist when hitting, and that is much different than a right-handed hitter breaking his left wrist. The front hand is the power hand. Losing strength in the front hand or wrist can be very debilitating. Judge broke his right wrist though, his back wrist, so hopefully that means he won't need as much time to get back to normal at the plate.
Semien is a reminder that an injury to the right wrist can still be trouble for a right-handed hitter. He had a very different injury than Judge — Semien fractured a different bone and needed surgery to insert screws into his wrist to stabilize things — but a damaged wrist is a damaged wrist. Semien had trouble with high fastballs when he initially returned. Judge may do the same. (Teams ten to pound him with high fastballs anyway.)
Throwing strikes is not easy, or at least not as easy as many fans seem to think, so I suspect Judge will continue to draw plenty of walks even if he struggles these next few days. Filling up the zone against a guy who can a ball 500 feet is easier said than done. The on-base percentage should be okay. I worry more about the swings and misses than the power. The two-month layoff could push his short-term strikeout rate well north of its usual 30%.
The Yankees haven't clinched anything yet and they've been stumbling these last few weeks, and while adding a potentially unproductive Judge to the lineup may not help right the ship, the Yankees don't have much choice. Fortunately they're in great position to secure a postseason spot. Homefield advantage in the Wild Card Game? That's a different matter. But a spot in the postseason is fairly secure, so they'll run Judge out there, and hope he gets his timing right as soon as possible.
"I felt like I never left," said Judge following last night's game. "Everything felt good. Felt like my at-bats were good, seeing the ball well. That's all you can ask for after missing that many weeks … It's like riding a bike. I knew after my first day doing simulated at-bats I was good to go."