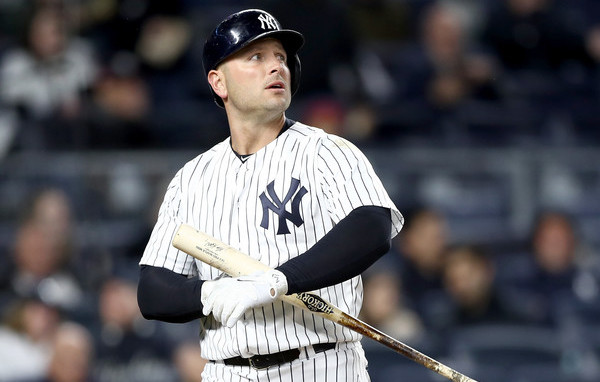 Last night, for only the eighth time in 19 games this month, the Yankees did not strike out 10+ times on offense. They struck out eight times, to be exact, and it helped that they faced Royals southpaw Jason Vargas, a finesse pitcher not known for missing bats. The Yankees have 18 double-digit strikeout games this season, third most in baseball behind the Rays (32), Athletics (22), and Brewers (19).
Over the last few seasons the Yankees have been consistently better than average at avoiding strikeouts, believe it or not. From 2013-16 they had a 19.5% strikeout rate as a team, eighth lowest among the 30 MLB teams. Last season they had the fourth lowest strikeout rate in baseball at 19.6%. This year though, the Yankees currently own an 23.0% strikeout rate, fifth highest among the 30 clubs. The league average is 21.4%. Pretty big swing in the wrong direction.
It's no secret why the Yankees are striking out more this season. Aaron Judge (29.2 K%) is in the lineup everyday. He's been awesome! But he still strikes out a lot. Greg Bird (30.6 K%) struggled big time before getting hurt, and Chris Carter (37.8 K%) has since taken over at first base. Matt Holliday (30.5 K%) is also striking out more than ever before at age 37. Those are fairly extreme strikeout rates. Judge and Holliday are making up for it with their production. Bird and Carter … not so much.
More important than the team's overall strikeout rate is their strikeout trend. The Yankees struck out 10+ times in a game only seven times in April. They're up to eleven such games in April with eight days to go. Twice this month they've struck out 16+ plus times in a nine-inning game after doing it zero times from 2011-16. I made a graph:
Not good! The Yankees have been striking out more and more as the season has progressed. It was painfully obvious Sunday, when the Yankees struck out 16 times against Chris Archer and various relievers. They had runners on second and third with no outs in the first inning, then strikeout strikeout strikeout, inning over. Annoying! And also a problem. A problem that is getting worse.
Now, the million dollar question: how do the Yankees fix the strikeout problem? They can only change the personnel so much. They could jettison Carter in favor of, uh, Rob Refsnyder? Tyler Austin is on the mend, though he's no lock to strike out less. He struck out in 40.0% of his plate appearances during his MLB debut last year. Removing Carter is potentially part of a solution, not the solution. Their options to replace him aren't exactly contact machines.
Judge and Holliday aren't going anywhere, so the Yankees just have to live with their strikeouts. As good as Judge has been, his strikeout rate has been ticking up the last few weeks. He's not striking out as much as last year, but his strikeouts have been on the rise: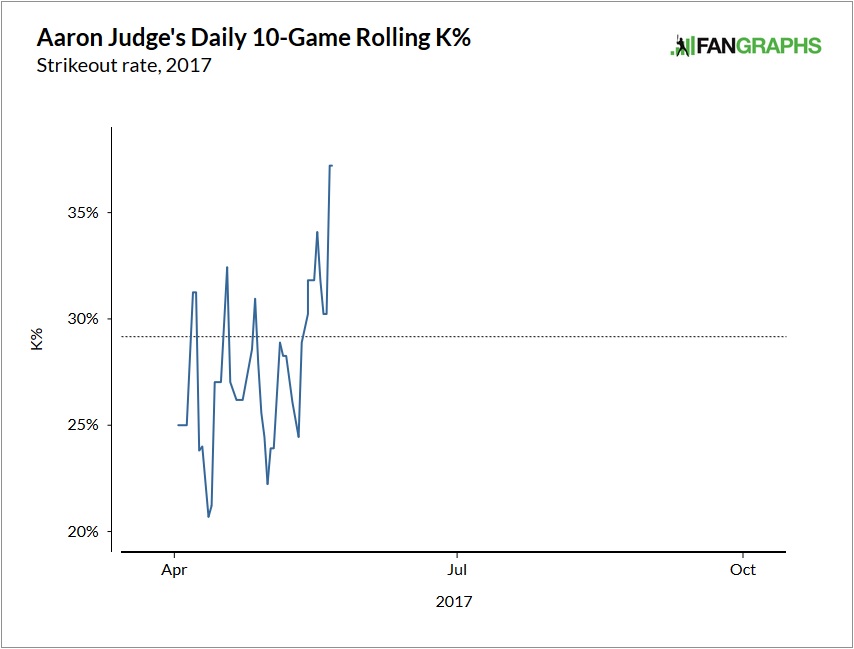 It could be that the Yankees have just run into a collective rough patch. Facing Danny Duffy — they're going to see him again tonight, by the way — and Archer in the span of five days is not fun. The Yankees also saw Chris Sale earlier this month. But still, already five pitchers have 10+ strikeout games against the Yankees this year (Archer, Duffy, Sale, Charlie Morton, Carlos Martinez). All but the Martinez game are fairly recent. Last year only two pitchers had 10+ strikeouts against the Yankees (Rich Hill, Lance McCullers Jr.).
Strikeouts are up all around the league these days — MLB is currently on pace to set a record high strikeout rate for the 13th straight season — because pitchers are throwing harder, hitters are selling out for power, and all sorts of other reasons. It's not a surprise the Yankees are striking out more, especially given their roster. It was too be expected. But the strikeouts have become rather extreme lately, and it's costing them runs. Again, we saw it Sunday. Runners on second and third with no outs, yet none of the next three hitters could put the ball in play.
Hopefully what we're seeing right now is just a bunch of big strikeout games bunched together, and not an indication of what's to come. Strikeouts are always bad. You tolerate them as long as they come with other stuff, like Judge's power, but too many strikeouts will absolutely inhibit your ability to score runs. The Yankees have had trouble putting the ball in play at times this month. The sooner they snap out of it, the better.