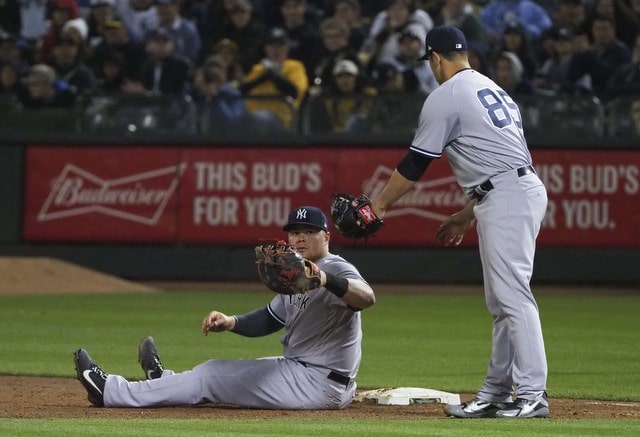 The Yankees are three games into the six-game West Coast swing and the best thing you can say right now is at least they didn't get swept in Oakland. Good win Tuesday. Great win, really. Let's not talk about the rest of the series. Onward and upward. Here are some thoughts.
1. My days as a daily lineup complainer are mostly over, but man, I just can't get on board with Gleyber Torres hitting ninth. I am well aware of the whole "second leadoff hitter" concept and I am generally on board with it. Torres is way too good to use him in that role though. He's hitting .277/.349/.501 (128 wRC+) overall this season and is 24-for-66 (.364) with four homers, eleven walks, and only 16 strikeouts in the last 19 games. Even as a 21-year-old rookie, that level of production warrants a much higher lineup spot. Not fewer at-bats than literally every other player in the lineup. Think about Tuesday night. Brett Gardner, the leadoff hitter in the lineup and the inning, started a seventh inning rally in which the Yankees loaded the bases with no outs, scored the game-tying run, and sent seven men to the plate. None of the seven was Torres. He never even made it as far as the on-deck circle that inning. Think about that. The No. 1 hitter in the lineup — the guy tasked with setting the table for the team's best hitters — started the best possible rally (bases loaded with no outs) for the middle of the order, and Gleyber was one of two Yankees to not bat that inning. That shouldn't happen. Torres is too good to be marginalized like this. I'd probably go with this lineup once Didi Gregorius returns tomorrow:
CF Aaron Hicks
DH Giancarlo Stanton
RF Andrew McCutchen
3B Miguel Andujar
2B Gleyber Torres
SS Didi Gregorius
C Gary Sanchez
1B Luke Voit
LF Brett Gardner
Gardner, a veteran leadoff hitter, would be the second leadoff hitter in that lineup, and the five best hitters would get the most at-bats, with the team leader in on-base percentage (at least while Aaron Judge is out) setting the table from the leadoff spot. It's not worth the energy to argue whether a guy should hit eighth or ninth, or fifth or sixth, or something like that. This isn't that though. Torres is hitting ninth and he should probably hitting 3-4-5 somewhere. That's a big difference. Gleyber's way too good to be the last guy the Yankees send to the plate in any given game.
2. Speaking of Torres, wow does he look good at shortstop. There have been some careless errors on routine plays, there's no doubt about that, but those issues aren't position-specific. He had the same problems at second. Gleyber looks so natural at shortstop, which makes sense because he is a natural shortstop who only moved to second base last year. He played 18 minor league games at second base prior to this season. That's it. He's now up to 112 career games at second base. Inexperience and growing pains were inevitable. I never really appreciated how difficult it can be shifting to the other side of the bag until Starlin Castro said it felt like everything was backwards when he moved from short to second. The sloppy errors need to be cleaned up. We're also talking about a 21-year-old rookie who's shown very good defensive tools in his range and arm …
… and just needs to gain some consistency. He's 21, not 31. Give him some time. Seeing Gleyber at shortstop has been real eye-opening to me. He looks so smooth and natural there. Things at second can be a bit more challenging due to his inexperience. Give Torres time and I'm sure he'll make second base look natural too.
3. As for Miguel Andujar, his defense is bad, folks. Real bad. I am usually a "give the young player some time and see if he improves" guy. Normally I'd say leave Andujar at third base and give him at least next year to show whether he can get better. In this case, Andujar's defense has been so bad this year that I wonder if the Yankees are looking at a Ryan Braun situation here. Braun came up in 2007 and mashed en route to being named NL Rookie of the Year. He also had one of the worst defensive season since DRS became a thing in 2003, so much so that the Brewers moved him from third base to left field the next season. Andujar isn't Braun bad at third, but he's bad. If the Yankees were to move Andujar off the hot corner, the outfield seems like a better idea to me than first base, for three reasons. One, it gets him further away from the plate and gives him more time to react. Two, his arm is a cannon and it would go to waste at first. It's more useful in the outfield. And three, if you're trying to hide a guy defensively, moving him to the position involved in the most plays seems like a bad idea. (Between balls in play and throws from other infielders, first basemen have been involved in more than twice as many plays as any other position this year, and more than four times as many as the average corner outfielder.) I'm on the fence about Andujar's defensive future. If the Yankees decide to stick with him at third a little longer, that works for me. If they decide to move him off the position and into the outfield, that works too. Maybe the endgame here is turning Andujar into a guy who can be in the lineup everyday while rotating between first, third, or in the corner outfield.
4. I have no idea what the Yankees should do with Greg Bird. Luke Voit is mashing and has to keep playing, and because Bird isn't hitting and doesn't offer a lick of defensive versatility, there's no way to get him into the lineup. The Yankees need to DH spot for Stanton's tender hamstring. I also don't think the Yankees can simply leave Bird on the bench indefinitely. At some point they have to get him back into the lineup and see whether they can him going, even as a potential pinch-hitter option, otherwise he might not even be worth a postseason roster spot. Once the Yankees start clinching things — the magic number for a postseason spot is 14 and the magic number for the top wildcard spot is 19 — getting Bird into the lineup more regularly seems worthwhile. We saw last October that Bird has the potential to be impactful in big games and the Yankees should want to get him back to that point as soon as possible. Right now, his production doesn't warrant a lineup spot, certainly not over Voit, so this is something the Yankees should deal with once their postseason ticket is punched later this month.
5. Earlier this season David Robertson toyed with dropping his arm slot and slinging his fastball almost sidearm (example), and now it seems he's mixing in a few two-seam fastballs. He's thrown two two-seamers in each of his last three appearances. Prior to that, he hadn't thrown the pitch since last June, when he was still with the White Sox. Here's one of those two-seamers: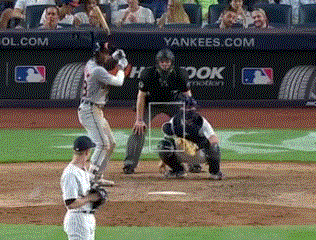 Huh. That's interesting. Robertson has been a cutter/curveball pitcher for years and years and years. Since his first stint with the Yankees. Now he's mixing in a two-seamer — a fastball that moves in the opposite direction of the cutter, which could make it a nice surprise weapon against hitters familiar with him — and the fact he's thrown it multiple times in his last three outings suggests it's intentional. The sidearm fastball thing has kinda gone away. Release point data says he hasn't thrown one of those since April. So maybe that means this two-seamer will go away eventually too. Robertson's a wily veteran now and he's a bit of a tinkerer, and the two-seamer is currently the shiny new toy. Either way, sidearm fastball or no sidearm fastball, two-seamer or no two-seamer, Robertson is having yet another excellent season. We'll see what happens after the year. To me, re-signing him is a no-brainer. He should be a forever Yankee.
6. I'm really bummed about the Clint Frazier news. He suffered a setback at some point over the weekend and the Yankees sent him to see a specialist in Pittsburgh, and now he's back in Tampa doing … I don't know what. Probably nothing since they have to wait for the post-concussion symptoms to subside. At this point the primary concern is not baseball. It's his health and quality of life. Frazier suffered a brain injury when he crashed into that wall in Spring Training, and he's still feeling the effects six months later. That's scary. I can't imagine what it's like going through that. Hopefully Frazier gets healthy and soon, and can have a normal and productive offseason. He's still so young, man. He has his entire career and his entire life ahead of him. Hopefully the concussion and migraine issues subside soon and Clint is able to come to Spring Training next year ready to go and able to win a big league job. The injury already cost him a shot at big league time this year when Judge was sidelined. With any luck, Frazier will come through all this okay and be a better player after going through the adversity. Hopefully this is a bump in the road and nothing more, both with regards to his baseball team and his long-term health. Concussions are no joke.