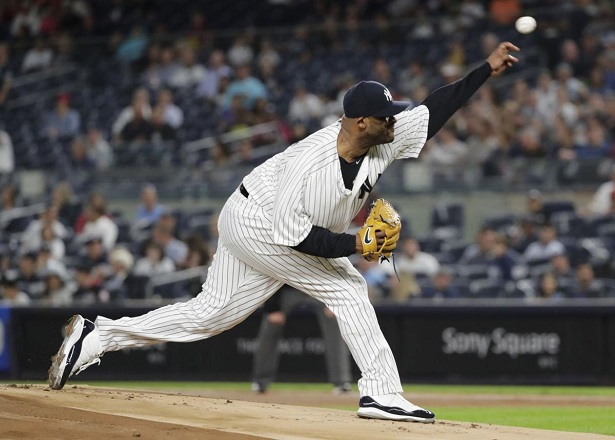 Win is a win
Survive and advance was the theme of Friday's near-disaster series opener, as the Yankees staved off a late rally to beat the Orioles 10-8. The Yankees led 6-0 entering the fifth inning and 9-4 at the start of the eighth and somehow still needed Dellin Betances to get three outs in the ninth for the save.
CC Sabathia rebounded from a terrible start last week against the Blue Jays, limiting the Orioles to two runs across six innings. It snapped a 10-start winless streak vs. the O's, the longest by a Yankee pitcher against them in the Divisional era (since 1969). And it was his 128th win as a Yankee, matching Jack Chesbro for 11th place on the franchise all-time list.
The parade of relievers that followed CC's strong performance did their best to keep him from getting that milestone victory. Jonathan Loaisiga, A.J. Cole and David Robertson were pounded by the Orioles lineup, giving up a trio of longballs while getting only one out each. And for that ugly statline, they get our Obscure Yankeemetric of the Series:
This was the first game in franchise history that they Yankees had three guys give up at least one homer while pitching no more than one-third of an inning.
Despite having three regulars on the bench, the Yankees still were able to explode for 10 runs on 10 hits. Aaron Hicks was one of the stars, reaching base four times (and scoring four times), while driving in a couple runs with a two-run homer in the fourth. It was his 25th home run, giving the Yankees five 25-homer players. That's a nice round number ….
Aaron Hicks is 5th Yankee this season with 25+ HR, tying the franchise record set in 2009.

MLB record is 6 by 2003 Red Sox.

Gleyber Torres has 23 HR…

— Katie Sharp (@ktsharp) September 22, 2018
And a #FunFact to celebrate the underrated Hicks: in the last two decades, the only other Yankee leadoff batters to score four or more runs and hit a homer in the same game were Johnny Damon (April 29, 2006) and Derek Jeter (June 21, 2005).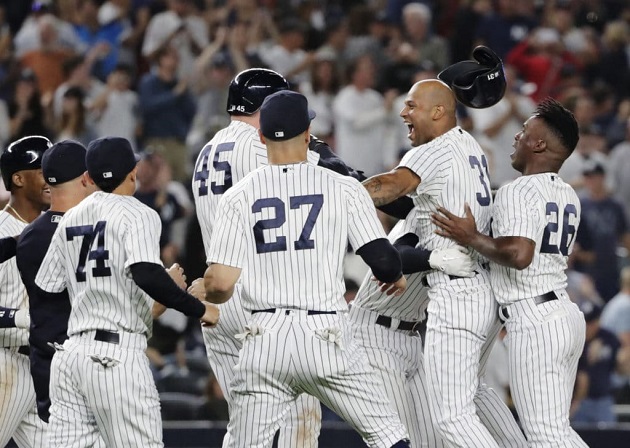 Postseason bound
The Yankees officially punched their ticket to the playoff party with a dramatic, 11th-inning walk-off win on Saturday afternoon/night. The last time they clinched a postseason berth with a walkoff win, this happened:
On September 24, 1999, Alfonso Soriano cemented his name in the Yankee record books with his first career hit, a walk-off home run in the bottom of the 11th against the Rays that wrapped up the AL East title for the Yankees.
Fast-forward nearly two decades and Saturday's hero was Aaron Hicks, who drilled a one-out double down the left field line in the bottom of the 11th inning, scoring Didi Gregorius to seal the historic win. It was Hicks' third career walk-off hit and first with the Yankees. He is the first Yankee with a walk-off double in the 11th inning or later since Bernie Williams on August 27, 1998 against the Angels. And, just for fun, he joins this list of legends, Yankee centerfielders (since 1925) that have a walk-off hit against the Orioles/Brown franchise:
Aaron Hicks (Sept. 22, 2018)
Bernie Williams (1996 ALCS Game 1)
Mickey Mantle (Aug. 10, 1956)
Joe DiMaggio (Aug. 6, 1949)
Joe DiMaggio (July 13, 1938)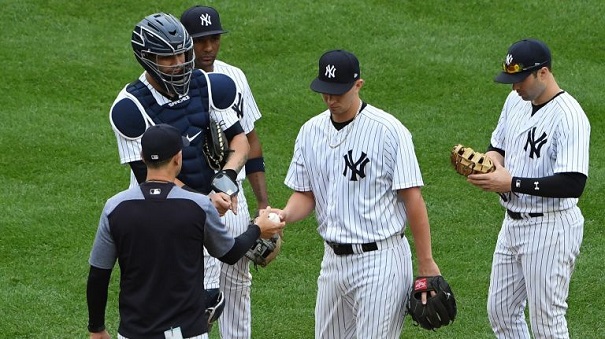 Blown lead, Bad Loss and Boo-birds
Less than 24 hours removed from one of the most exhilarating wins of the season, the Yankees crashed back to earth and capped off the Bronx version of the regular season with a depressing, uninspiring loss on Sunday afternoon. Thanks to another bullpen implosion they coughed up an early 3-0 lead, and the offense went M.I.A. after the first inning as it was held to no runs and just two hits in the final eight frames. The end result: a miserable 6-3 defeat to the 110-loss Orioles.
The turning point came in the sixth inning when A.J. Cole was called on to protect a 3-1 lead, and three batters later he was booed off the mound after all three guys scored, with two of them sending the ball into the seats. Only one other pitcher in franchise history had an outing at Yankee Stadium (old or new) in which he got no outs while giving up at least two homers and three runs: Steve Howe on September 24, 1995 against the Tigers.
Cole — who fortunately will not be on any playoff roster — has been awful over the past two months, with 21 runs and 26 hits (eight homers) allowed in his last 15 innings pitched (14 appearances) since July 31. And his struggles have been dumpster-fire terrible in four September outings:
A.J. Cole in September
16 batters faced
2.1 IP
7 Runs
4 HR
7 Hits

— Katie Sharp (@ktsharp) September 23, 2018
Rather than end on that miserable note, let's celebrate another #MiggyMantle milestone. In the third inning, Miguel Andujar belted his 43rd double and 70th extra-base hit of the season. Those 43 doubles are the second-most ever by a Yankee rookie, one shy of the record set by Joe DiMaggio in 1936. Perhaps more impressive is the 70 extra-base hits for a guy as young as Andujar. Since the first Rookie of Year trophy was first handed out in 1947, three other American League rookies age 23 or younger have recorded 70 or more extra-base hits in a season: Nomar Garciaparra (1997), Mark McGwire (1987), and Fred Lynn (1975). Each of those three players won the AL Rookie Year award.