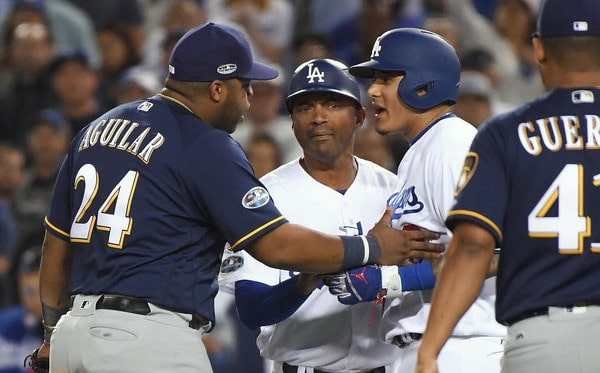 Eight games into the 2018 postseason, Orioles turned Dodgers shortstop Manny Machado is hitting .265/.306/.588 (140 wRC+) with three home runs in 36 plate appearances. The AVG and OBP are a little low, but it's a super small size, so I wouldn't sweat it at all. Machado's been quite productive in this year's postseason thus far.
Of course, no one is talking about Machado's production right now. All the focus is on some recent on-field antics that range from "that's not what you want to see" to "that's dirty." It all started in NLCS Game Two, when Machado casually jogged out a routine ground ball. He was going to be out even with full hustle, but Machado didn't even do the bare minimum hustle, and it just looked bad.
During a chat with Ken Rosenthal (subs. req'd), Machado said "there's no excuse for it honestly," but also doubled down on not hustling. Amazingly, he admitted he's pretty much never going to hustle. From Rosenthal:
"Obviously I'm not going to change, I'm not the type of player that's going to be 'Johnny Hustle,' and run down the line and slide to first base and … you know, whatever can happen. That's just not my personality, that's not my cup of tea, that's not who I am."
Machado said the quiet part out loud. This dude is a few weeks away from signing a $300M-ish contract and he came out and admitted he's not going to hustle. Not the best timing, Manny! Anything that can make prospective employers say "if this is how he plays now, what's he going to do after I give him a huge contract?" His agent can't be happy.
To be clear, I don't think the lack of hustle on that play is a big deal. Does it look bad? Yes, absolutely, especially in the postseason. Generally speaking though, I'm willing to overlook a player not running out a routine ground ball. We went through it for years with Robinson Cano. It's really not a big deal. Running out grounders doesn't create an error often. Not often enough to get upset about.
Anyway, after the non-hustle drama, Machado made a pair of questionable slides in NLCS Game Three. One of them was deemed to have violated the second base slide rule. Machado went out of his way to make contact with Brewers shortstop Orlando Arcia. The play was reviewed and ruled an automatic double play. To me, this is a clear violation of the slide rule. Machado intended to initiate contact.
"We talk about it a lot when you go into second base that you have to really make an attempt to hold on to the bag or not try to — it's a safe play, as far as trying to protect the infielder," said Dodgers manager Dave Roberts after the game. "And so Manny knows that. We talk about it all the time. And they looked at the review and they got it right. Because you do have to make a very good effort to hold on to the bag, and apparently we didn't."
That slide falls more into the "that's not what you want see" category than the "that's dirty" category, I think. Even with the new slide rule, we still see guys go in hard at second base to try to break up a double play, and they called Machado on it. It was a close postseason game, the Dodgers were having trouble scoring runs, and Machado tried to ensure the rally stayed alive. Eh. Not the worst crime a player can commit on the field. I don't think there was intent to injure.
In Game Four last night, however, Machado made his most egregious play of the NLCS, when he straight up kicked Brewers first baseman Jesus Aguilar in the ankle as he ran through first base. Machado and Aguilar yapped at each other a bit then hugged it out later in the game, after Machado reached first base, but I don't think that forgives anything. Here's the full video. Here's the most damning angle:
Manny Machado kicked Jesús Aguilar. Many #takes will follow. pic.twitter.com/uMopidt8IJ

— Fabian Ardaya (@FabianArdaya) October 17, 2018
Man, that is bad. An inexcusable play, really. It's tough for me to look at that and think it was something other than an attempt to injure. What could Machado have possibly been doing otherwise? I'm not normally one to advocate throwing at hitters, but if there was ever a reason to wear one in the ribs, that's it. Christian Yelich called it a "dirty play from a dirty player" after the game.
"I play baseball, I try to go out there and win for my team. If that's their comments, that's their comments, I can't do nothing about that," Machado said. "I was trying to get over him and hit his foot. If that's dirty, that's dirty, I don't know, call it what you want. We go way back. Whatever happens on the field happens in the field, stays between the lines."
Machado has a history of run-ins with opposing teams. There was the bat throw incident in 2014 that resulted in a five-game suspension. He also spiked Dustin Pedroia last season and the result was a season-long beanball war between the Red Sox and Orioles. Between that stuff and this postseason's heel turn, Machado is in the news for all the wrong reasons right now. He has become baseball's villain.
And here's the thing: I don't think it will matter one bit to the Yankees or any other team planning to pursue Machado as a free agent this winter. Teams, including the Yankees, have shown time and time again they will overlook stuff like this — as well as more serious off-the-field incidents — when building their roster. The top priority has been, and always will be, "can he help us win?" With Machado, the answer is very clearly yes.
Perhaps if Machado were a lesser player, his history and this postseason would push teams away. Machado is not a lesser player though. He is an elite player — he's no worse than what, a top ten player in the world? — who is right smack in the prime of his career at age 26. These players rarely become available. The teams with the wherewithal to sign him are going to continue to pursue him just as aggressively as they would've before these NLCS incidents because he's so good at baseball.
The Yankees have a clear need for Machado, perhaps moreso than any other contender. They could slot him at shortstop until Didi Gregorius returns from his Tommy John surgery, then slide him over to third base with Miguel Andujar moving somewhere (first base? left field?) that better hides his defensive shortcomings. The Yankees are a win-now team and Machado helps them, well, win now. And, at the end of the day, the Yankees and pretty much every other team in baseball has made it clear that is the most important thing.