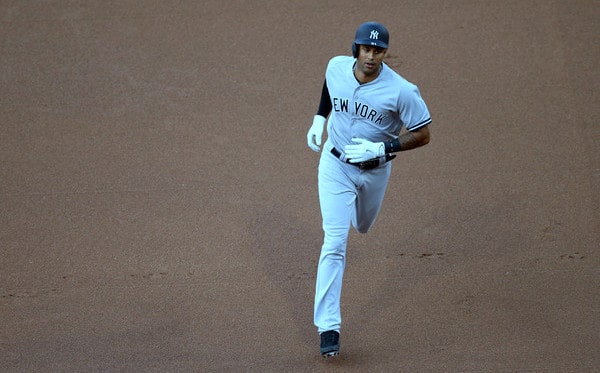 About two weeks ago the 2018 season came to an end for the Yankees, about four weeks too early. The Yankees were bounced in four games in the ALDS and the season feels like a disappointment. At least to me it does. Last year the Yankees went to Game Seven of the ALCS, and although they lost, it was still fun as hell. That was not really the case year.
Anyway, now that the season is over, it is time to go back and review my five bold predictions for the 2018 Yankees. Spoiler alert: I went 0-for-5. Last year I went 7-for-10 and that told me I didn't go bold enough. I tried to rectify that this year and I guess it worked? Perhaps I'll actually get one right next year. Time to review this year's five bold predictions to see where I went wrong.
1. Hicks will lead the Yankees in WAR.
Among this year's bold predictions, this is the one that was closest to coming true. For all the wrong reasons, of course. Aaron Hicks had a tremendous 2018 season but the only reasons he came close to leading the Yankees in WAR are Aaron Judge's wrist injury and Luis Severino's second half fade. An errant pitch broke Judge's wrist in late-July and kept him out to mid-September. Severino was pretty bad after the All-Star break. That allowed Hicks to draw close.
I tend to stick with the two most popular version of WAR but there is a third out there. Here's the top five Yankees in each version:
FanGraphs WAR
1. Aaron Judge: +5.5
2. Luis Severino: +4.8
3. Aaron Hicks: +4.7
4. Didi Gregorius: +4.2
5. Giancarlo Stanton: +4.0
Baseball Prospectus WARP
1. Luis Severino: +5.6
2. Aaron Judge: +4.7
3. Didi Gregorius: +4.2
4. Gleyber Torres: +3.2
5. Aaron Hicks: +2.9
Baseball Reference WAR
1. Luis Severino: +5.7
2. Aaron Judge: +5.0
3. Aaron Hicks: +4.9
4. Didi Gregorius: +4.6
5. Giancarlo Stanton: +4.2
I am not a big fan of BP WARP but I figured I'd throw it in there anyway. Hicks being the third best player on the Yankees — and second best position player — this past season matches the eye test, I believe. He hit .248/.366/.467 (127 wRC+) with 27 homers, eleven steals, an excellent walk rate (15.5%), and a better than average strikeout rate (19.1%). Add in quality center field defense and you've got a +5 WAR player.
Unfortunately for me and my bold prediction (but fortunately for the Yankees and Yankees fans), Judge is a true talent +7 WAR player, so he still finished ahead of Hicks even with all that missed time. Severino finished ahead of Hicks as well thanks largely to his dominant first year. Great year for Hicks. Not great enough to lead the Yankees in WAR. (That's a good thing!)
2. The Yankees will be the first team ever with four 40+ home run hitters.
Nope. The Yankees instead became the umpteenth team in history with zero 40+ home runs hitters. Stanton led the Yankees with 38 home runs. Gregorius, Hicks, Judge, and Miguel Andujar tied for second with 27 homers apiece. The Yankees did set a new single-season record with 267 homers this season. They did it without that one guy having a monster season though.
I specifically mentioned Judge, Stanton, Gary Sanchez, and Greg Bird as the 40-homer hitters in the bold predictions post. Here's what happened:
Bird: Hurt (again) and awful. He played in 82 games and hit only eleven homers.
Judge: Probably would've hit 40 homers if not for the wrist injury. Twenty-seven homers in 112 games is a 39-homer pace, and remember, he stunk when he first returned from the disabled list.
Sanchez: Missed two months with groin injuries and, even when healthy, he wasn't good.
Stanton: Hit 38 homers. Just short of 40. He was really good this year.
The Judge and Sanchez injuries were unfortunate. It happens. There are two big reasons this bold prediction was derailed. One, Sanchez was just terrible. Who saw that coming? My dude missed most of April and still hit .278/.345/.531 (129 wRC+) with 33 homers last year. Rather than build on that, Gary took a massive step back. And two, I foolishly believed this would be the year Bird stayed healthy. Never again.
3. The Yankees will have four starters each make 30+ starts.
Nope. The Yankees had one starter make 30 starts this season (Severino made 32). CC Sabathia made 29 starts and would've made 30+ had he not missed two weeks with a hip issue in April or eleven days with knee trouble in August. Masahiro Tanaka made only 27 starts because he managed to strain both hamstrings at the same time while running the bases in June. Good grief. That sent him to the sidelines for a month.
Only one other Yankee made as many as 23 starts this season. That Yankee: Sonny Gray. Gray made 23 starts and had to be pulled from the rotation because he was so awful. I didn't expect that to happen. Opening Day fifth starter Jordan Montgomery made only six starts before his elbow gave out and he needed Tommy John surgery. Know who finished fifth on the 2018 Yankees in starts? Domingo German with 14. Yeesh.
4. Cessa emerges as the next great Yankees reliever.
I called this with Chad Green last year and it worked beautifully. I tried it again this year with the other half of the Justin Wilson trade and it didn't work out so well. I guess Jonathan Holder was this year's breakout reliever? Yeah, has to be. Anyway, here was my logic behind the Cessa prediction:
There are three reasons I believe Cessa can succeed as a short reliever. One, he has plenty of velocity. Last season he averaged 95.4 mph and topped out at 99.5 mph with the fastball, even as a starter. Two, his slider misses plenty of bats. It's true. Last year he threw his slider a touch more than 30% of the time and:

Swing-and-miss rate: 21.4% (MLB average for sliders: 16.9%)
Whiffs-per-swing rate: 43.2% (MLB average for sliders: 35.2%)

Cessa also throws a curveball and a changeup, but with a move into short relief, he can forget about those pitches and work exclusively with an upper-90s fastball and a swing-and-miss slider. That's similar to what Green did, right? He moved to the bullpen, shelved his subpar secondary pitches, and leaned on his best offering, which happens to be his fastball. Cessa with something like a 55/45 fastball/slider split could be real good.
Cessa never really got a look as short reliever this year. He made two one-inning relief appearances in April, during which he struck out three of the six batters he faced, otherwise he was used as a spot starter and swingman. Cessa made five spot starts and nine relief appearances of at least two innings. The Yankees never bothered to give him a look as a one-inning "air it out reliever" aside from those two appearances in April.
In 44.2 total innings this past season Cessa finished with a 5.24 ERA (3.74 FIP) and good enough strikeout (20.0%) and walk (6.7%) rates. The fastball velocity was still good (95.0 mph average and 97.9 mph max) and the slider still missed bats (18.6% swings-and-misses and 38.3% whiffs-per-swing). Shrug. Cessa will be out of minor league options next year, and if he doesn't stick with the Yankees, I wouldn't be surprised if he turns into a nice one-inning reliever elsewhere. The tools are there. He seems miscast as a starter but the Yankees have stuck with him in that role.
5. Medina finishes the season as a top 50 prospect.
This was my most "out there" bold prediction. It's not often a 19-year-old pitcher jumps into the top half of a global top 100 list. Medina has dynamite stuff. He's upper-90s with his fastball and he's hit triple digits several times, his curveball is a hammer, and his changeup is sneaky good as well. I didn't pick him out of the hat. Medina has the stuff to develop into a top 50 prospect. I aggressively said it would happen this year. I was wrong.
In 36 innings for the rookie level Pulaski Yankees, Medina pitched to a 6.25 ERA (6.46 FIP) with 25.5% strikeouts and 25.0% walks. That's 47 strikeouts and 46 walks in 36 innings. Among the 3,014 pitchers to throw at least 30 innings in the minors this season, Medina had the sixth highest walk rate and 83rd lowest K-BB%. Medina also hit two batters and uncorked 12 wild pitches in those 36 innings. Yikes.
Even with that statistically terrible season Medina remains a very good prospect because he is only 19 and because you can't teach his stuff. It's electric. Baseball America (subs. req'd) recently ranked Medina as the 13th best prospect in the Appalachian League. A snippet of their scouting report:
What keeps scouts interested with Medina is a fastball that sits in the 95-96 mph range and touches 100, with impressive plane and sink. He's also got a 60-grade curveball and a changeup that could become a third plus pitch as well. He's still growing into a 6-foot-1, 175 pound frame, Medina has a good arm action but simply struggles to repeat his delivery with any kind of consistency and is just an average athlete.
This failed bold prediction is nothing more than a bet on a talented yet unpolished 19-year-old pitching prospect gone wrong. It happens. Medina definitely has a little Dellin Betances in him and by that I mean 19-year-old Dellin Betances. Betances was a starter with drool-worthy stuff at the same age and it wasn't until his age 26 season that he figured it out for good and stuck in the big leagues. Medina is a similar long-term project. He may one day be a top 50 prospect, but it won't be today.