We've got ten questions in this week's mailbag. Good mailbag, I think. Remember to send all your mailbag questions to RABmailbag (at) gmail (dot) com and I'll answer as many as I can each week.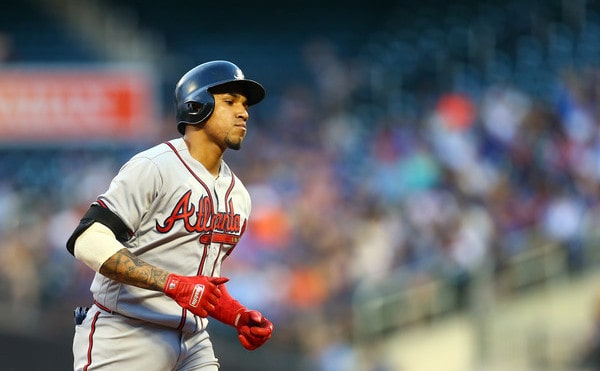 Scott asks: With the Braves signing of Donaldson rendering Camargo expendable, is a Camargo/Gardner trade in the cards?
Starting with the Brett Gardner part of Scott's question, the Yankees can't trade him. Not without his consent, and even if he does okay a trade, they have to take basically nothing in return. MLB has rules against trading recently signed free agents. From Article XX(B)(5)(a):
Any Club signing a contract with a Player under this Section B after the expiration of the Quiet Period described in subsection 2(b) above may not assign his contract until after the next June 15. However, notwithstanding the foregoing, such contract may be assigned for other Player contracts and/or cash consideration of $50,000 or less prior to the next June 16 if the Player gives written consent to such transaction.
In English, that means teams can not trade a recently signed free agent until June 16th of the following year without his consent, and, if he does consent, the total value received (contracts and cash) can not exceed $50,000. That is the league's way of preventing "sign a free agent and trade him for a stud" video game moves. Gardner for Johan Camargo is not possible right now. Gardner for anything worth more than $50,000 is not possible right now. (Plus he still has his 10-and-5 rights, remember, so he'll have to consent to a trade even after June 15th.)
As for Camargo, I'd take that dude in a heartbeat. He turns 25 next month, he hit .272/.349/.457 (115 wRC+) with 19 homers last year, he switch-hits, he's a very good defender who can play all over the infield, and he's under team control through 2023. He'd be an amazing pickup who can help cover for Didi Gregorius in the short-term and push Miguel Andujar to first base or left field in the long-term. Following the Josh Donaldson signing, Braves GM Alex Anthopoulos said the team plans to turn Camargo into their Marwin Gonzalez. Makes sense. I don't think Camargo is available, at least not while Dansby Swanson is spinning his wheels.
Hypothetically, does Clint Frazier fit? The Braves are looking for a corner outfielder to replace Nick Markakis and Frazier's from the Atlanta area — no team loves hometown players as much as the Braves — so maybe there's a fit. Atlanta also needs bullpen help and the Yankees could kick in a reliever (Chad Green?) to even things out. Frazier and Green for Camargo? Hypothetically, of course, since Camargo doesn't seem available and Frazier's coming off what was essentially a lost year. I'd take Camargo though. For sure. If there's a way to get it done, the Yankees should get on it.
Rich asks: I say this with the obligatory MTPS. What about a trade of Sonny Gray to the Twins with Byron Buxton being the major piece coming back? Or would Minnesota be too concerned about BB turning out like Aaron Hicks?
Gosh, if the Yankees could swing Gray-for-Buxton, they should do it like yesterday. Buxton absolutely stunk this season — he hit .156/.183/.200 (-3 wRC+) in 28 big league games around wrist and toe injuries — but he played hurt and a year ago he managed a .300/.347/.546 (130 wRC+) line in the second half. He turns 25 next month and the worst case scenario is Buxton becomes a No. 9 hitter who plays elite center field defense. There's more than enough talent here to justify a roll of the dice. Buxton has a minor league option for 2019 and that's why I think the Twins will keep him. They won't be forced to keep him on their MLB roster next year. (Hicks was out-of-options at the time of the trade.) I'd totally do Gray-for-Buxton. Classic high-upside buy-low opportunity. If it doesn't work out, so be it. A player this talented and this young is always worth a shot.
Jeff asks: Any interest in Cervelli as the backup catcher?
An $11.5M backup catcher ($10.3M luxury tax hit)? In a vacuum, hell yeah I'd take Francisco Cervelli over Austin Romine. But even a team willing to blow through the $206M luxury tax threshold probably wouldn't pay that much for a backup catcher. A backup catcher who, in a perfect world, doesn't play a whole lot because Gary Sanchez goes back to being 2017 Gary Sanchez. You'd have to give up something pretty decent to get Cervelli anyway. Ask the Pirates to eat money and you'd have to give up even more for, again, a backup catcher. Cervelli would of course be an upgrade over Romine. A big one. This doesn't seem all that plausible given his salary and the likely acquisition cost.
Michael asks: Is the difference in on-field performance between Patrick Corbin and J.A. Happ enough to warrant the difference in contracts that they'll likely demand (both in years and salary)? I'd be happy with either, but I feel like Happ is the better value and I have a hunch the Yankees feel that way too.
I totally get the argument but I think Corbin > Happ in both the short and long-term. Happ turned 36 last month, his ERA+ has gone from 124 to 127 to 117 (still good!) the last three years, and, most importantly, his fastball spin rate declined significantly this past season, which is kind of a big deal for a dude who throws nearly 80% fastballs.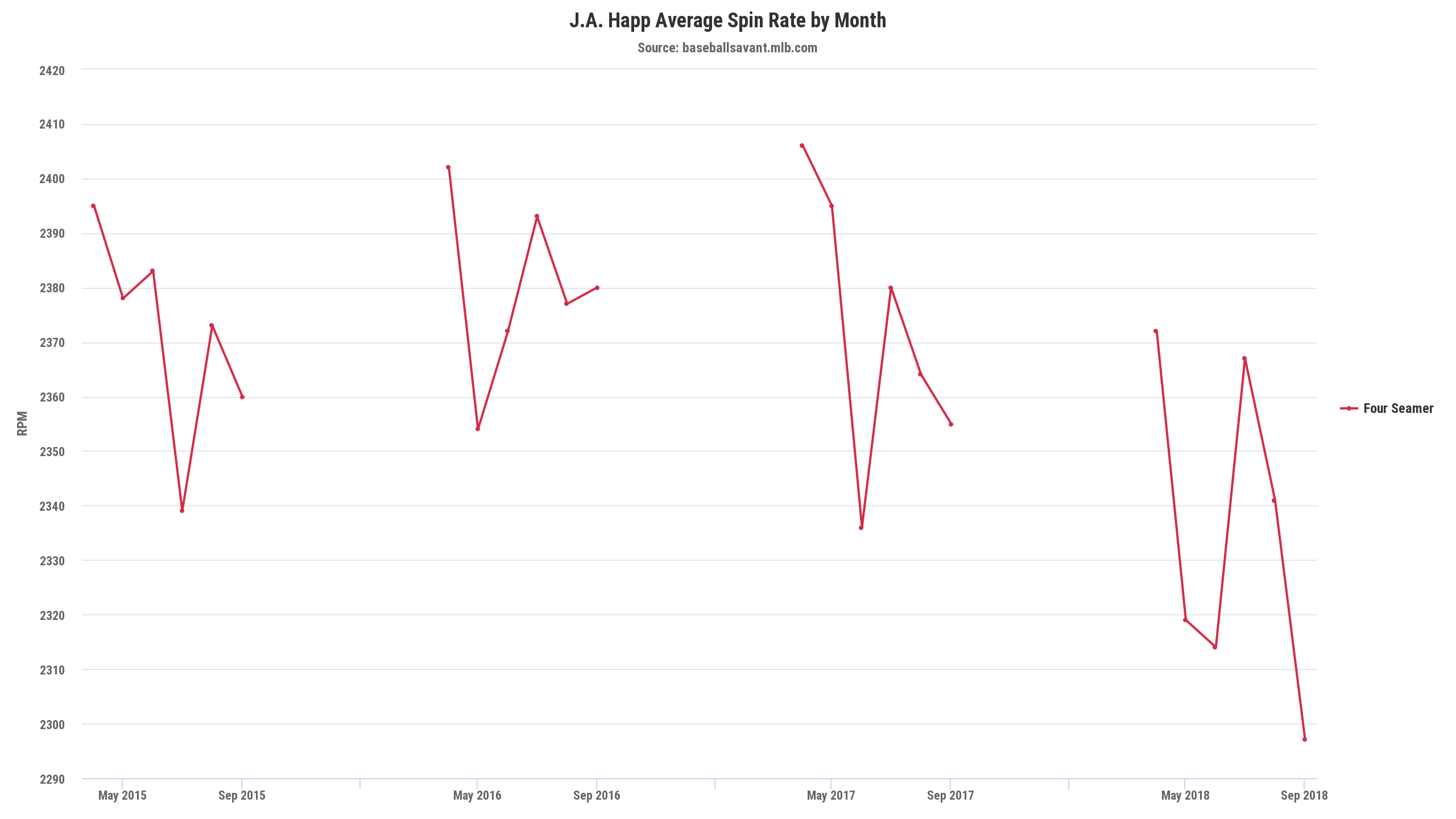 Corbin is seven years younger and, compared to Happ, he misses more bats and gets more grounders with the same walk rate. He's right in the prime of his career and I think the upside — the upside we saw last year — is far greater than it is with Happ, who, at this point of his career, you're just kinda hoping he maintains last year's performance and doesn't decline further. Corbin's contract might be four times richer than Happ's in total guarantee but maybe only $5M richer annually. I think it's worth it. Get the younger, better pitcher with the potential to be a top ten in the league guy. The window to win is now. Maximize it and don't sweat the $/WAR stuff.
Julian asks: Should the Yankees consider Cory Spangenberg if they miss out on Marwin Gonzalez?
Spangenberg is a poor man's Derek Dietrich, who is a poor man's Marwin Gonzalez. Spangenberg was the tenth overall pick in 2011 but he'll never live up to that draft slot (he was seen as a reach at the time anyway). He's 27, he's a lefty hitter with a career .258/.319/.381 (94 wRC+) batting line and a 26.4% strikeout rate in nearly 1,300 big league plate appearances, and he can play several positions (second, third, left) but none of them well. Meh. The Padres dumped Spangenberg to clear 40-man roster space prior to the Rule 5 Draft protection deadline and, if the Yankees can get him on a minor league deal and have him compete for a job in Spring Training, go for it. I wouldn't guarantee him a 40-man roster spot though, let alone an Opening Day roster spot.
Adam asks: Would you take a serious look at Dee Gordon as a possible utility player and part-time 2B? Seems like he would be a welcome presence in the lineup at #9, and might not cost much after an down year (so you can always cut bait). What would it take?
Hard pass on Gordon. He hit .268/.288/.349 (77 wRC+) this past season and .285/.315/.357 (84 wRC+) in over 1,600 plate appearances the last three years. There are two years and $27.5M remaining on his contract and he's a soon-to-be 31-year-old whose entire game is build around his legs. Once he loses a step, his value will plummet. The Mariners would have to eat how much for this to make sense, enough to turn Gordon into a $5M a year player the next two years? Even if that happens and the Mariners take a low level prospect in return, I'm inclined to sit this one out. I don't see much upside here and I think there are better options in free agency.
Chris asks (short version): What do you think the chances are that the Yanks might bring either Martin Prado or Starlin Castro back from Miami?
Definite no on Prado. He's 35 and knee trouble has limited him to 91 games the last two seasons, 91 games in which he hit .246/.284/.326 (67 wRC+) with -0.5 WAR. Prado is owed $15M next year and, even if the Marlins eat a bunch of money, I don't think you could count on him to stay healthy or produce. Had Prado become a free agent this offseason, I get the feeling he'd be heading for a forced retirement. I don't think teams would have much interest at all.
Castro's an interesting idea though. The Yankees need an infielder while Gregorius is out and Starlin could play second and provide coverage at short as well. He's somehow still only 28 and he hit an okay .278/.329/.400 (101 wRC+) with 12 homers for the Marlins this past season. That is the quintessential Starlin Castro batting line. He's been the same hitter throughout his career and hasn't taken that step forward. Starlin is owed $11M in 2019 plus a $1M buyout of his $16M option for 2020, but his luxury tax hit is only $8.57M. Miami would probably take a small return just to unload the money. Hmmm.
Matt asks: I don't know much about him, but I was reading that the Brewers opted to leave 1B Jake Gatewood unprotected for the Rule 5 draft. Connecting some dots, it appears that he may be an intriguing option to fill the void at first. Any thoughts?
The High School Home Run Derby takes place during the All-Star break each year. MLB brings the kids to the All-Star Game, they swing away Sunday morning before the Futures Game, and the final round takes place during commercial breaks during the Home Run Derby on Monday night. I mention this because Gatewood was in the 2013 finals and it was bomb city at Citi Field.
Metal bats, yeah, but Gatewood was 17 at the time and he was putting balls in the second deck at a big league park. I remember watching from my seat and being like damn, who's this kid?
Anyway, the Brewers drafted Gatewood with the 41st pick in the 2014 draft and he's been dogged by contact issues in the minors. He has a career 29.2% strikeout rate and in 2018 he hit .244/.302/.466 (112 RC+) with a 29.4% strikeout rate in Double-A. The power is legit — Gatewood hit 19 homers in 94 games this year — but it's hard for me to see him making a successful jump from Double-A to MLB with those contact issues. I'd roll with Luke Voit and Greg Bird at first base over Gatewood.
Dmitry asks: I recently attended a physicians conference where the Yanks team Doctor (Chris Ahmad) said hitters dont need to worry about reinjury of TJS after 4 months. With this in mind, would the Yanks consider starting Didi at DH? His wrc+ of 121, while much better at SS, would play at DH. Perhaps start him there, Stanton in LF, and move Didi back and reshuffle when he is able to throw? Or would they lose too much versatility by having a bat only DH?
Interesting thought. Shohei Ohtani will supposed DH next season while rehabbing his new ligament and preparing to pitch in 2020. I mean, if the doctors say it's okay, then it must be okay. Who am I to doubt them? The new ligament is healthy enough to swing a bat after four months. I suppose there's injury risk sliding (coughGleyberTorrescough) but that exists at all times, right? A player coming back from Tommy John surgery is not necessarily at increased risk of hurting his elbow sliding. I suspect the Yankees will show an abundance of caution with Gregorius. Their situation could change things — what happens if they fall behind in the AL East race and really need another lefty bat? — but I think their plan going into the season will be to let Gregorius complete his full rehab and return as a shortstop. Maybe I'm wrong and they'll be open-minded about bringing him back early as a DH. Would be kinda cool.
Bill asks: Jordan Montgomery. What do the Yankees do with him if he is ready this summer? Most pitchers can come back but are not that effective after a year and a half. Wheeler for the Mets took more time to be effective. Will they give him the time. He could be our Andy Pettitte of the future.
Well, I disagree Montgomery could be Pettitte. Pettitte was way better in every way. Stuff-wise and command-wise. As for what happens with Montgomery this year, there's really nothing anyone can do but wait. Let him complete his rehab — he had his Tommy John surgery on June 7th and that puts him on track to return sometime after the All-Star break — and see where the rotation's at once he's healthy. The Yankees might have an opening.
I said this in his season review post: I am kinda worried about post-elbow reconstruction Montgomery. Guys like him have the most to lose with Tommy John surgery because if his stuff slips at all, he could have a real hard time getting outs at the MLB level. It usually takes pitchers some time to get all the way back following Tommy John surgery. We might not see Montgomery back at 100% until 2020. Let him finish his rehab and see where he (and the rotation) is at come July or August. Don't plan on him contributing. Consider anything he gives the Yankees next year gravy. It wouldn't surprise me at all if Montgomery makes more Triple-A starts than MLB starts in 2019.