There are ten questions in the first post-Winter Meetings mailbag of the offseason. Make sure you send your questions to RABmailbag (at) gmail (dot) com and I'll answer as many as I can each week.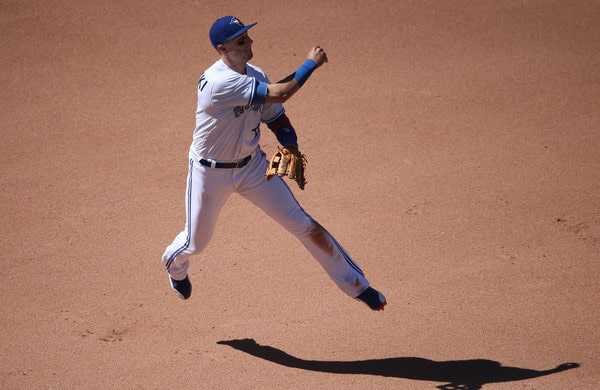 Several asked: What about Troy Tulowitzki?
I figured these were coming. The Blue Jays released Tulowitzki earlier this week with two years and $38M remaining on his contract, so he can now sign with any team for the pro-rated portion of the league minimum. Tulowitzki had surgery on both heels earlier this year and he did not play this season at all. In fact, he hasn't played in the big leagues since July 2017.
Tulowitzki turned 34 in October and he hit .249/.300/.378 (79 wRC+) with seven homers in 66 games and 260 plate appearances in 2017, the last time he played. A few days ago Blue Jays GM Ross Atkins rather candidly told Ben Nicholson-Smith that he didn't expect much from Tulowitzki next year. Here's what Atkins said:
"Candidly, and I think Troy would agree, (above-average production is) not likely," Atkins told the Toronto chapter of the Baseball Writers Association of America Wednesday afternoon. "He will have to over-achieve to play shortstop at an above-average level with above-average offensive performance for 140 games. That would be unlikely based on what has occurred in the last two and a half years, but that doesn't mean he's not going to do it. But candidly, I don't think that's likely."
Ouch! Reports indicate Tulowitzki has completed his heel surgery (surgeries, really) recovery and he's currently working out at home, so that's good. In a vacuum, I'm not opposed to Tulowitzki as a second base (not shortstop) option. My only concern is that the Yankees are a win now team and there's a chance he's a total zero next year, leaving them short a reliable middle infielder.
To me, Tulowitzki would almost have to be a Plan B lottery ticket signing, not someone you pencil into the Opening Day lineup. The problem with that is Tulowitzki probably won't settle for being some team's Plan B. He'll likely go to whichever team offers the most playing time. The Yankees have offense to spare, in theory, so perhaps they're in position to roll the dice on dirt cheap Tulowitzki. It would be fun. I just think they need more of a sure thing.
Frederick asks: With Paul Goldschmidt going to the Cardinals, will they make Carpenter available or is he actually going to play third base for them? What would it take to put pinstripes on Carpenter, and would that give Hal cover to continue pinching pennies and avoid signing Harper?
Nah, they're not making Matt Carpenter available. The Cardinals didn't just trade for one of the best hitters on the planet only to turn around and trade away one of the other best hitters on the planet. Carpenter's bat makes up plenty for the bad defense, and besides, I'm sure the Cardinals will swap him out for defense in the late innings. If the Cardinals make Carpenter available, I'd want to the Yankees got go after him hard. The guy hit .257/.374/.523 (128 wRC+) with 36 homers last year and he's owed $14.5M next year ($8.67M luxury tax hit) with an $18.5M option for 2020. Carpenter would be a marvelous fit at first base. He's everything we all hoped Greg Bird would be. There's no way St. Louis will trade him though. They were adding Goldschmidt to him, not adding Goldschmidt to subtract Carpenter. The Cardinals want to win next year and he helps him do that.
Toshiki asks: What are your thoughts about trading for Jose Martinez? I believe Martinez's playing time is significantly reduced with Cardinals trading for Goldschmidt and with overcrowded OF (Ozuna, Fowler, O'Neill, and Bader).
I'd definitely take Martinez at first base. He's an awful defensive outfielder and, truth be told, he's an awful defensive first baseman. There's only one DH spot though, and when a guy hits .309/.372/.478 (130 wRC+) with 31 homers and a 19.0% strikeout rate in 915 plate appearances the last two years like Martinez has, I'm willing to live with the glove. He's still in his pre-arbitration years too. Martinez has been mentioned in a few trade rumors this last week or so and I get it, definitely listen to offers because something might blow you away, but it sure seems to me that his bat would be very valuable on an NL bench. He's imperfect but I'd take a shot on him at first base.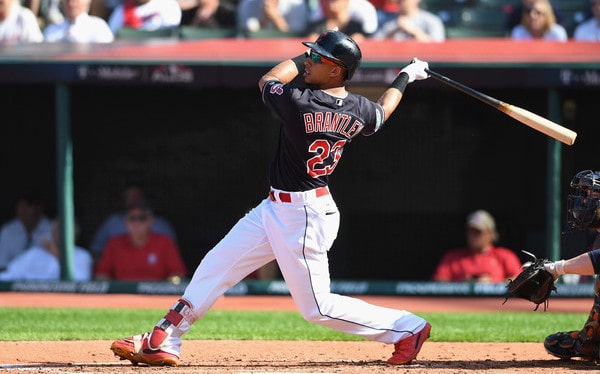 Matthew asks: Feel like I haven't heard too much about Brantley to the Yanks. Report out now saying he is willing (different from able, I know) to play 1b. Isn't he the exact guy we need? Injuries a major concern, but will also in theory keep his price down. Low K, line drive hitter, stick him in-between judge Stanton he could rake.
Of course Michael Brantley would fit the lineup well. He hit .309/.364/.468 (124 wRC+) with 17 homers and the second lowest strikeout rate (9.5%) in baseball in 2018. Brantley is more of a doubles guy than a homers guy but that's okay with me. He's high quality all-around hitter and I'd take him in my lineup any day. Can Brantley play first base? Who knows. He's never done it in the big leagues and there'd be a learning curve, but his agent indicated he's willing to do it, and that's good. Buy-in is important.
More than anything, the question is money. Andrew McCutchen's contract with the Phillies (three years, $50M) pretty much set the market for Brantley. The Yankees would have to go over the $206M luxury tax threshold to sign him. If they're willing to do that, Brantley is worth looking into as a first base option. If they're not willing to go over the threshold, then forget it, there's no way this will work. Brantley can really hit though. That guy makes any lineup better and he's my pick to look like the best bargain among the big name free agents 12 months from now.
David asks: If Andujar is destined for LF/1B, wouldn't he be more valuable to the Yankees as trade bait? Coming off (what should have been ROY) a great season at the plate after playing 3B all year, it seems he is a peak value. Wouldn't his trade value go down after a position change? Let him headline a package for Thor or Kluber?
Yeah, you can definitely make the case the Yankees should trade Miguel Andujar. In fact, I did it a few months ago. I love the kid, but I'm not sure Andujar will ever be even an average defender at any position, and the fact he rarely walks limits his offensive ceiling to come degree. His OBP will always be held back a bit. I wouldn't trade Andujar just for the sake of trading him. You'd have to get a Corey Kluber or Noah Syndergaard type back. A true difference-maker. If that player is not available or the two sides can't agree on the rest of the package, then I have no problem keeping Andujar. I think there's still another level or two to come offensively and (somewhat) improved defense.
Paul asks: What about Adam Warren as a swingman?
It seems Warren's days as a potential starter are over. He became a two-pitch pitcher this past season — Warren embraced the anti-fastball philosophy and threw more sliders (45.3%) than fastballs (40.0%) in 2018 — and it's been a long time since he's been asked to handle a starter's workload. I'm sure he can still be an effective multi-inning reliever. I don't think a true swingman role (long reliever/spot starter) would work. Warren is my dude. He's forever cool with me. That said, he's almost certainly had his best years already, and I am totally cool with letting some other team pay for his decline years.
Dave asks: I know that you can't just look at results to determine who the real prospects are, but it's hard to look away from 58K/4BB. What gives with Reiver Sanmartin (not even mentioned in the Farm System Year in Review)?
Yeah that was an oversight on my part. I should've included Sanmartin in the season review post. The Yankees got him from the Rangers in the Ronald Herrera roster shuffle trade last year — Herrera got hurt in Spring Training and didn't pitch at all this season, and last month the Rangers dropped him from the 40-man roster — and the 22-year-old southpaw is a low-90s fastball/slider/changeup guy who's been praised for his pitching smarts.
The Yankees had Sanmartin bounce around from level to level this season and he finished the year with a 2.81 ERA (2.71 FIP) with 21.3% strikeouts and 1.5% walks in 67.1 innings. He's a slight little guy (6-foot-2 and 160 lbs.) and, at this point, if he hasn't filled out and added velocity, he probably never will. I'm not sure there's enough here to start but Sanmartin's interesting as a three-pitch lefty who refuses to walk hitters (career 3.3 BB%). Maybe he can make it work out of the bullpen? Reiver the Reliever™ has a nice ring to it.
Michael asks: What do you think of Asdrubal Cabrera as a Didi fill-in? He's experienced, could play 2B or SS, a switch hitter who could bring some balance, and could probably be had for a short term deal if the money is right.
I could see Cabrera as this year's Neil Walker, meaning that veteran infielder who remains unsigned until Spring Training starts. Asdrubal has been solid offensively the last few seasons, including hitting .262/.316/.458 (111 wRC+) with 23 home runs this past season, but wow is his defense at second base bad. Far worse than I realized. The numbers the last few years:
2017: -6 DRS
2018: -17 DRS
Eek. The numbers are just as bad at shortstop and slightly better at third base, but playing Cabrera at third base doesn't help the Yankees replace Didi Gregorius. I think the Yankees should prioritize defense when replacing Sir Didi. Cabrera is a negative defender and his bat is good, but not great. I feel like there has to be a better option out there. If Asdrubal is still sitting out there in Spring Training, he's worth revisiting.
Zachary asks: Been reported a few places that the dodgers would look to deal from their excess SP group for upgrades at other positions. It seems like they have a surplus of players at every position, but how do the Yankees line up and which Dodger SP would you target?
Do the Dodgers really have a surplus of starting pitchers? I keep seeing it reported that they'll willing to trade a starter for help elsewhere, and this is their rotation depth chart:
Clayton Kershaw (franchise icon)
Walker Buehler (budding star)
Hyun-Jin Ryu (accepted the qualifying offer and can't be traded until June)
Rich Hill (averaged 126 innings the last three years)
Kenta Maeda (demoted to the bullpen this year)
Alex Wood (demoted to the bullpen this year)
Ross Stripling (ran out of gas in the second half this year)
Julio Urias (coming back from a torn shoulder capsule)
The Dodgers needed all those guys plus others to get through the season this year. I'm not sure they're as loaded with depth as they seem to believe. Assuming Kershaw and Buehler are off-limits, I'd take Wood over the rest almost by default. The 27-year-old threw 151.2 innings with a 3.68 ERA (3.53 FIP) this season and nowadays he's a ground ball guy (48.9%) more than a strikeout guy (21.2%). MLBTR projects him to make $9.0M in his final year of arbitration in 2019.
The biggest obstacle standing in the way of a potential Dodgers trade is that their needs are the same as the Yankees. They need a second baseman and bullpen help, and have outfield depth to spare. The Yankees need a second baseman and bullpen help, and have outfield depth to spare. It seem Los Angeles is open to trading a starter for a middle infielder and/or a bullpen arm. The Yankees could give them Chad Green or something, otherwise I don't know if there's a match between these two teams.
Dennis asks: Any interest in engaging the Rockies on Ryan McMahon. Colorado has never really given him much of a chance and he could be a fit at 1B.
Yes, definitely. The Rockies led Ian Desmond hit .236/.307/.422 (81 wRC+) at first base this year rather than let McMahon, a longtime top prospect, show what he can do. The 23-year-old McMahon has hit .337/.379/.577 (145 wRC+) with 25 homers in 125 Triple-A games the last two years and he's taken well to first base after moving over from third (because he's block by Nolan Arenado). A lefty bat with power who can play both corner infield spots is a worth pursuing. I have no idea what the Rockies are planning to do with McMahon — would they really send him back to Triple-A again and keep playing Desmond at first? — but if they're willing to listen to offers, the Yankees should check in.