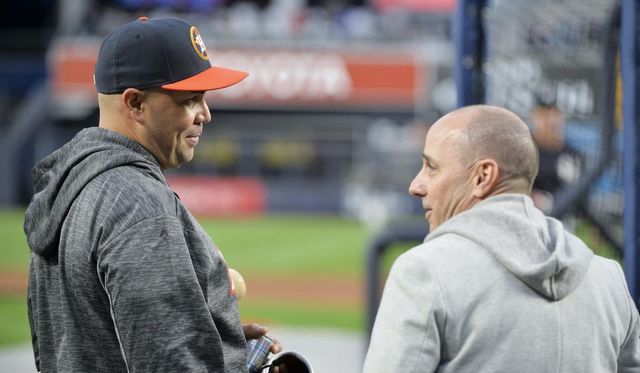 According to Mark Feinsand, the Yankees are adding Carlos Beltran to their front office as a special assistant to GM Brian Cashman. The team has not yet announced the hire. There's no reason to doubt Feinsand's reporting, but, if you do, Joel Sherman confirmed it as well. It's happening.
Beltran, now 41, retired as a player and spent last season home with his family after winning the 2017 World Series with the Astros. He interviewed and was one of six finalists for the Yankees' managerial job last winter. Here's what I wrote in my thoughts post soon after Aaron Boone was hired:
6. Speaking of the front office, I think the odds are pretty darn good the Yankees will hire Beltran as a special advisor to Brian Cashman, similar to Hideki Matsui. I think that's why they brought him in for the managerial interview. To show him respect and to show him he's wanted. Matsui has been a special advisor to Cashman for three years now and his duties include, among other things, going around and working with prospects in the minors. I know Beltran said he wants to manage, but going from player one year to manager the next is a huge jump, and was probably never all that realistic. A special advisor role is much less demanding. There's less travel and more time at home with the family, which a recently retired player figures to appreciate. But he also gets to stay in baseball and begin the second phase of his career. Matsui and Beltran are very similar. They are dignified and very highly respected, and have a lot of baseball knowledge to offer. The Yankees could bring Beltran aboard as a special advisor with the promise that if a coaching or managerial job opens somewhere around the league, he's free to leave. He can work with players up and down the organization, particularly Latin American players, in the meantime. Beltran is someone worth having in the organization and I think the Yankees let him know they want him during their interview, even if they didn't name him their manager.
Beltran's responsibilities as a special assistant are unknown but I'm certain the Yankees will put him to good use and he'll be asset. As far as I'm concerned, people as knowledgeable and respected as Beltran are always welcome in the front office. He'll have a big impact on players throughout the organization, especially Latin American players. I don't even need to know what Beltran will be doing to declare this a great hire.
Like pretty much every other team, the Yankees have many ex-players serving as special assistants, though their ex-players are more well-know than everyone else's. Beltran joins Reggie Jackson, Alex Rodriguez, Hideki Matsui, and Nick Swisher as a special assistants/special advisor, among others.