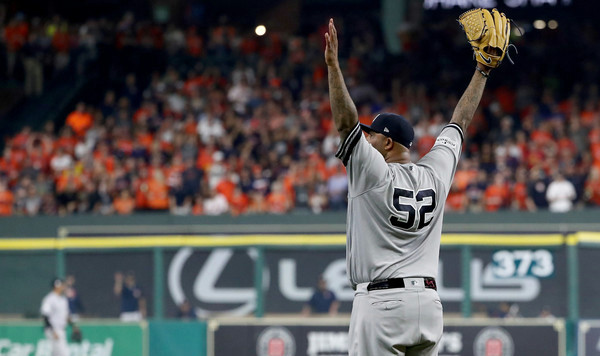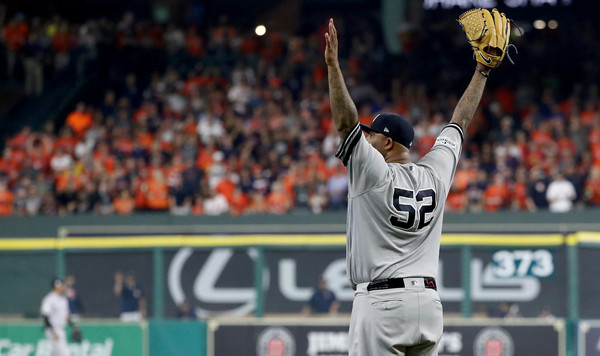 Something felt off the day the Yankees hosted the Houston Astros in the Bronx for the 2015 Wild Card Game. Even before the Yanks were shut out by Dallas Keuchel in a masterful 3 hit performance, the atmosphere was subdued. That the Yankees were led by Alex Rodriguez, Carlos Beltran and Brian McCann surely didn't help; this wasn't a team, like the opposing Astros, that felt like its best days were yet to come. But there was something else: a day earlier, CC Sabathia had checked himself into rehab for alcohol abuse.
It's hard to remember whether it felt like we'd truly seen the last of CC, but it certainly felt like CC's days as an effective Major League starting pitcher were behind him. In the three seasons prior, he'd pitched only 424.1 innings and missed most of 2014 with an injury. What we saw when he was on the mound looked nothing like the CC Sabathia we'd been accustomed to seeing: with reduced velocity and diminished stuff, he had a 4.81 ERA (83 ERA+), a WHIP of 1.4 and was worth only 0.6 bWAR.
That Sabathia had a 2.17 ERA over his final 5 starts went mostly unnoticed, but as Jay Jaffe noted in an astute column in May, this was the beginning of a late-career renaissance for the big lefty. He had taken a lesson from Andy Pettitte, another lefty who revitalized his career in its final days, and began utilizing a cut fastball. When Sabathia returned in 2016, he had not only begun the process of overcoming his alcoholism—he returned as a pitcher with a second wind.
Across 481.1 innings since Opening Day 2016, Sabathia has a 3.76 ERA (117 ERA+), a figure which has improved with each season, and has been worth 8.3 bWAR. That success is powered by late movement and pinpoint control that minimizes the quality of contact against him. In 2018, batters only squared up on CC 28.5% of the time, good for 8th in the league; by contrast, he induced soft contact 25.1% of the time, which ranked 4th. No pitcher induced softer contact, as batters averaged only 84.4 mph off when they made contact. Few, if any, 5th starters are more effective.
His success comes even as the quality of his repertoire has diminished. His average fastball velocity in 2018 was just under 92 mph, a significant decline from over 95 mph in 2009—a big reason why he throws the pitch only 2% of the time compared to nearly half of the time a decade ago (he now uses the cutter roughly 50% of the time). Only the most dedicated and talented are capable of reinventing themselves as a completely new version of themselves: remember, he'd never thrown a cutter before 2016.
As unlikely as such a renaissance may have seemed in 2015, there were always signs that CC would be up to the task. When the Yankees signed him 11 years ago, he was one of baseball's most feared pitchers, with an overpowering fastball and intimidating lefty physique. He was fresh off a legendary post-deadline performance with the Milwaukee Brewers, and inked a 7 year, $161 million contract to christen the new Yankee Stadium. The Yankees were short on pitching, had been bounced in the ALDS 3 of the previous 4 seasons (missing the postseason in the other), and needed an ace to rescue them. CC was tasked with being the guy to do it.
He somehow lived up to those expectations. In his first 4 seasons in pinstripes (2009-12), he boasted a 3.22 ERA (135 ERA+) in 905 innings pitched, good for 20.7 bWAR. His 1.98 ERA in the 2009 postseason, which earned him ALCS MVP honors, helped carry the Yankees to their 27th championship. Over those 4 years, he finished in the top 5 of the Cy Young voting 3 times and made 3 All-Star Games. He was a dominating pitcher in the height of his prime—a sight the Yankees and their fans hadn't seen in quite some time.
That's a big reason why, I suspect, watching CC Sabathia pitch is so much fun these days. Watching him induce slow grounder after slow grounder isn't the same as watching him overpower David Ortiz, of course, but in his new, deliberate methods there are echoes of the flame-throwing ace of yesterday.
CC approaches several career milestones as he prepares for what will be his final year as a big leaguer. With three more wins, CC will have won more games as a Yankee than any pitcher save 9 others. Four more wins and he reaches 250, which, in the age of the almighty bullpen, is no small achievement. 14 more strikeouts and he will be the 17th pitcher in MLB history (and only the 3rd lefty) to reach the 3,000 career strikeout mark.
As he reaches these significant figures, all of which should come fairly early in the year barring significant injury, we will be asked to debate his Hall of Fame credentials (I'd vote for him, but he is a close case), but those questions can wait for 6 more years. Rather than pondering his future legacy, we should instead appreciate his final season and be thankful it will come in pinstripes.
After all, this was the man who brought the Yankees back to the promised land on his first try, seeming at home alongside Derek Jeter, Jorge Posada, Mariano Rivera and Andy Pettitte. He stuck it out through the team's less successful days, hit rock-bottom in his personal life and rebounded into an unrecognizable but still effective crafty lefty—all while radiating the affable, lovable aura that has made him a clubhouse leader and mentor to the next generation of Yankee stars.
We should be sure to enjoy his last campaign—for we will see countless other pitchers don the pinstripes, but there will only ever be one CC Sabathia.