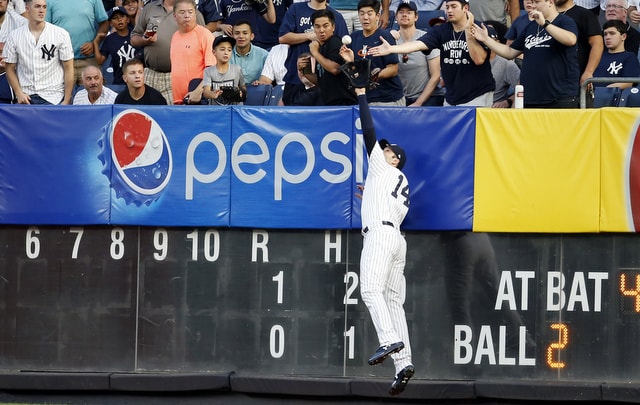 For the fifth time in five days, career infielder Neil Walker started in right field last night. These are his only five career starts at the position. He's out there because Aaron Judge is on the disabled list and because Giancarlo Stanton is still nursing a tight hamstring. A lot has had to go wrong for Walker to wind up in the outfield.
So far things have gone well for Walker in right field. He even made a nice leaping catch at the wall to take away extra bases last night. Looked to me like the kind of play Judge or Stanton would make with relative ease, but Walker is new to the position, and he did a nice job staying with it.
Walker has done well in right field thus far and chances are he will continue to be the right fielder going forward. Shane Robinson is unplayable and Judge is still recovering from his wrist fracture. The original three-week timetable has proven to be wildly optimistic. He recently received a cortisone shot and has yet to start swinging a bat.
"We probably over-expected maybe because of how he's responded in past years with anything pain related," said Brian Cashman in a radio interview yesterday. "He's as tough as nails, but this is going to be a little bit longer than we hoped. It's going to take as long as it needs to take, and we're going to give him that time because you don't want to mess things up and push him through something when he's not ready."
Clearly, the Yankees have to prioritize Judge's health here. He is far too important to rush back from the injury. It sucks the Yankees initially announced a three-week timetable. The important thing is they haven't treated it like a three-week injury. Judge is getting as much time to heal as necessary. Hopefully he'll be back within two or three weeks, giving him enough September at-bats to get back up to speed at the plate before the postseason.
The Yankees tried and failed to acquire a bat prior to the trade deadline and Cashman indicated they're still looking, but there's nothing out there that makes sense. Typical GM speak. What's he supposed to say? There are always spare part bats available in August. It's just a matter of finding the right bat and finding something that fits within the luxury tax plan, because the luxury tax plan has been driving roster decisions for more than a year now.
Walker is hitting .297/.347/.469 (117 wRC+) in the second half now, which is plenty good enough for a regular lineup spot. He's been an everyday player his entire career, and as soon as he started playing everyday, his production increased. Funny how that works. In a perfect world the Yankees would add an outfielder and move Walker to first base — how much longer do they wait for Greg Bird to hit? — improving the offense and defense. Crazy idea, I know.
Until that happens — if that happens, I should say, and it seems pretty unlikely to happen at this point — sticking with Walker in right is the best move. He's hitting and he's not killing them defensively, plus he can always be swapped out for defense in the late innings of close games. How will Walker handle bigger right fields on the road? Eh, we'll have to hope for the best. Right now, it's working well enough.