Spring Training is rapidly approaching. Not rapidly enough, but exactly six weeks from today pitchers and catchers will report to Tampa to begin the long journey that is the 2019 season. I can't wait. I enjoyed the early offseason downtime and am now really starting to miss baseball. Only six weeks (and a lot of free agent signings) to go until camp begins. Anyway, here are some scattered thoughts.
1. It feels like Manny Machado is holding up the offseason right now, doesn't it? He's expected to make his decision at some point soon, maybe even by the end of the week. Once Machado picks a team Bryce Harper's free agency will begin in earnest, and the teams that miss out on Machado will look for other ways to improve. The Phillies, for example, could pivot to Harper should they miss out on Machado, or they could spread the money around and sign Dallas Keuchel, Craig Kimbrel, and others. The Yankees haven't done anything notable since re-signing J.A. Happ and that suggests they are waiting for Machado to make a decision before moving on to other matters. Signing Machado would push the Yankees over the $206M luxury tax threshold, perhaps even into the second luxury tax tier, at which point one of two things will happen. One, they'll scale back on spending (or even look to unload salary) to reduce the luxury tax burden, or two, they'll say screw it, we're already over the luxury tax threshold, so we might as well go bonkers. In that case, they could go after two high-end relievers and try to woo them with higher salaries on short-term contracts to reduce the luxury tax burden in future years. We'll see. For now, it feels like all of baseball is waiting for Machado to pick a team, and once he does that, the rest of the offseason will begin.
2. I have no problem at all with the Troy Tulowitzki signing. Since the Yankees only have to pay him the league minimum, the only risk is that he plays terribly and costs the Yankees some runs on the field, which is a risk that exists with every free agent, low cost or otherwise. (What, you don't think Freddy Galvis or Jose Iglesias could do that?) There's zero chance Tulowitzki will stand in the way of a potential Machado signing and there's no way he makes it more likely the Yankees will trade Miguel Andujar. "We signed this 34-year-old reclamation project who hasn't played in 18 months, so now we can afford to trade the 23-year-old reigning Rookie of the Year runner-up," is not a thought process that happens in a Major League front office. The players most affected by this signing are Tyler Wade and Hanser Alberto. The depth guys. If the Yankees do end up playing Tulowitzki on an everyday basis while Didi Gregorius is out — that assumes Tulowitzki makes it through Spring Training in one piece, which is far from certain — my preference would be Gleyber Torres at short and Tulowitzki at second. I think that's the best defensive alignment. Then again, Tulowitzki has never played second, so he might actually be worse there than at short between diminished skills and inexperience. I dunno. I'd just prefer Gleyber at short. Tulowitzki strikes me as one of those signings people will complain about in January (because people complain about every transaction) only to complain again during the season when the Yankees aren't giving him enough playing time after he hit that big home run or something.
3. I don't expect it to happen but I would be cool with the Yankees carrying Sonny Gray into Spring Training and the regular season. I say that as someone who's been a Gray fan for a while, so take it with a grain of salt. He was awful last year, no doubt about it. I also feel like it will be close to impossible to find someone as talented as Gray to serve as the sixth starter/swingman. You know the Yankees are going to need a sixth starter at some point this coming season. A sixth, seventh, and probably even an eighth starter. That's baseball. Pitchers get hurt. I'd feel better about plugging Gray into the rotation to cover for the inevitable injury that I would Luis Cessa or Domingo German. Plus, with the way Brian Cashman has been dumping on him these last few weeks, I imagine Gray will be pitching with a big chip on his shoulder this coming year, no matter what uniform he's wearing. I do think the Yankees and Gray are beyond the point of no return. I expect him to be traded. I'm just saying that I don't want to the Yankees to force a trade and move him for pennies on the dollar just for the sake of moving him. Keeping him as a sixth starter/swingman is perfectly reasonable to me. There's no such thing as too much pitching depth. I mean, what are the chances the Yankees trade Gray, then at some point at midseason we're all wishing they'd held onto him? Pretty darn good, I think. Like I said though, I think Sonny's a goner. There's are too many signs pointing to a trade.
4. I think we've reached the point where J.T. Realmuto is overrated. I mean, he's obviously very good. Catchers who hit .277/.340/.484 (126 wRC+) are very hard to find. FanGraphs had Realmuto at +4.8 WAR last season and Baseball Reference had him at +4.3 WAR. Baseball Prospectus had him at +4.3 WARP, and that includes pitch-framing. (fWAR and bWAR do not include framing.) That's really good! But also, when a guy with a 126 wRC+ and +4-ish WAR is considered the best player at a position, it says more about the position that it does his greatness. Catchers stink right now. All around the league. If you didn't know any better, you'd think Realmuto is peak Buster Posey with the way he's been talked about this offseason. He's been involved in so many trade rumors these last few weeks — especially during the Winter Meetings, when seemingly every hour it was something new — and, when that happens, a player's value gets inflated. Realmuto's really good. He's also getting overrated and is probably the worst "best catcher in baseball" we've seen since before Mike Piazza. Gary Sanchez is two years younger than Realmuto and he's a year removed from a .278/.345/.531 (129 wRC+) batting line and +4.8 WARP. Given the state of catching around baseball, I'll happily hitch my wagon to Sanchez going forward, thank you very much.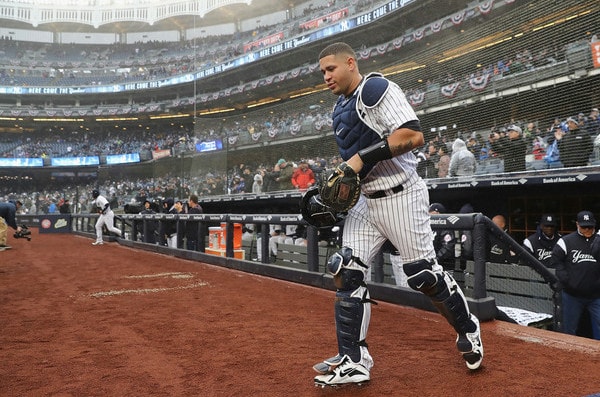 5. A few weeks ago I wrote about potential under-the-radar bullpen targets using spin rates and swing-and-miss rates, and Cody Allen was among the names my search spit out. As Dom noted, Allen was terrible last season. He threw 67 innings with a 27.7% strikeout rate and set new career worsts in ERA (4.70), FIP (4.56 FIP), walk rate (11.4%), ground ball rate (30.0%), and home run rate (1.48 HR/9). Allen was terrible last year. That said, he just turned 30, so it's not like he's over the hill, and he is a year removed from a 2.94 ERA (3.19 FIP) with very good strikeout (32.6%) and walk (7.4%) rates. The spin rates and whiff rates check in as comfortably above-average too, even during last season. Squint your eyes and there's some bounceback potential here. Allen's been pitching in high-leverage situations for a while now — if you're into this sorta thing, he struck out 24 in 13.2 scoreless postseason innings during Cleveland's march to Game Seven of the 2016 World Series — so pitching in the late innings wouldn't be a new experience. He seems like someone who could appeal to the Yankees as a buy-low candidate. My hunch is some team will give Allen a nice little two-year deal and promise him their closer's role (Angels? Padres?), so getting him on a one-year "prove yourself" contract may not be possible. Besides, pitchers usually don't come to Yankee Stadium and the AL East when they're trying to rebuild value on a short-term contract. I dunno, Allen just strikes me as someone who has more appeal than last year's numbers may lead to believe. The analytic side of things check out well and point to bounceback potential.
6. Matt's post over the weekend prompted me to look at the schedule and holy cow, the Yankees will have it very easy coming out of the gate. Here are the first six series of the 2019 regular season:
Three games vs. Orioles
Three games vs. Tigers
Three games at Orioles
Three games at Astros
Two games vs. Red Sox
Four games vs. Royals
The Yankees will play five of the first 18 games of the new season against contending teams. That's it. The Orioles, Tigers, and Royals aren't even pretending to be competitive. An easy schedule does not automatically equal wins. We all know that. Who can forget the Yankees losing three of four at home to the eventual 115-loss Orioles last April? Any team can beat any other team on any given night in this game. On paper though, wow do the Yankees have a chance to get off to a great start next season. It would be nice to have other teams playing catch-up in the AL East instead being the team trying to make up ground early in the season, you know? Hopefully the Yankees can take advantage of that easy April schedule, because the rest of the schedule will be that much tougher.
7. I'm not going to link to it because it was obviously done for attention, but a week or two ago a Hall of Fame voter published a piece saying he would not vote for Mariano Rivera. He's not voting for anyone. He's not going to send in his ballot, which is different than a sending in a blank ballot. A blank ballot counts toward each player's vote total. Abstaining from voting means the ballot is not sent in and not counted. It's like the ballot doesn't exist. Anyway, I mention this because, within that piece, it was noted Rivera's career win-loss record is 82-60. Wins and losses are a terrible way to evaluate pitchers but that stat jumped out to me. It's really hard for a closer to get a win! Typically, when the closer enters the game, his team already has the lead. When a closer gets a win, it usually means one of two things happened. Either he entered into a tied game and his team scored in the next half-inning, or he blew the save and his team retook the lead. Closers get losses all the time. Wins? Those are hard to do. Here are the career win-loss records of the top five pitchers on the all-time saves leaderboard:
Mariano Rivera (652 saves): 82-60
Trevor Hoffman (601 saves): 61-75
Lee Smith (478 saves): 71-92
Francisco Rodriguez (437 saves): 52-53
John Franco (424 saves): 90-87
Rivera is 22 games over .500. The other four are a combined 33 games under .500. And that makes sense, right? It's much easier for a closer to get a loss than it is a win. The nature of the job makes it difficult for the closer to get a win. Despite that, Rivera managed to go 82-60 in his career, including 79-57 as a reliever. I'm not really sure where I'm going with this. I just thought it was amazing Rivera managed to finish his career 22 games over .500. It says more about his ability to avoid losses than his ability to rack up wins.
8. This will be my fifth year in the BBWAA and that means I'm halfway to having a Hall of Fame ballot. That is pretty bonkers. Never in a million years did I think I would end up here, even halfway to a Hall of Fame vote, when we started RAB way back when. Anyway, I don't have a Hall of Fame vote this year, but, if I did, here are the ten players who'd get my vote (listed alphabetically):
Barry Bonds
Roger Clemens
Roy Halladay
Edgar Martinez
Mike Mussina
Manny Ramirez
Mariano Rivera
Scott Rolen
Gary Sheffield
Larry Walker
Obviously performance-enhancing drugs are not a dealbreaker for me. As long as there is baseball and sports in general, players are going to cheat. That's just the way it is. I'd like it if they didn't, but they do, and it's silly to pretend otherwise. I'm not sure why voters feel keeping players out of the Hall of Fame is an acceptable punishment for PED use (or even PED suspicion) but I don't agree with it at all. It's MLB's job to punish those guys. Not the Hall of Fame's. Bonds, Clemens, and Manny are easy calls for me. No-brainers. So is Rivera. Halladay, Martinez, Mussina, and Walker were among the very best players of their generation at their positions and they belong in Cooperstown in my opinion. Did you know Walker is fourth among outfielders in WAR since the mound was lowered 50 seasons ago? It's true. I know there's the Coors Field question but a) only 31% of his career plate appearances came in Denver, and b) I remember watching Walker and thinking he was a Hall of Fame talent. I am absolutely amazed that, as of this writing, Omar Vizquel has almost twice as many Hall of Fame votes as Rolen. Rolen was every bit as good defensively at third base as Vizquel was at short, and he was a far superior hitter. We're talking .281/.364/.490 (122 wRC+) vs .272/.336/.352 (83 wRC+). I'm not sure why Vizquel is getting so much more Hall of Fame love. The tenth spot came down to a few different players and I ultimately went with Sheffield. He has a reputation for being a jerk, no doubt about that, but man could he hit. Career .292/.393/.514 (141 wRC+) batting line with 509 homers and, despite that ferocious swing, more walks (13.5%) than strikeouts (10.7%). That will never look out of place in the Hall of Fame. I admit I didn't put a ton of thought into this hypothetical ballot because, well, it's hypothetical and I have no real responsibility to be thorough. Not yet. I promise you this much: If the time ever comes and I have a Hall of Fame vote (or even an award vote), I'll write something explaining my ballot. Every single time. I think the voting process needs more transparency and accountability — for what it's worth, the BBWAA proposed to make every Hall of Fame ballot public a few years ago, but the Hall of Fame rejected it — and I'll hold myself to that standard when the time comes.