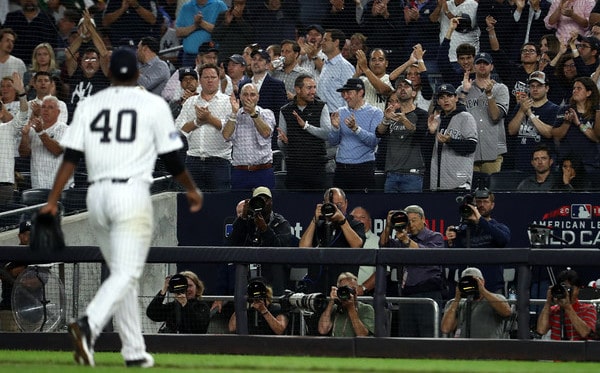 Every year I've written about the Yankees–since August of 2008–I've written that they could use an improvement to the starting rotation. This, being a truism, is applicable to all teams, but it seems to perpetually apply to the Yankees. Over the years, they've done a great job of amassing great lineups and lockdown bullpens, but truly elite starting has generally eluded them.
In terms of true talent, the Yankees do have a more-than-formidable top three in Luis Severino, Masahiro Tanaka, and James Paxton. Additionally, there are worse fourth and fifth starters in baseball than veteran J.A. Happ and borderline-Hall of Famer CC Sabathia. Despite that solid base of talent, there are still question marks with each one. Severino and Tanaka have bouts with inconsistency. Paxton and 'good health' don't often go together in a sentence. Happ and Sabathia are, well, old.
Given the other truism about there never being too much pitching, should the Yankees consider aiming for a six man rotation? Maybe.
The internal options the Yankees have for the sixth starting spot–mainly Sonny Gray and Luis Cessa–are inadequate. Despite the fact that I'm higher on Gray than most, it's hard to imagine him being a part of the 2019 team. As for Cessa, I just don't see it happening for him as a starter. Nothing he's done in his cups of coffee have shown he's worth some sort of guarantee. There's no point in having a sixth starter if he's not any good, right?
However, if the Yankees do manage to swing a trade for an elite starter, then the Yankees should roll with six men. Adding one of, say, Corey Kluber or Noah Syndergaard (however unlikely) would make it worth it for the team to add an extra starter to their plans. They could also rejigger their rotation as needed, keeping the best pitchers on track regularly, while allowing others to get extra rest or play around with matchups.
Even if the Yankees stick with a five man rotation, they can start the year off by manipulating the rotation to give themselves a favorable matchup and give their best pitcher–Severino–an extra start in the month.
If they stay 1-5 in the order listed above, Severino will get six starts in March/April, pitching against Baltimore, Detroit, Houston, Boston, Kansas City, and San Francisco. There are some benefits here. Severino gets some extra rest at times and is still able to line up with Houston and Boston, two teams whom the Yankees'll be racing with all year. And given that some of Severino's struggles last year may have been due to fatigue, those days of extra rest may help.
On the other side of things, the Yankees can keep their ace on his regular rest and pitch him after four days, regardless of who's lined up to pitch. This would give him seven starts total in the month, swapping out Houston for the White Sox and adding a start against Anaheim late in the month.
So what's more valuable? An extra start in general or a start against a tough team and potential Wild Card opponent? I think the gut reaction is to say he should start against Houston. They're obviously a hard team to beat and you could use all the firepower possible. But on the other hand, it's more likely you're going to beat the White Sox and Angels, especially with Severino pitching. Thinking about the probabilities, I think you take the two starts over the one.
The game against Houston is in Houston, which means it's already tougher to win, before considering the quality of the opponent. The game against the White Sox is in New York, which is a big advantage for the Yankees, especially considering the quality of the opponent. The game against the Angels is in Anaheim, which increases the difficulty, but it's not nearly as difficult as beating the Astros in Houston. Take the almost guaranteed win against Chicago and gamble against Anaheim; that seems more likely to lead to two wins instead of one.
Whether the Yankees add another starter or not, there will be plenty of questions about their rotation at the start of and throughout 2019. It's what held them back in 2018 and they'll need it to improve–whether by performance or addition–to make 2019 as successful as 2017 and 2018.