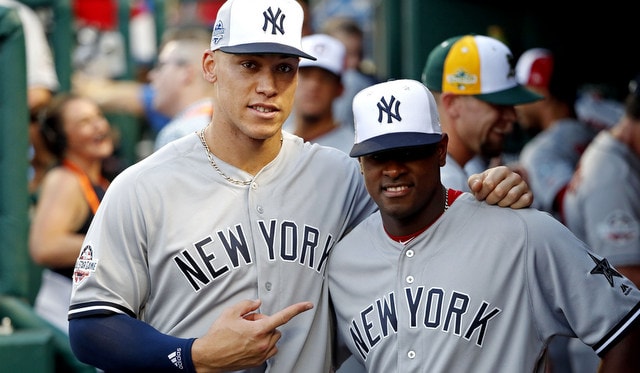 The Yankees open Spring Training on Wednesday and, barring a massive surprise, neither Manny Machado nor Bryce Harper will be in Tampa. They remain unsigned partly because the Yankees opted to spread the money around this offseason rather than go for one or two huge signings. You can win that way. Rarely do you regret signing a star-caliber player in his mid-20s though.
Anyway, with Harper and Machado still on the market, Hal Steinbrenner was asked about signing the duo last week, and gave a bit of a defensive answer centered around the team's expenses. "(There's) no discussion of our costs, that's always the problem. I hear everything about our revenues, I hear nothing about our cost," Hal said to Ron Blum. Unless the Yankees open their books (lol), we'll never know their expenses. C'est la vie.
As part of the Harper and Machado discussion, Steinbrenner gave another payroll-related reason to pass on the two: The Yankees will have to sign their homegrown core at some point. From Blum:
"I have to look at the big picture, and it is my responsibility — that my family expects, my partners expect — not just to look at the present but to look at the future, too," he said. "Three, four, five years from now we get a lot of homegrown kids that we love, our fans love, that are going to be coming up for free agency."
Of course ownership has to keep an eye on future payroll, and yes, the homegrown core is about to get expensive. Luis Severino reached arbitration for the first of four times as a Super Two this offseason. Aaron Judge and Gary Sanchez will hit arbitration for the first time after 2019 and then Miguel Andujar and Gleyber Torres (Super Two) after 2020. The kids grow up fast, man. A few thoughts on this.
1. Are we really supposed to believe this? Let's be real here. "We have to sign our core in a few years" is a pretty lame excuse to not pursue Machado or Harper or whoever else. It will sound especially silly if Machado or Harper wind up taking short-term contracts, which is possible, but I don't think likely. A short-term contract would render this excuse completely moot. Some facts:
Hal is arguing the Yankees can't sign 26-year-old Machado and Harper now because they'll have to pay 31-year-old Judge and 30-year-old Sanchez down the line, among others.
The Yankees walked away from 31-year-old Robinson Cano, at the time the best second baseman in baseball and at his absolute peak, even though he was a homegrown star of the first order.
The Yankees have one contract on the books beyond 2021 (Giancarlo Stanton) and potentially only two beyond 2020 (Stanton and Adam Ottavino) depending how a few opt-out clauses and vesting options play out.
Also, who's to say these guys will be worth signing in a few years anyway? Severino could break down (pitchers are known to do that), Sanchez and Andujar could be designated hitters, who knows how Judge will age at that size, so on and so forth. I know we're supposed to be all optimistic about young players but damn man, things take a turn for a worst all the time. That's the harsh reality of baseball. The 2015 rookie position player WAR leaderboard:
Kris Bryant: +6.1 WAR (he's awesome!)
Matt Duffy: +4.4 WAR (huh)
Francisco Lindor: +4.0 WAR (he's awesome too!)
Odubel Herrera: +3.8 WAR (oy)
Jung Ho Kang: +3.7 WAR (eep)
Two outta five ain't bad, I guess. But do you see why it's not a great idea to make decisions based on payroll hypotheticals three or four years down the line? Especially when you're a win-now team and on the very short list of legitimate World Series contenders? I'll be sick to my stomach if the Yankees waste this window because future payroll took priority over putting the team in the best possible position to win right now.
2. Why not sign them to extensions? This is the other thing. The Yankees could give themselves long-term cost certainty right now by signing some of their young players to extensions. And maybe they're trying. Spring Training is typically extension season. That's usually when we see clubs lock their guys up long-term, so get ready for a flurry of extensions across the league in the coming weeks.
Perhaps the Yankees will be among the teams to sign one of their core young players long-term before Opening Day. Would be kinda cool. The Yankees have been very stingy with extensions over the last 20 years, however. They have signed one (1) player to an extension several years prior to free agency this century. That is Robinson Cano's four years (plus two club options) deal in February 2008, when he had just short of three years of service time. That's the only one.
The Yankees signed Brett Gardner (February 2014), Javy Vazquez (January 2004), Derek Jeter (February 2001), and Andy Pettitte (January 2000) to multi-year extensions this century but those four were all one year away from free agency at the time of their deal. It was time to act, you know? The Yankees signed Cano four years prior to free agency. He was where Judge, Sanchez, and Severino are right now as far as years of control go.
The Cano extension was a smashing success. The Yankees never regretted it for a second. That doesn't mean they all work out well, of course. A Chien-Ming Wang extension in February 2008 would've been a disaster. Someone could always go all Grady Sizemore on you. Signing anyone long-term involves risk and the Yankees avoiding extensions all these years tells us they want to avoid that risk. The tend to push the big payday off as long as possible.
To be fair, the Yankees haven't had many young players worth extending over the years. There was Gardner and, uh, David Robertson? That's about it. The Yankees definitely have young players worth extending now though, and if being able to sign them down the road is truly a big enough concern to pass on Harper and Machado*, then gosh, getting these guys signed as quickly as possible (potentially at a discount) seems worthwhile, no?
* The unwillingness to sign Harper and Machado because the kids will eventually need be signed does not jibe at all with the Nolan Arenado stuff we've heard, but I digress.
Given the state of free agency, waiting to sign young players long-term makes total sense to me because that big free agent payday might not be there down the road. That's the entire point of an extension, right? To lock a young player up now at a salary lower than what he'd make as a free agent. Well, those free agent paydays are disappearing, so why take the risk? If Severino breaks down or Judge forgets how to hit, the Yanks can walk away no strings attached. That's not possible with an extension.
Current contract commitments are not really an issue. All those free agents the Yankees signed this winter signed relatively short-term deals. Masahiro Tanaka's and Jacoby Ellsbury's huge contracts go away in two years. Stanton, who could opt out in two years but probably won't given the state of free agency, is the only long-term contract on the books. It's impossible to look at the roster and think the Yankees will be held back by onerous deals in a three years given their current commitments.
For all intents and purposes, Hal told us the Yankees won't sign Harper and Machado because they want to make sure they can have an aging and expensive core in a few years. That's what it boils down to, right? Can't sign those free agents now because we're really looking forward to paying Judge $35M a year from ages 31-35! Give me a break. And what happens with the young players in a few years? I'm looking forward to hearing the Yankees can't sign Judge in 2021 because they'll have to pay Everson Pereira down the road.
More than anything, I hate that the young players are being used as an excuse to pass on Harper and Machado. The kids have done absolutely everything asked of them. It's been remarkable and fun. Now they're a reason to pass on great players? How unfair. I was under the impression that one of the benefits of having cheap young (great) players is being able to use the available payroll space to supplement them with more high-end talent. Guess that was my mistake.
It is more clear than ever before that avoiding big money deals is a top priority — that applies to every team, not only the Yankees — and any excuse will do. Having many great young and cheap players is now being cited as a reason not to spend on free agency. How in the world did baseball get here?