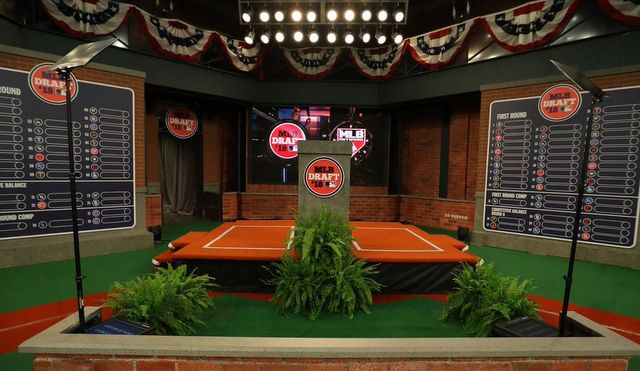 We're well into April now and the weather is starting to heat up, which means we're approaching draft season and the annual international signing period. I don't anticipate much draft or international free agency coverage here given our looming shutdown (sorry), but here is this summer's amateur bonus pool information, via Carlos Collazo and Ben Badler.
2019 Draft Pool: $7,455,300
Despite finishing with the third best record in baseball last year and thus picking near the end of the first round, the Yankees have the 20th largest draft bonus pool this summer after adding a pick in the Sonny Gray trade. Going from the 27th largest pool to the 20th largest pool with the trade ain't too bad. Last year the Yankees had no extra picks and the sixth smallest pool at $6,115,100.
As always, the bonus pool money is spread across picks in the top ten rounds. Here is slot bonus value assigned to each of the Yankees' picks this year:
30. $2,365,500 (first round)
38. $1,952,300 (Competitive Balance Round A — pick from Sonny Gray trade)
67. $976,700 (second round)
105. $554,300 (third round)
135. $414,000 (fourth round)
165. $309,500 (fifth round)
195. $241,000 (sixth round)
225. $190,100 (seventh round)
255. $160,800 (eighth round)
285. $148,900 (ninth round)
315. $142,000 (tenth round)
Teams can take money from one pick and spend it on another, and the Yankees (and pretty much every team) have done that aggressively the last few years. They take college seniors with no negotiating leverage in rounds 6-10, pay them small bonuses ($10,000 or so), and use the savings on other players. Fail to sign a player and you lose the slot money associated with the pick, however.
Penalties for exceeding the draft pool are pretty harsh. Exceed your pool by 5% or more and you have to give up next year's first round pick, and the penalties only get worse from there. The Yankees have routinely exceeded their draft pool right up to that 5% threshold (last year they exceeded their pool by 4.8%) which incurs a 75% tax on the overage. Their "maximum" pool this year (bonus pool plus 4.9% overage) is $7,820,609.
The Diamondbacks have the largest pool this year at $16,093,700. That is more than $2M more than any other team. Arizona gained extra picks for losing Patrick Corbin and A.J. Pollock to free agency, and also for failing to sign last year's first rounder. The Red Sox have the smallest draft pool at $4,788,100.
2019-20 International Bonus Pool: $5,398,300
Unlike the draft pool, international bonus polls are based on market size. Teams get dropped into one of three buckets (small market, medium market, large market) and each bucket carries its own bonus pool size. The Yankees are of course in the large market bucket, so they get the smallest bonus pool. The international pool is a hard cap, though bonuses no larger than $10,000 do not count against the bonus pool.
Teams can trade for additional bonus pool space — they used to be able to add an additional 75% of their bonus pool, though this year it drops to 60% — and the Yankees have aggressively traded for international bonus pool space the last few years. They traded for the maximum and I expect them to do the same this year. The additional 60% means the Yankees can max their bonus pool out at $8,637,280 this signing period.
The 2019-20 international signing period opens July 2nd and the Yankees have already been connected to two high-profile prospects: Dominican OF Jasson Dominguez and Dominican OF Jhon Diaz. Dominguez is said to be a significant prospect, so much so that the Yankees are expected to give him a $5M bonus. That would be the largest international bonus they've ever given out, and also the largest bonus of the hard cap era overall.
Small market teams have a $6,841,200 pool this year. The Phillies, Dodgers, and Nationals have smaller pools than the Yankees because they forfeited bonus money to sign qualified free agents over the winter. Also, the Braves are limited to $10,000 bonuses the next two signings periods as part of the penalties for past international signing period violations.