Chien-Ming Wang just wrapped up his third start of the year, and for the second time this season, the Yanks' erstwhile ace failed to make it to the third inning. Joe Girardi yanked him with one out in the second inning, and I would be surprised to see Wang make his next start.
On the season, Wang has now gone six innings and has allowed 23 earned runs. He has given up 23 hits and has just two strike outs on the season. His sinker is flat; his slider isn't doing much; and his velocity is down to the low 90s.
For the Yankees, this turn of events is fairly shocking. Wang won 19 games in both 2006 and 2007 and had eight victories in 2008 before going down with a foot injury. The Yankees now look prescient in not locking Wang up to the a long-deal, but the fact remains that the team needs Wang to right his sinking ship this year.
We ask again then what is wrong with Chien-Ming Wang? We again turn to Wang's release point.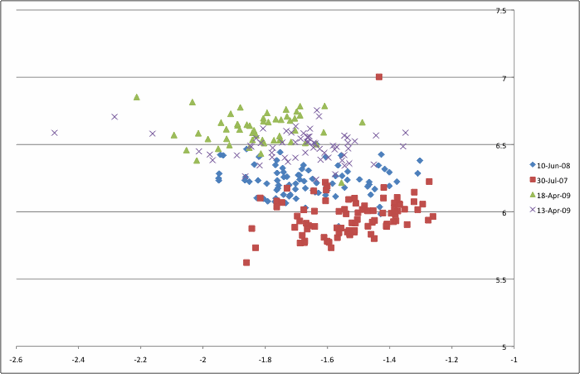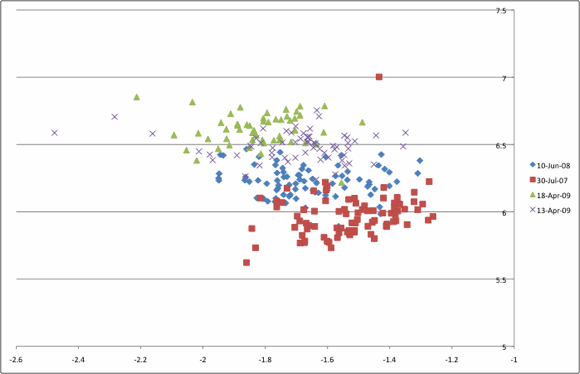 This table highlights two of Wang's better games and two of his worst games. The July 30, 2007 appearance was a one-hitter in Boston; the June 10, 2008 series was a ground ball fiesta in Oakland shortly before Wang went down last year; the two April starts are the two most recent debacles.
Basically, Wang's arm slot is all over the place this year. In 2007, Wang was throwing from a lower slot, and he had far more sink and velocity on his pitches. Last year, something of a down year for Wang prior to the injury, he was throwing from a consistently higher slot than in 2007. This year, he's throwing over his body. He's coming up and out when he shouldn't be.
The bigger question though — and the one I can't really answer — is the why of it. Is his arm hurt? Is he putting pressure on his shoulder to compensate for another aching body part? Is he just struggling mightily to find his release point? Those are questions that Dave Eiland and the Yanks' pitching staff have to answer.
For now, I'm not quite sure what to make of this. The Yankees cannot really in good conscience send Wang out there to face the Red Sox in Fenway next Friday, but can they risk tossing Phil Hughes into the fire for his first start of 2009? With an off-day on Thursday, the team could also just skip Wang's start, keep Hughes at AAA and hope that a few weeks of work can solve the sinker-ball specialist's problems. We'll find out soon how the Yankees are going to proceed, but right now, things are not looking up for Chien-Ming Wang.