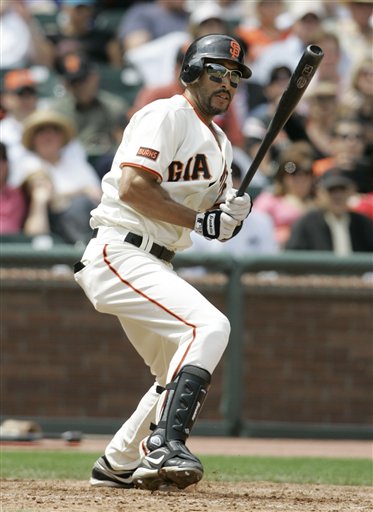 When word got out that the Yankees had agreed to a deal with Randy Winn yesterday, many fans were up in arms over letting a silly little thing like a budget get in the way of bringing Johnny Damon back. Damon was a proven performer on the big stage after all, and he had just played a major role in helping the team capture their 27th World Championship. Instead the Yanks opted for Winn, who was so bad with the bat in 2009 that he got outslugged by Ramiro Pena. By 30 points!
Brian Cashman has been saying for weeks that he only had $2MM to spend on a left fielder, but almost no one took him seriously because hey, they're the Yankees and they usually get what they want and will pay top dollar to do so. Not this time. Scott Boras told Cash that he wouldn't take a penny less than $26M over two years for Damon back in December, and Cashman ended up calling his bluff. So now the Yankees are paying Winn $2M in 2010 to do something. Whether that's serve as the every day left fielder or be a platoon partner for Brett Gardner or just provide a veteran presence on the bench, we don't know. We won't know until the season starts either.
Winn's .262-.317-.353 batting line in 2009 represents the worse full season offensive output of his career, an ominous sign for a 35-year-old. His .158-.184-.200 line against lefties was the worst mark by a righty batter in 54 years, however that comes with the disclaimer of a microscopic .178 BABIP. One-seventy-eight. If he had posted his career average BABIP against lefties (.301), he actually would have picked up an extra 17 hits, nearly doubling his average to an even .300. That is some horrific luck ladies and gentlemen. It's so horrible that even at his age, a rebound is all but guaranteed. Bouncing back against lefties alone will improve his overall offensive output, but moving from cozy AT&T Park Park to the New Stadium will help as well. I'm not saying Winn will revert to his ~.350 wOBA ways of '07-'08, but matching Melky Cabrera's .331 wOBA from a year ago isn't out of the question. He did have 22.3% line drive rate in 2009, his highest in at least eight years, so Winn's bat hasn't gone totally limp.
The one area of Winn's game that doesn't need to improve is his defense. He's been well-above average in both corners over the last few years, and Jeff Zimmerman's age-adjusted UZR projections peg him as a +2 defender in left and +9 in right. The Yanks could optimize their defensive alignment by sticking Winn in right and sliding Nick Swisher over to left (where he projects for +1 UZR), but for now let's assume Winn's staying in left. Baseball Prospectus' EqBRR metric rates him as well-above average on the bases, but if you're into raw stolen base totals, then you'll be pleased by Winn's 56 steals and 88.9% (!!!) success rate over the last three years. Gardner's fast, crazy fast even, but he was too hesitant in late-inning stolen base situations at times last year. Given his experience, Winn should absolutely be the new guy for that job, and he should be fantastic at it.
So let's round it all up. We've got Winn as a .331 wOBA hitter next year (essentially replacing the Melkman), a +2 UZR defender in left, and let's say +2.4 runs on the bases (half of his 2009 total). Assuming 400 plate appearances, Winn would be just a tad over a two win player in 2010, but let's call it an even two. For all intents and purposes, that's league average. Despite his struggles last season, Winn was worth just under two wins, so we're not out of the realm of reality here. A two win player for $2M is a bargain, and even if the aging process is harsh or the NL-AL switch is tougher than expected and knocks Winn down to a one win player, the Yanks are still paying him about two-thirds of his market value. The Yankees should expect the bare minimum from Winn, but chances are they'll be rewarded with more.
He's certainly not a sexy name and he won't be as productive as Damon, but the Yankees didn't just take a match to $2M bucks. Remember, he's not replacing Damon; Curtis Granderson is. Winn is essentially filling Melky's spot (for $1.1M less). He's a useful player and perfectly qualified for what the Yankees are asking him to do. Oh sure, there's always a chance Winn will be just awful and is DFA bait by May, but I'd be shocked if he ends up being that bad. It's a very easy move to back out of, and the Yanks did well to improve two of their roster's biggest weaknesses (defense and baserunning) with Winn. And he's going to bat ninth for cryin' out loud, with this lineup they could let the pitcher bat and be a top five offense.
Update: As requested, here's an overlay of the park dimensions of AT&T Park and the New Yankee Stadium. Keep in mind that the right field wall in San Francisco is 20-feet tall.
Photo Credit: Eric Risberg, AP