With the first half of the season in the rear view mirro and the Yanks all enjoying a few days off for the All Star break, we're going to offer up some first-half reviews but with a twist. Instead of a rote overview of how the players are doing, we'll use the spot usually reserved for the game recap to discuss a few select performances. Tonight, we start with the overachievers.
As a club, the Yankees are sitting pretty in first place. With the best mark in baseball, they're 56-32, two games up on the Tampa Bay Rays and five games better than the third-place Boston Red Sox. They've scored 469 runs and have allowed 352. Both of those marks are second best in the American League. So clearly, the team is rife with good performances, but seven players stick out for the headlines they've made.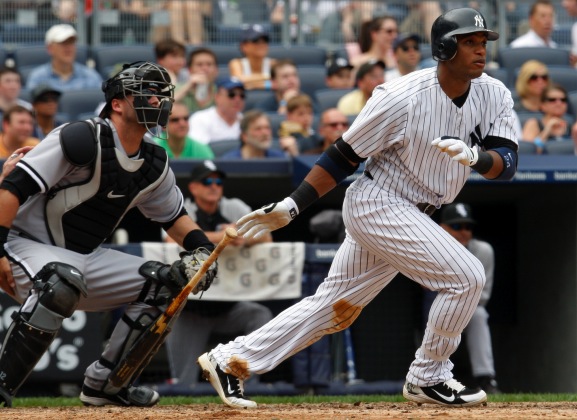 We start with the one who is arguable the team's first half MVP. Although a recent 16-for-75 slide has seen his season totals dip to .336/.389/.556, Robinson Cano is among the team leaders every offensive category. His batting average is tops on the club; his OBP is second; and his slugging first. His 115 hits place him behind only Josh Hamilton and Ichiro Suzuki in the AL, and his 23 doubles are tops among his Yankee teammates. His 4.4 WAR is tops on the team.
For Cano, 2010 has been a breakout season. We wondered in our season preview which Robinson Cano would show up, and the various projection systems pegged him to hit a respectable .304/.343/.484 with 20 home runs and 31 walks. He should top both the walk and home run totals before July is out. With Mark Teixeira heating up, the Yankees don't need Cano to carry the team as he was in late April and early May, but at age 27, Cano seems to be coming into his own.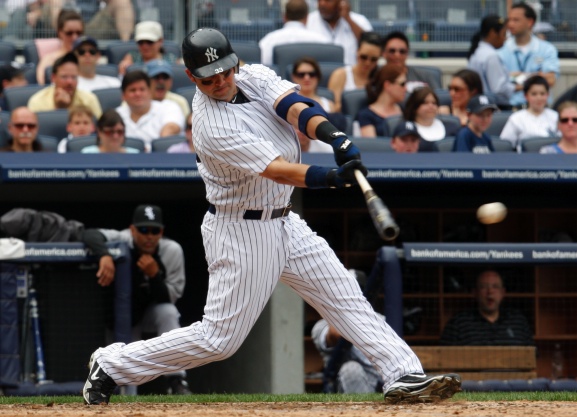 On par with Cano has been Nick Swisher. Hitting .298/.377/.524, Swisher is the only other member of the starting nine to carry an OPS over .900 into the All Star Break. Although he failed to escape the first round of the Home Run Derby earlier tonight, the Yanks have no complaints with Swisher, and he too is far outpacing his season projections. If he hit just .242/.360/.454 with 25 home runs on the season as the various systems projected him to, his second half would be a major disappointment.
Swisher seems to have emerged in 2010 with the help of Yanks hitting coach Kevin Long who broke down Swish's swing and made him keep still at the plate. Particularly at home, Swisher has shown much improvement. After hitting .226/.382/.394 with 8 home runs last year at home, Nick is off to a .291/.371/.496 start in the Bronx this year with 7 round-trippers, and I laugh every time I remember that Cashman landed him for a wing and a dream.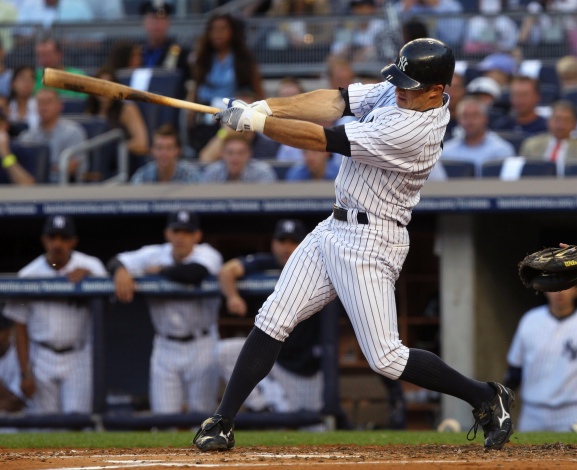 The final offensive player making a statement this year has been the speedy Brett Gardner. After languishing behind Melky Cabrera for much of 2009, Gardner earned himself a starting spot out of Spring Training this year, and he's been on fire since. He's hitting .309/.396/.415 with 25 stolen bases in 31 tries and had a higher slugging percentage than Mark Teixeira for much of the first half. Our projection for Gardner had him at .270/.347/.372 with 31 stolen bases and three home runs. Aided by an inside-the-parker last week and a grand slam the day before, Gardner has already topped that total. The real test will be to see how he holds up over the next 74 games.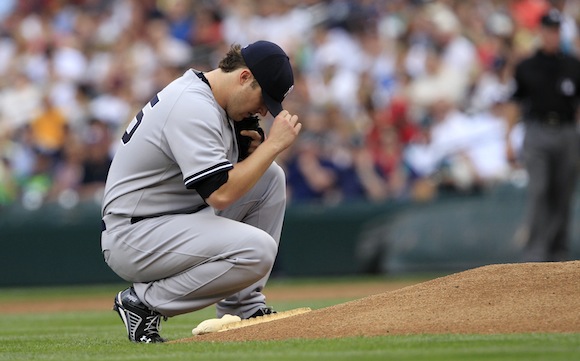 Moving to the mound, we find two names that do not come as a surprise and one who does. The surprise, of course, is Phil Hughes. During the season preview, we wondered about Phil's and Joba's futures, and so far this year, Phil has gotten the better of that debate. He's 11-2 in 16 starts spanning 101 innings, and he sports a nifty 3.65 ERA and a 3.96 xFIP. He's striking out 8.1 per nine innings and walking just 2.6 while keeping the ball in the yard. Although an innings limit may curtail his late-season pitching, Hughes took a huge step forward during the first half.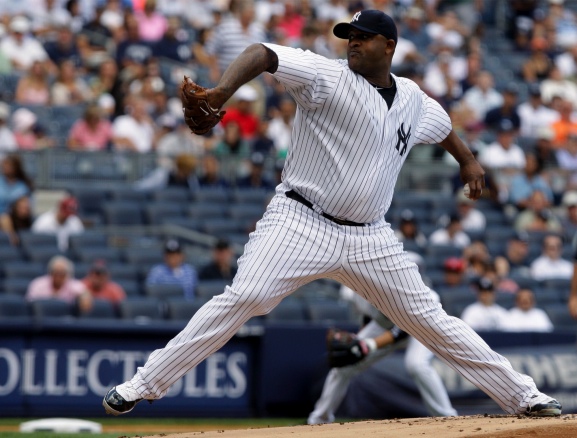 Next, we have the Big Man. It's hard to beat expectations when you're making $23 million a year, but CC over his last eight outings is 8-0 with a 1.81 ERA. On the season, he's 12-3 with a 3.09 ERA. His projection called for a near replica of 2009, and so far, the southpaw has delivered. The strike out totals are down a bit this year, and the walks are up a tick, but opponents are OPSing just .645 against Sabathia.
It's easy to forget Sabathia's early 2009 struggles, but through the first half last year, he was just 8-6 with a 3.86 ERA. He went 11-2 with a 2.74 ERA and a struck out hitters at a rate of nine per nine innings pitched in the second half. In his career, his second half ERA has been approximately 0.50 runs better and he strikes out a batter more per nine innings. If he can be even better in the second half this year than he was in the first, Cy Young considerations will not be out of the question.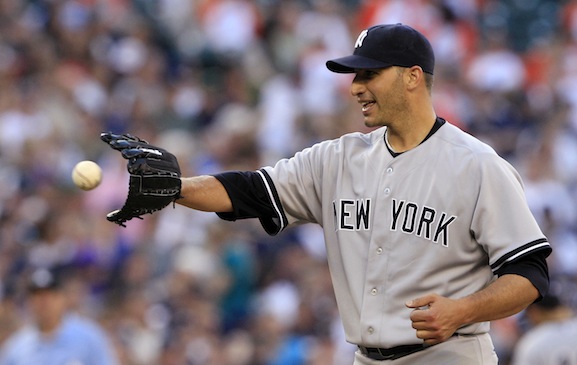 We can't talk about pitching without mentioning another lefty. Part of the Core Four with five rings, Andy Pettitte has far better than what we termed his rosy projections. We had him pegged at a 4.26 ERA/4.08 FIP with 138 strike outs in 190 innings. Instead, Andy has gone 11-2 with a team-leading 2.70 ERA, albeit with a 4.00 xFIP, and has mowed down 87 opponents. Like a fine wine and Mike Mussina, Pettitte has matured into a finesse pitcher who can still dial it up to 91 or 92 when the moment arises. He's showing no signs of slowing down, and a strong second half could put him on the cusp of 250 career victories.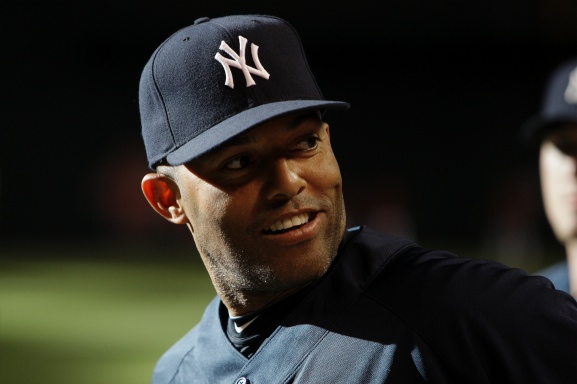 Finally, we arrive at the best of the best. There isn't much left to say about Mariano Rivera. At age 40, he's 2-1 with a 1.05 ERA (and a 2.27 FIP thanks to the Jason Kubel grand slam). He's striking out 8.65 per nine innings and has a ridiculous 5.50 K/BB ratio. With the cutter darting in and out, opponents can't do much against him, and he has 20 saves this year. We'll have to see if he can sustain a .190 BABIP, and we'll have to see how his 40-year-old body holds up. Deservedly or not, though, if Rivera duplicates his first half, he too will garner Cy Young votes this year. Mariano Rivera, it seems, refuses to let age be more than just another number.
Honorable Mentions: Marcus Thames is hitting .294/.398/.447 but with only three home runs, and he's been to plate just 103 times…Post-June 3 Mark Teixeira: .314/.403/.599 in 159 plate appearances. He has 9 home run — or a 42 dinger pace — over that hot stretch of hitting. He'll be on another post in this series though…Nick Johnson's 24 walks are still two more than Curtis Granderson has drawn in 152 more plate appearances…Javier Vazquez has a 2.78 ERA over his 64.2 innings spanning 10 outings. He's only 5-3 during that stretch though because the Yanks have scored just 2.9 runs per start for him.