It's no secret that the Yankees need to acquire at least one starting pitcher this winter, and it's even less of a secret that they want that pitcher to be Cliff Lee. They won't be able to pursue him until the free agency period begins five days after the end of the World Series, but that applies to MLB players only. As MLBTR noted yesterday, the Rakuten Golden Eagles are making ace righty Hisashi Iwakuma available via the posting process this winter, and the bidding begins today.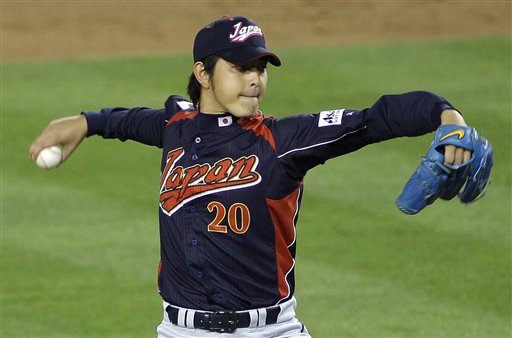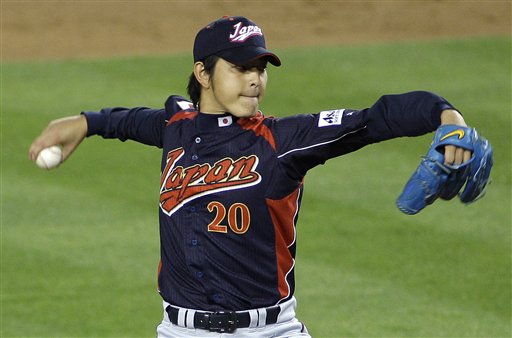 Of course, the Yankees still have the sour taste of Kei Igawa (and to a lesser extent Hideki Irabu) in their mouths (and on their payroll, unfortunately), but it would be foolish to eliminate an entire demographic of talent just because of one horrendous mistake. They've been scouting Yu Darvish rather heavily over the last two years, so we know they're not afraid of acquiring another Japanese pitcher. They just have to make sure it's the right Japanese pitcher.
I remember watching 29-year-old Iwakuma (30 in April) pitch twice in the 2009 WBC (including in the Championship series) and being impressed but not blown away. Subjectively speaking, he didn't have blow-you-away kind of stuff but threw lots of strikes and mixed his pitches well, similar to what Colby Lewis has been doing with great success this postseason. Let's not go off my shoddy memory though, here's a scouting report courtesy of Baseball America …
… Iwakuma has had some health concerns, as he missed most of the 2006 season with a shoulder injury, and he struggled in 2007 as well. But he returned to full health in 2008, as he went 21-4, 1.87 to lead the Pacific League in ERA and wins to earn the league's MVP award.

Iwakuma doesn't light up a radar gun, as his fastball sits around 89-90 mph and tops out at 93, but he pairs it with a nasty split-finger fastball that dives at the plate and a solid-to-plus slider. As he showed throughout the World Baseball Classic, Iwakuma is extremely efficient. He carved up Cuba, needing only 66 pitches to work six innings.

[snip]

"He would step into any rotation in the majors right now; he might be the No. 1 for half the teams in the majors," an American League scout said. "He's very impressive across the board."
Always love the anonymous scout quotes thrown in at the end. Anyway, the indispensable NPB Tracker shared some velocity data for one of Iwakuma's recent starts, which confirms the above (a shuuto is basically a two-seamer). He's thrown 571 total innings over the last three years (including 200+ in 2008 and 2010), so the injury concerns mentioned above appear to be a thing of the past. He's posted a 6.8 K/9, 1.8 BB/9, and 0.5 HR/9 in those years, which is something like a 2.95 FIP using the MLB factors. Don't take that to heart though, it's just a ballpark number. Here's a video, and you can see Iwakuma has a traditional Asian delivery, with the hesitation and everything.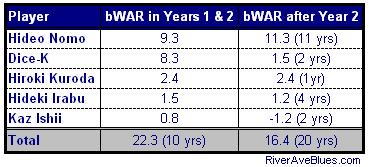 Unlike Darvish, it's not a package that screams frontline starter, but rather something more along the lines of a mid-rotation guy, and there's nothing wrong with that. The key to any deal would be keeping it short, because for whatever reason Japanese starting pitchers seem to hit a bit of a wall after their first two seasons in MLB (see right). Perhaps it has to do with the different schedule; they pitch once a week in Japan, the same day every week, rather than a set five man rotation. Maybe it takes two or three years before the added workload catches up to them. Maybe MLB hitters eventually adjust, who knows. Either way, a four- or five-year deal should be avoided. Two or three is the way to go, if that.
Given his low strikeout tendencies, I don't believe the Yankees should make a serious push for Iwakuma in the next few weeks. Chances are his strikeout, walk, and homerun rates will suffer during the transition to MLB, and the strikeout rate might not be good enough to make up the difference. There are legitimate reasons to be skeptical about Iwakuma's ability to succeed pitching in the AL East with a hitter friendly home ballpark.
That said, I don't see any harm with submitting an $8-10M bid (or whatever amount they're comfortable with, really) just to see what happens. Rakuten is hoping to get a $16M bid according to the link above, so I'm talking about basically half of what's expected. The Rays landed Akinori Iwamura when they submitted a $4.5M bid with no expectations in 2006, and they ended up receiving 6.1 fWAR out of him for a total of $12M from 2007-2009, a great bargain. The Yanks should take a chance to see if Iwakuma falls into their laps at a below market rate, but they shouldn't go all-out to pursue him.