The dust is still settling from Friday's blockbuster trade, which will send Jesus Montero and Hector Noesi to the Mariners in exchange for Michael Pineda and Jose Campos. All four players must still take their physicals, a bit of a formality required to make the trade official, and that should happen within a week or so. While all that is going on behind the scenes, let's take a few minutes to get to know Pineda, the soon-to-be newest member of the Yankees' starting rotation.
Pineda, who turns 23 tomorrow, grew up in the Dominican Republic and signed with the Mariners in December of 2005 for a measly $35k . He spent the 2006 and 2007 seasons in the Dominican Summer League before coming stateside in 2008. Seattle sent Pineda to Low-A as a 19-year-old that year, and he struck out 128 (8.3 K/9 and 23.2 K%) and walked just 35 (2.3 BB/9 and 6.4 BB%) in 138.1 IP across 21 starts and five relief appearances. After the season, Baseball America dubbed him the team's tenth best prospect.
Sent to High-A to open 2009, Pineda made just six starts before a sore elbow popped up and the team shut him down for close to three months. He ended up throwing just 47.1 IP that season, striking out 52 (9.9 K/9 and 29.2 K%) while walking just six (1.1 BB/9 and 3.4 BB%). Baseball America still considered him the Mariners' sixth best prospect that offseason. The 2010 season was Pineda's coming out party, as he utterly dominated the competition in 139.1 IP split almost evenly between Double and Triple-A. With his now healthy elbow, he whiffed 154 (9.9 K/9 and 26.7 K%) while walking just 34 (2.2 BB/9 and 5.9 BB%), then was ranked as Seattle's second best prospect and the 16th best prospect in all of baseball by Baseball America. The only pitchers ahead of Pineda on the top 100 list were Julio Teheran, Jeremy Hellickson, Aroldis Chapman, Jameson Taillon, Shelby Miller, and Matt Moore.
Pineda made the Mariners' Opening Day rotation last year thanks to his strong showing in Spring Training (16 K and 5 BB in 15 IP), and he made the team look really smart. After pitching to a 3.03 ERA with 9.0 K/9 (25.0 K%) and 2.9 BB/9 (8.0 BB%) in 113 IP during the first half, Pineda was named to the AL All-Star Team and threw a perfect third inning with two strikeouts in the actual game. His ERA came back to Earth in the second half (5.12), though his strikeout (9.3 K/9 and 24.6 K%) and walk (2.9 BB/9 and 7.8 BB%) numbers didn't suffer at all in the 58 IP sample. Pineda's BABIP did correct a bit in the second half (.247 pre-ASG and .286 post-ASG), and the Mariners limited his workload by having him skip a start in early-August and two more in September.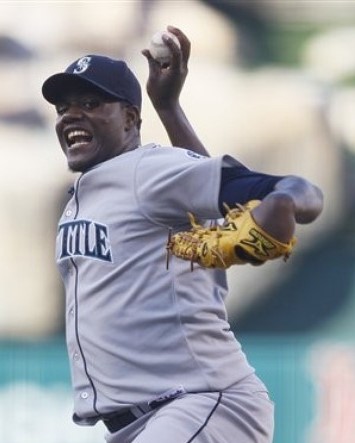 The numbers sure look great, and the scouting report backs them up. Before the season, Baseball America (subs. req'd) said he throws "a crisp fastball that sits at 93-97 mph and gets as high as 101 with explosive life and occasional heavy sink" and a "quality slider." They also said he "did a better job of selling his upper-80s changeup with the same arm speed as his fastball, keeping it down and getting hitters to chase it." The PitchFX data from last season backs up that scouting report, and it's worth noting that he threw that changeup just 2% of the time to righties and 11% of the time to lefties. That's the pitch he needs to focus on to reach his substantial ceiling.
Speaking of enormous, that's the best way to describe Pineda. The kid is listed at 6-foot-7 and 260 lbs. on Seattle's official site, which is probably how big CC Sabathia was at that age. You can't help but look at a frame like that and think 230 IP a year, every year. I have to imagine he's an uncomfortable at-bat as well, this gigantic long-levered guy on the mound unleashing mid-90's heat. There's bound to be an intimidation factor in play here. Given his results — held hitters to a .211/.279/.342 batting line last year, righties to .184/.261/.326 — I'm guessing opposing batters were a little antsy in the box.
A few weeks ago Keith Law ranked Pineda as the 20th best player in baseball under the age of 25, the fifth pitcher on the list behind Clayton Kershaw, Stephen Strasburg, Madison Bumgarner, and Brett Anderson. "He has the size and stuff to continue to pitch as he did in 2011," said KLaw in the write-up, "but improving his changeup, really a show-me offering with virtually no action on it right now, would help him get to ace level." You'll hear quite a bit about the changeup in the coming weeks and months, I imagine. It's the great equalizer, and in fact Brian Cashman told Jim Bowden that he'll consider the trade a failure if he doesn't improve the pitch and develop into a top-flight starter.
The Yankees gambled on upside by acquiring Pineda, just like the Mariners gambled on upside by acquiring Montero. Pineda's power stuff is well suited for the rugged AL East, as is his knack for strikeouts and uncanny ability to limit walks at such a young age despite the huge fastball. We've been saying the Yankees should only trade Montero for a young, high-end starter with several years of team control remaining for quite some time now, and that's exactly what they got in Pineda. He's not a finished product, but he sure is starting from a high baseline with that electric fastball-slider combo and monstrous build.