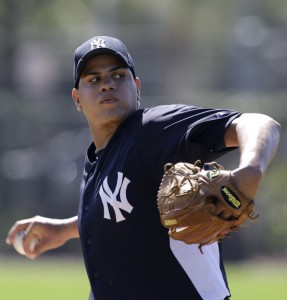 The third of the big three top 100(-ish) prospects lists was published today, with Baseball America revealing their rankings of the game's very best future big leaguers. The list is free for all, you don't need a subscription. Bryce Harper claims the top spot, followed by Matt Moore and Mike Trout. Those three have consistently been ranked as baseball's three best prospects this offseason, just not always in the same order. Number four is Yu Darvish, who I don't consider a prospect given those 1,200+ innings he threw overseas.
Anyway, Manny Banuelos leads all Yankees' farmhands at #29, which is right where Keith Law (#23) and Kevin Goldstein (#29) had him. Hooray for consensus. Dellin Betances is ranked #63, Gary Sanchez #81, and Mason Williams #85. Opinions on the club's second, third, and fourth best prospects are pretty split, both in their rankings within the system and through the game. All four are considered legitimate top 100 guys though, and that's better than most.
The Yankees were one of 13 teams with at least four players to make the top 100, but they were one of only three teams to originally sign six players on the list. Jesus Montero ranks #6 behind Harper, Moore, Trout, Darvish, and Julio Teheran while Arodys Vizcaino is a little further down at #40. The Cardinals and Rangers are the only other clubs to originally sign six top 100 prospects, but again they're counting Darvish as a prospect. Former Yankees' first round pick Gerrit Cole is #12.
Since we're in prospect mode, I'm going to point you towards Jason Parks' article about what could go wrong for each of the Yankees' top five prospects. It's part of his series taking a pessimistic look at each club's best farmhands, a little dose of reality to temper expectations in prospect fantasyland. You do need a subscription to read the entire thing, but non-subscribers will still be able to read the Sanchez and Banuelos write-ups. Much to my surprise, he considers Angelo Gumbs the team's fifth best prospect. "My eyes told me Gumbs had star potential, a future you don't often envision when watching short-season baseball," he wrote. "I'm probably a few years too early with this ranking, and I understand if people wish to question my sanity."
While I don't bother with a top 100 list, I did rank the Yankees' top 30 prospects last Friday. So check that out, in case you missed it. Even if you didn't, go read it again. If you're yearning for more prospect knowledge, you can participate in BA's free top 100 chat later this afternoon (2pm ET).