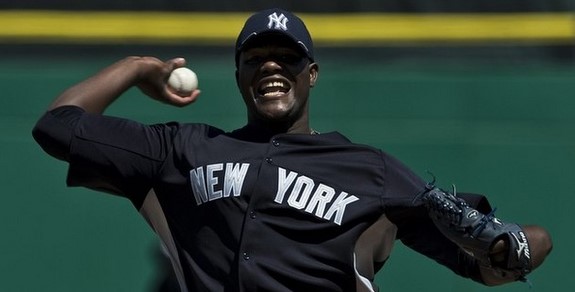 Got some injury updates, courtesy of Chad Jennings…
Michael Pineda (shoulder) is still throwing off flat ground from "extended distances" according to VP of Baseball Ops Mark Newman. He's been throwing off flat ground for more than a month now is still on target to return sometime in May or June.
Jose Campos (elbow) is currently throwing off a mound and is expected to ready in time for Spring Training after missing almost the entire 2012 season. "The doctors say he's healthy. We're going to proceed based on that recommendation," said Newman, who confirmed Campos will begin the season back with Low-A Charleston.
Cesar Cabral (elbow) is basically doing the same thing as Pineda right now, throwing off flat ground from "extended distances." The Yankees plan to keep the 2011 Rule 5 Draft pick next year, but Newman said he's unlikely to return until May. Cabral has to spend at least 90 days on the active 25-man roster next season to satisfy the Rule 5 Draft rules.
Newman also confirmed to Jennings that top prospect Mason Williams (shoulder) has resumed swinging a bat in Tampa. He had surgery in August and was recently cleared to begin workouts. Sounds like he'll be ready to go once camp starts.