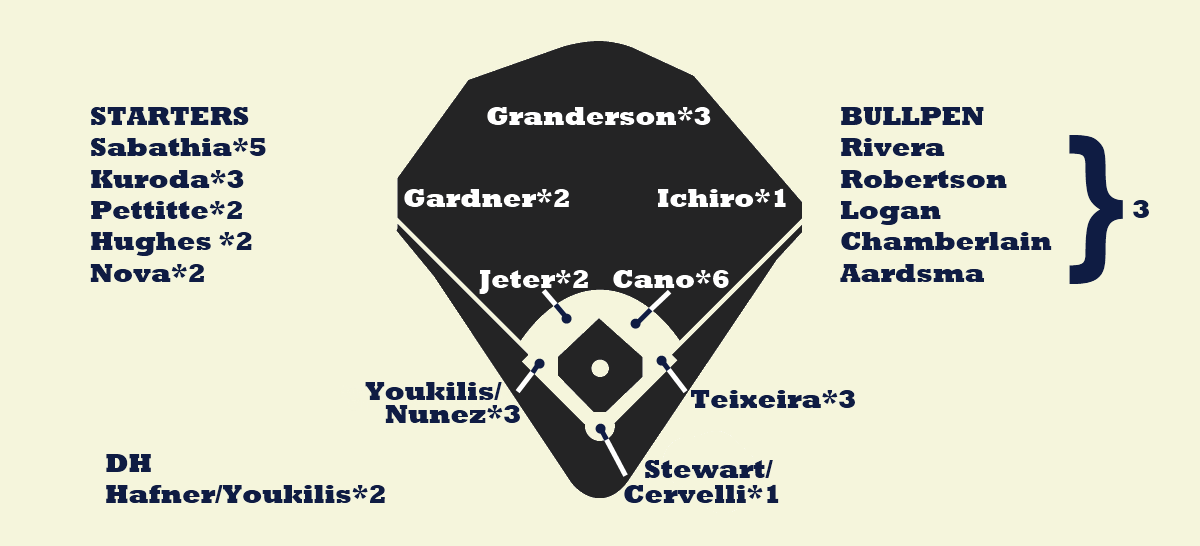 Dan Szymborski released his 2013 Yankees ZiPS projections this morning, and the graphic above shows rounded WAR projections for the team's key players. You can click the image for a larger view, but the smaller version seems legible enough to me and my eyes are terrible. Either way, the option is there for you.
Anywho, the totals in the graphic add up to 40 WAR, putting the team's projected finish somewhere in the 87-89 win range. That definitely passes the sniff test and seems very reasonable to me, but unfortunately it's probably not enough to qualify for the postseason (even as the second wildcard). In case you're wondering, ZiPS projected the Yankees as a 95-win team last season and they wound up winning … 95 games. How about that.
You can click the link to look at the projected stat lines (and player comparisons!) for everyone on the roster as well as more than a handful of prospects. ZiPS believes Gary Sanchez could manage a .230/.277/.411 (.298 wOBA) batting line (nice ISO!) if the Yankees stuck him in the big leagues right now, which is the best projected offense from the team's catchers, sadly. The system has Austin Romine (.289 wOBA), Bobby Wilson (.279), Chris Stewart (.278), and Frankie Cervelli (.274) as well-below-average producers. Yikes.
Brett Gardner has been worth roughly 5 WAR per 150 games in his career thanks to his defense, and the 2 WAR projection has more to do with playing time (342 plate appearances) than performance decline (.259/.355/.362, .327 wOBA). If he manages to stay healthy all year — something that is not a given, obviously — he could get the team from 88 wins to 90 wins all by himself. ZiPS sees the starting outfield combining for 46 total homers, or three more than Curtis Granderson hit by himself last summer. Juan Rivera has the best projection (.307 wOBA) of the complementary right-handed bat options.
The Yankees added only two new position players this winter, Kevin Youkilis and Travis Hafner. ZiPS has Youkilis at .256/.360/.464 (.355 wOBA) with 20 homers in 475 plate appearances while Pronk checks in at .258/.351/.452 (.342 wOBA) with 13 homers in 322 plate appearances. I'd be very happy with those slash lines for both players, but my fingers will be crossed in hopes of keeping them healthy. Dan Johnson is a little further behind at .235/.332/.409 (.320 wOBA).
On the pitching side, only CC Sabathia (202.1) and Hiroki Kuroda (186) project to throw more than 170 innings. Sabathia is the only starter with a projected sub-4.00 ERA at 3.60, but Andy Pettitte comes pretty close (4.08 ERA). ZiPS doesn't see Phil Hughes having a big contract year (4.73 ERA in 156 IP) nor does it see a big rebound from Ivan Nova (4.86 ERA in 167 IP). The system has Michael Pineda pegged for a 4.43 ERA (4.29 FIP) in 120 post-shoulder surgery innings, which is just a touch worse than league average. I'd be pretty encouraged by that kind of performance heading into 2014.
I guess I should stick the standard disclaimer here: projections are not predictions, they're an attempt to measure a player's true talent level. ZiPS is not saying Robinson Cano will post a .368 wOBA next year, just that he's capable of doing so. Injury, good or bad luck, all sorts of stuff will impact his actual performance. The Blue Jays currently project for 92-94 wins while the Rays are at 88-90 wins, so the Yankees are looking at a fight for second place at the moment. Red Sox and Orioles projections are forthcoming. That said, I do think the division will be a lot tighter than expected. The ugly ALCS exit seems to have everyone way down on the Yankees.