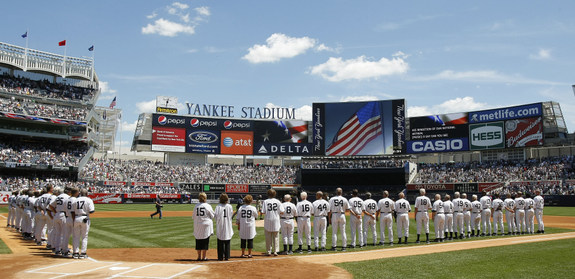 There isn't another team in sports that can pull off an event like Old Timers' Day, at least not on the same scale as the Yankees. Hall of Famers, bench players, solid regulars, and a whole bunch of World Champions will be on the field today as the team celebrates its history. The awesomeness of Old Timers' Day doesn't translate well across television — it really is an event everyone should experience in person at least once. I highly recommend it.
The full roster of Old Timers can be found right here. Among the first timers are Orlando Hernandez, John Flaherty, and Andy Phillips. I am most looking forward to seeing El Duque again; hopefully he pitches in the Old Timers' Game. Jorge Posada will not be making his debut this summer, but it'll happen eventually. I am definitely looking forward to it.
The ceremony and baseline introductions start at 11:15am ET with the Old Timers' Game to follow. All of that can be seen on YES. The Yankees and Rays are scheduled to start at 2:05pm ET, which you'll be able to watch on YES locally and TBS nationally. Enjoy all of it.
Update (11:34am): Here is the lineup for Yankees-Rays, which is identical to yesterday's:
CF Brett Gardner
RF Ichiro Suzuki
2B Robinson Cano
DH Travis Hafner
1B Lyle Overbay
LF Zoilo Almonte
SS Jayson Nix
3B David Adams
C Chris Stewart
The roster move has not been announced yet, but Ivan Nova will be summoned from Triple-A to start the game. The rotation was thrown out of whack by Tuesday's rainout.
Injury Updates: Mark Teixeira (wrist) was checked out by the doctor yesterday but has not yet been cleared to resume any kind of activity. They'll re-evaluate again soon and go from there.
Roster Move (12:04pm): Thomas Neal has been optioned to Triple-A Scranton to clear a spot for Nova. He went 2-for-11 (.182) in four games with New York after being called up last week, but Almonte has since zoomed passed him on the outfield depth chart. The Yankees currently have a 13-man pitching staff and a three-man bench, but it seems likely Nova will be sent down following the spot start.