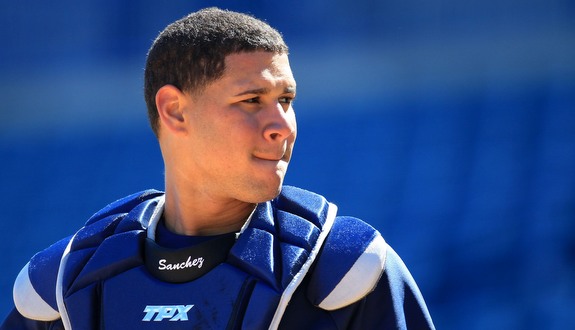 Baseball America published their list of the top ten Yankees prospects today, and the list is free for all. The scouting reports, however, are not. You'll need a subscription to read them. The name atop the list won't be a surprise, but things are pretty wide open after that. They could have gone in any number of directions. Here's the top ten:
C Gary Sanchez
OF Slade Heathcott
OF Mason Williams
C J.R. Murphy
3B Eric Jagielo
OF Aaron Judge
LHP Ian Clarkin
1B Greg Bird
RHP Luis Severino
2B Gosuke Katoh
The feature also includes a list of the organization's top 15 players under the age of 25 and none of the 15 are big leaguers. Can't say I'm surprised. Those ten guys up there are the top ten and are followed (in order) by LHP Manny Banuelos, SS Abi Avelino, RHP Jose Ramirez, RHP Jose Campos, and RHP Rafael DePaula. I suspect those guys will be prospects 11-15 when the Prospect Handbook comes out in a few weeks. The notable omission is OF Tyler Austin, who had an okay year but dealt with injury problems, specifically a bone bruise in his right wrist. It forced him from the Arizona Fall League after only four games. His stock took a hit this summer.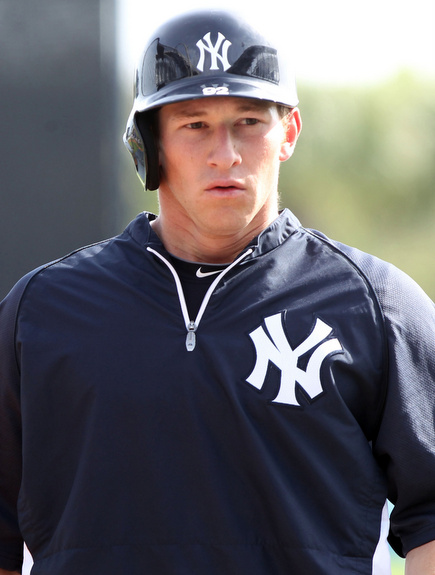 Sanchez, who has "effortless, well-above-average raw power and an above-average hit tool," is an easy call for the top spot, especially now that his defense has improved. After him? I don't see how there could be a consensus. I think it's somewhat interesting that the top three prospects all have some kind of makeup concern — Sanchez was suspended for insubordination in 2011, Heathcott has had drug an alcohol problems, Williams was arrested for DUI earlier this year and has had run-ins with coaches — despite the team's renewed emphasis on character. In the end, talent always reigns supreme. Can't teach it.
A few things from the write-ups stand out. Williams "adopted an Ichiro-style slapping approach" this year and didn't show the same tools as he had last year. Like Austin, he took a step back. The Yankees project Murphy as a "potential future .280 hitter with 10-12 homer power" while Sanchez is regarded as more of a ".260-.270 hitter with at least 20 home runs annually." Both profiles fit just fine behind the plate. As for Bird, "some scouts and SAL managers questioned his future power" despite his awesome year. The plate discipline and everything else is fine, but low-power first baseman aren't exactly a hot commodity. Severino is said to have "raw stuff that is as good as any Yankees farmhand" with a fastball that "sits between 93-95 mph and touches the upper 90s often." His slider was his best secondary pitch when he signed but his changeup has since surpassed it. Neat.
Heathcott and Murphy are the only players in the top ten slated to open next season with Triple-A Scranton, and I suppose there's a chance Heathcott will be sent back to Double-A Trenton to start the year. That's unlikely though. The Yankees didn't have any big league ready help this past season and for the most part, that will be the case again in 2014. Their farm system took a slight step back overall but not as big as it would have been without those three first rounders. The team needed to add some impact talent and it did with that draft. Most of their highest ceiling prospects are in the low minors — the short season leagues — and will need time to develop.