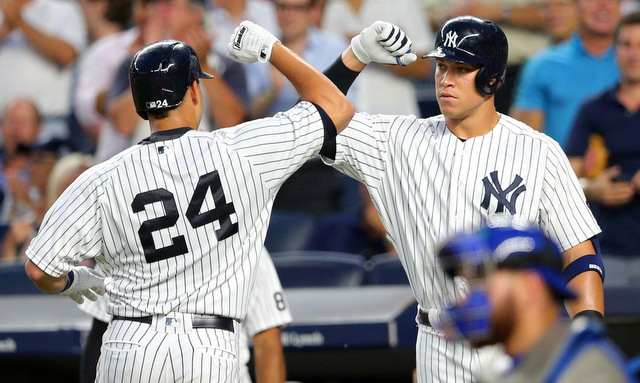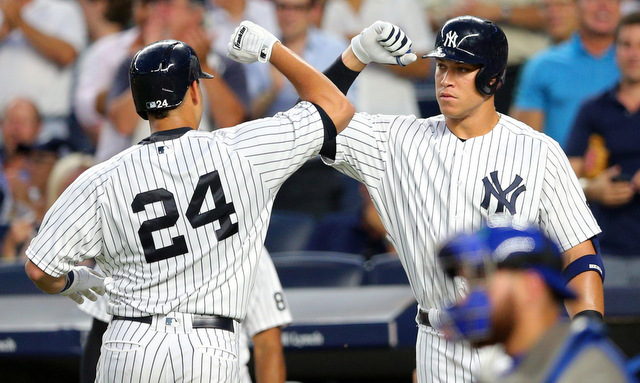 What a difference ten months can make. Coming into the 2016 season the Yankees had a solid farm system that ranked in the middle of the pack among the 30 clubs. Keith Law (subs. req'd) ranked the system 13th in baseball during the spring. Baseball Prospectus had them 16th and Baseball America had them 17th. Hard to get more middle of the pack than that.
Now, after Spring Training and the regular season and postseason, the Yankees boast one of baseball's very best farm systems. Jim Callis calls it the "deepest" system in the game. Along with the Brewers and Braves, two teams making little effort to be competitive so they can build a stockpile of young players, the Yankees have one of the three best farm systems in the game. Maybe the best.
That sudden and drastic improvement in the farm system is the result of many things, most notably the trade deadline. The Yankees traded proven veterans for prospects for the first time in decades. They added a dozen new prospects at the deadline. That's nuts. Also, the Yankees imported new talent in the annual amateur draft, plus some guys already in the organization broke out.
I'm not going to lie, I was not looking forward to writing the farm system season review. Well, I was and I wasn't. I was excited because there are so many good players to write about, and I was also dreading it because there are so many good players to write about. This assignment was … daunting. Anyway, let's review the year that was in the farm system. 'Twas a great year.
The Graduates
It seems appropriate to start with the guys who are no longer prospects. The Yankees graduated several prospects to the big leagues this summer — by graduate I mean exceed the rookie limits of 50 innings or 130 at-bats — including three of my top seven prospects coming into 2016. The most notable was, of course, C Gary Sanchez (season review), who hit 20 homers in 53 games as a full-time catcher (lol) and finished second in the AL Rookie of the Year voting to someone everyone will say "oh yeah, he was Rookie of the Year once" about in a few years.
UTIL Rob Refsnyder (season review), UTIL Ronald Torreyes (season review) RHP Bryan Mitchell (season review) all exceeded the rookie innings limit this summer, as did RHP Luis Cessa (season review). Sanchez is the catcher of the future present and is locked into a 2017 roster spot. The Brian McCann trade confirmed it. Torreyes is the odds-on favorite to hold the backup infielder's job again. Refsnyder, Mitchell, and Cessa will all have to compete for a roster spot in Spring Training, and that's fine. Competition is a good thing. Cessa and Mitchell had their moments as starters late in the season while Refsnyder did some solid platoon work.
The Erstwhile Top Prospects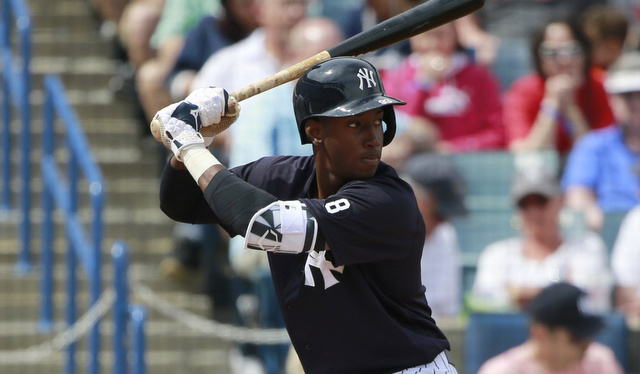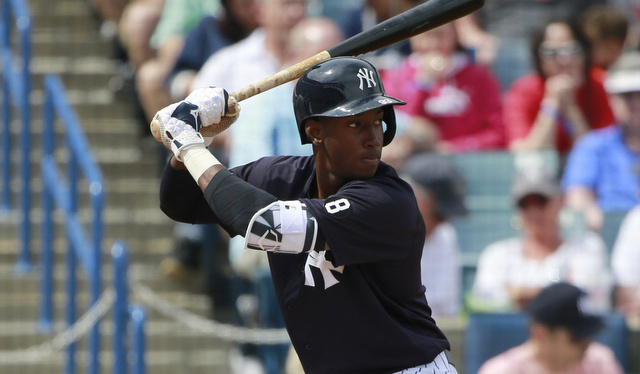 Depending who you asked, New York's top prospect coming into this season was either OF Aaron Judge (season review) or SS Jorge Mateo. Most folks jumped ship and went with Mateo. I stuck with Judge. To each his own. Judge made some adjustments and had a strong Triple-A stint before reaching the big leagues in the second half. He showed off some big power and some big swing-and-miss ability. Right now he's the favorite to start in right field in 2017, though that's not a lock. Judge will have to win the job in Spring Training.
Mateo's season was disappointing by almost any measure. He stole the show during Grapefruit League play with his elite speed and high-end athleticism, and after a strong start to the High-A Tampa season, the 21-year-old basically stopped hitting in June. Mateo put up a .210/.255/.283 (56 wRC+) batting line in his final 72 games and 300 plate appearances of the season. He finished with a .254/.306/.379 (99 wRC+) line overall, and come playoff time, he was demoted to the bottom of the Tampa lineup. Yeesh.
The good news: Mateo set a new career high with eight homers, so he's growing into some power. Last year he hit two homers, and one was an inside-the-parker. The bad news: Mateo went 36-for-51 (71%) in stolen base attempts one year after going 82-for-99 (83%). The other bad news: the Yankees suspended Mateo two weeks for an undisclosed violation of team rules in July. He did homer in his first game back, but alas, there is no redemption story here. Mateo didn't play well the rest of the way.
The suspension and the disappointing season do no kill Mateo's prospect value. Does it take a hit? Absolutely. But giving up on a 21-year-old kid with this kind of ability is foolish. Sanchez had his fair share of maturity issues in the minors too, remember. (He was once suspended for refusing to catch a bullpen session.) With any luck, the down season and suspension will be a learning experience for Mateo, who will come out of this year more focused and driven. That'd be cool.
The New Top Prospects
Judge and Mateo have been replaced as the top two position player prospects in the farm system. At the deadline the Yankees swung a pair of blockbuster trades that netted them new top prospects. Aroldis Chapman went to the Cubs for a package headlined by SS Gleyber Torres, and Andrew Miller went to the Indians for a package headlined by OF Clint Frazier. Torres and Frazier are the Yankees' new top prospects, in whatever order.
Torres, who doesn't turn 20 for two weeks, spent the entire 2016 season at the High-A level, where he was nearly four years younger than the average player. Despite the age disadvantage, Torres hit .268/.349/.413 (116 wRC+) overall with 31 doubles, eleven home runs, and 22 steals. After the season Gleyber went to the Arizona Fall League, hit .403/.513/.645 (218 wRC+) with nearly twice as many walks (14) as strikeouts (8), and became the youngest MVP and batting champion in league history.
There's talk Torres may be one of the top ten prospects in all of baseball right now. It's good to be a tooled up right-handed hitting shortstop with power potential, hitting know-how, and strong defense. Gleyber is not lacking ability, that's for sure. The hype is starting to get a little out of control — the inevitable Derek Jeter comparisons have arrived — but there's no doubt Torres is a special, special player. Heck of a return for a half-season of Chapman.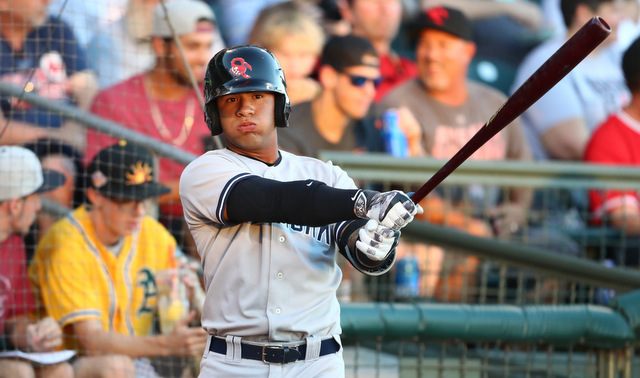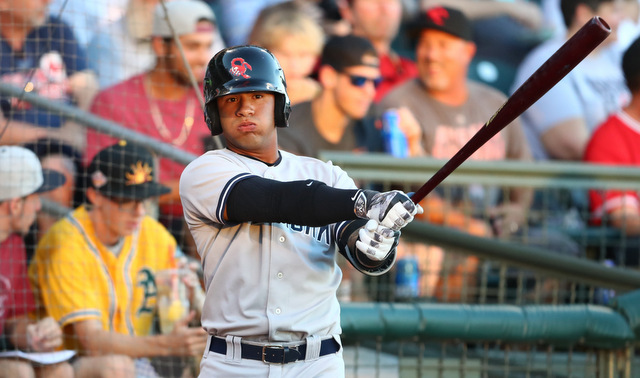 As for Frazier, who turned 22 in September, he split the season between Double-A and Triple-A, and played exclusively in Triple-A after the trade. He hit .276/.356/.469 (129 wRC+) with 13 homers and 13 steals in 89 Double-A games, then .229/.285/.359 (83 wRC+) with three homers and no steals in 38 Triple-A games. His strikeout rate jumped from 22.0% to 27.9% when he switched levels. That first exposure to Triple-A caliber pitching is not always pretty.
Frazier was nearly six years younger than the average International League player this summer, which is important context. The kid reached Triple-A at 21. Had he gone to college, he would have been draft eligible as a junior this year. Frazier is a righty hitter with big power potential and good hitting ability, plus he's a good outfield defender who plays all out, all the time. He'll be a fan favorite with his style of play. Frazier is likely to start 2017 in Triple-A and it would not be a surprise if he forces his way on to the big league roster in the first half. He has that type of ability.
Not to be overlooked here is LHP Justus Sheffield, who came over from the Indians with Frazier in the Miller trade. He's a top 100 caliber prospect himself — Baseball America ranked Sheffield the 69th best prospect in baseball at midseason — who is arguably New York's top pitching prospect right now. Sheffield spent almost the entire 2016 season as a 20-year-old in High-A — he did make one Double-A spot start — where he had a 3.19 ERA (3.48 FIP) with 23.7% strikeouts and 9.9% walks in 121.1 innings. Not bad for a kid three years younger than the competition.
Sheffield, who is not related to Gary, is a three-pitch southpaw with above-average velocity, which is the kinda guy the Yankees could use in the rotation long-term. Consistency with the curveball and changeup as well as general command will be the focal points going forward. Sheffield, like Torres, is ticketed for Double-A Trenton to start 2017. Because he's still so young — Sheffield won't turn 21 until May — I would bet on Sheffield spending almost the entire season in Trenton.
In Torres, Frazier, and Sheffield, the Yankees acquired three prospects at the deadline who would be a bonafide No. 1 prospect in an organization. Like, if Frazier was your favorite team's top prospect, you'd be cool with it. Same with Torres and Sheffield. The Yankees made some difficult decisions at the deadline — no one actually wanted to see Miller go, right? — but they were necessary, and those decisions brought the team premium prospects. Turning two relievers into three top 100 prospects (and more!) at the deadline is a hell of a thing.
The Breakout Prospects
The farm system improved this summer and not only because of the trade deadline additions. Several incumbents took steps forward, and there was no bigger breakout prospect in the system this year than RHP Chance Adams, who went from promising bullpen prospect in 2015 to bonafide starting pitching prospect in 2016. The conversion couldn't have gone any better. Adams, 22, had a 2.33 ERA (2.96 FIP) with 29.1% strikeouts and 7.9% walks in 127.1 innings split between High-A and Double-A. That's best case scenario stuff right there.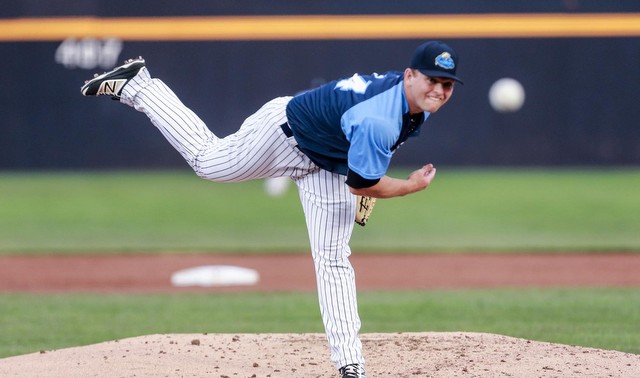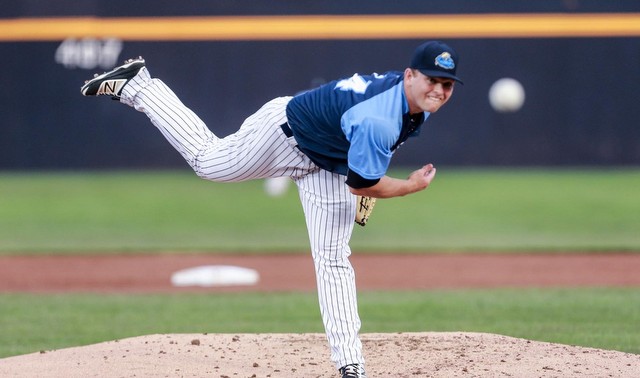 Adams is still a fastball/slider pitcher at heart, though he made great strides with both his curveball and changeup this year, so much so that some scouting reports are calling him a true four-pitch pitcher. Also, Adams showed he can hold his mid-90s velocity deep into games, which is cool. That's always a big question with reliever-to-starter conversions. At one point this year Adams allowed no more than one run 13 times in a 14-start span. Total domination. He'll begin 2017 in Triple-A and could be a factor for the Yankees in the second half.
On the position player side, 3B Miguel Andujar finally put together the full consistent season we've been waiting to see. He has a history of starting slow and finishing strong. Andujar, who is still only 21, hit .270/.327/.407 (108 wRC+) with a career high 12 home runs in 137 games split between High-A and Double-A during the regular season before holding his own in the AzFL (109 wRC+). He did tire a bit late in the season, but by then he'd made his point.
Andujar is the closest thing the Yankees have to a third baseman of the future. His arm is true rocket — it's a Gary Sanchez arm over at third base — and he has power potential, plus Andujar doesn't get enough credit for his innate bat-to-ball ability. The kid struck out in only 12.7% of the time this season against the best pitching he's ever faced. Andujar, who was added to the 40-man roster last month to avoid Rule 5 Draft exposure, will start the season back at Double-A and could earn a promotion to Triple-A at midseason.
RHP Domingo Acevedo, the massive 6-foot-7 hurler, started to answer questions about his long-term viability as a starter this season by improving his breaking ball. The 22-year-old throws extremely hard — Acevedo was clocked at 103 mph in 2015 — and has a good changeup, but without a reliable breaking ball, it was unclear whether he'd be able to turn over a lineup multiple times. The improvement he showed with his slider this summer was encouraging. Acevedo had a 2.61 ERA (2.49 FIP) with 27.4% strikeouts and 5.9% walks in 93 innings at Low-A and High-A in 2016. I'm guessing a return to High-A is in the cards to begin 2017.
Another massive pitcher, 6-foot-6 LHP Jordan Montgomery, had a statistically excellent season, throwing 152 innings of 2.19 ERA (2.91 FIP) ball at Double-A and Triple-A. He struck out 22.7% of batters faced and walked 7.7%, and at one point he allowed seven earned runs total in the span of eleven starts. Montgomery, 23, has a low-90s heater and three secondary pitches (curveball, cutter, changeup), and he throws from an extreme over-the-top arm slot: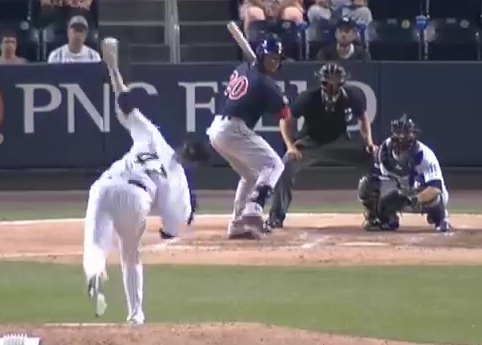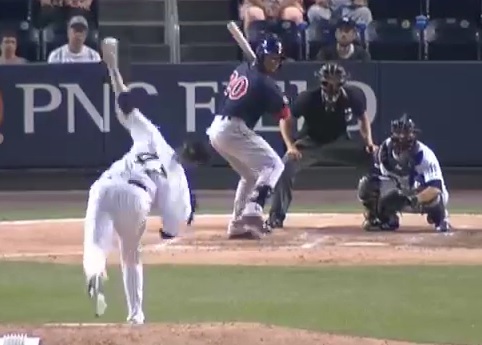 Montgomery is 6-foot-6, the mound is ten inches high, and he's releasing the ball from way overhead. How high off the ground is the ball when he releases it, you think? Ten feet, maybe? Whatever the number, Montgomery throws with extreme downhill plane on his pitches. I do wonder if that arm slot will help righties get a better look at the ball, though to date his minor league splits aren't extreme. Montgomery is heading back to Triple-A this season and looks very much like a potential back of the rotation option, and soon.
Behind the plate, C Kyle Higashioka broke out after battling injuries for years. The 26-year-old hit .272/.339/.496 (131 wRC+) with a farm system leading 21 home runs in 110 games between Double-A and Triple-A. That power potential along with reputedly excellent defense landed Higashioka on the 40-man roster after the season because the Yankees didn't want to risk losing him to minor league free agency; they re-signed Higashioka last winter as a minor league free agent. A catcher who pops 21 homers at the upper levels is a no-doubt keeper.
The most interesting backstory among breakout prospects this year belongs to RHP Yefrey Ramirez, a former infielder the Yankees selected from the Diamondbacks in the minor league phase of the Rule 5 Draft last winter. Yefrey, 23, had a 2.82 ERA (3.13 FIP) with 26.8% strikeouts and 6.5% walks in 124.1 innings between Low-A and High-A this summer, which prompted the Yankees to add him to the 40-man roster after the season. They didn't want someone to take him in the Major League phase of the Rule 5 Draft this year. Ramirez is a low-90s fastball/slider/changeup pitcher and might fit best in relief long-term, but there's no sense is moving him to the bullpen just yet.
LHP Dietrich Enns, RHP Gio Gallegos, RHP Jonathan Holder (season review), and RHP Chad Green (season review) all improved their stock this season. Enns, 25, continued the ridiculous run he's been on since returning from Tommy John surgery last year, pitching to a 1.69 ERA (3.25 FIP) in 138.1 innings at Double-A and Triple-A. The 25-year-old Gallegos had a 1.17 ERA (1.97 FIP) in 84.2 relief innings between Double-A and Triple-A. He struck out 36.5% of batters faced and walked 5.7%. Both Enns and Gallegos landed on the 40-man roster earlier this month, and the odds are strongly in favor of them making their MLB debuts at some point in 2017.
If not for the trade deadline, Adams' breakout would be the story of the season from the farm system. Andujar, Acevedo, and Montgomery emerging gives the Yankees that solid base of second tier prospects while guys like Enns, Gallegos, Holder, Green, Higashioka, and Ramirez give the team even more depth. That's what stands out most about the system. The high-end prospects are great, but holy cow, the Yankees have a ton of prospects who project to be average big leaguers. Those are insanely valuable, both on the roster and in trades because it's cheap production.
The Double-A Duo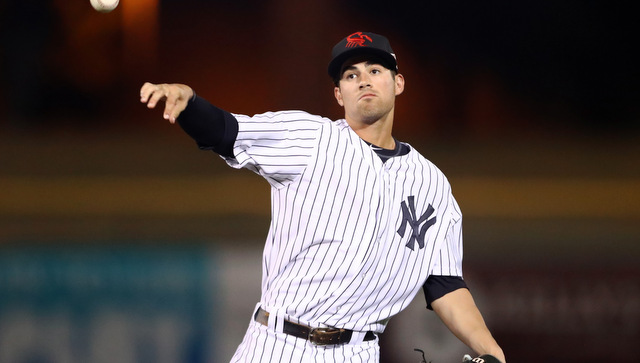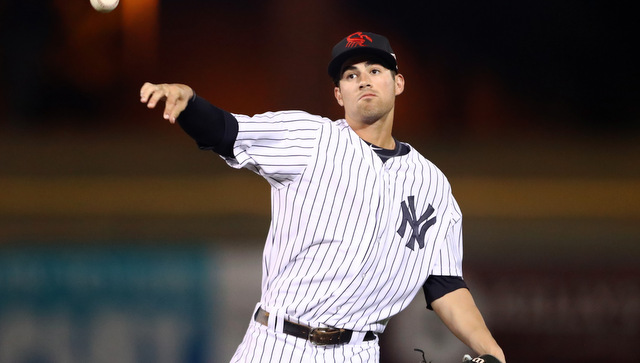 I don't know about you, but when I think about SS Tyler Wade, I can't help but think about OF Dustin Fowler as well, and vice versa. The two spent the entire 2016 season hitting first and second for Double-A Trenton in whatever order, and I guess because of that it's hard to think of them apart. It is for me, anyway. They should star in a buddy cop YouTube series or something.
Anyway, the 21-year-old Fowler had a strong season with the Thunder, hitting .281/.311/.458 (109 wRC+) with 30 doubles, 15 triples, 12 homers, and 25 steals in 132 games. Those 15 triples were second most in all of minor league baseball. Only Padres OF Franchy Cordero had more. He had 16. Fowler rarely walks (3.8%) but he doesn't strike out a ton either (15.0%), plus he has a sweet lefty swing with gap power to go with great speed and athleticism. Not too bad for a kid picked in the 18th round pick.
Wade, 22, authored a .259/.352/.349 (101 wRC+) batting line with 16 doubles, seven triples, five homers, and 27 steals in 133 Double-A games. He hit four home runs total in the first three years and 306 games of his pro career. Wade's skill set is not conducive to sexy stat lines. He's a bat control guy who draws walks (11.3%), runs the bases well, and plays very good defense. It's a really old school leadoff hitter profile. No power, good contact and OBP, and good baserunning.
Both Wade and Fowler figure to begin the 2017 season at Triple-A, which puts them on the doorstep of the big leagues. The Yankees had Wade get acquainted with the outfield in the AzFL, so they're preparing him for a utility role. They're creating a path to MLB for him. Wade and Fowler are still really young — neither guy is even Rule 5 Draft eligible yet — so they probably need a full season in Triple-A before helping the big league team, but they are bonafide prospects at Triple-A. That's pretty cool.
The Rebound Players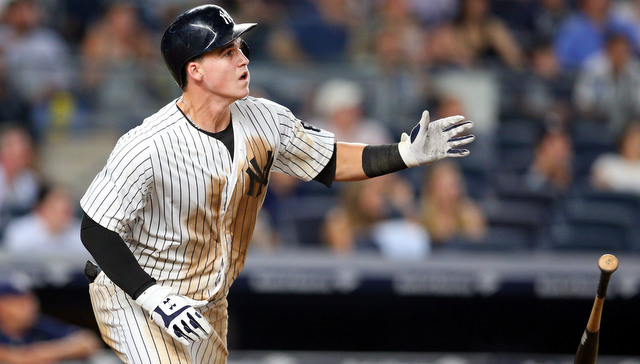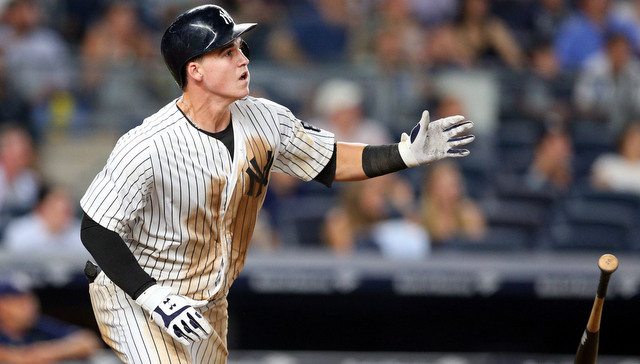 Not everything is going to go well in the farm system each season. Players are going to hurt and players are going to disappoint. It happens. This season the Yankees had a few players bounce back from tough 2015 seasons to reestablish themselves as prospects in 2016.
1B/OF Tyler Austin (season review) is the best example. He was so bad last season that the Yankees dropped him from the 40-man roster and he went unclaimed him on waivers. This season Austin hit big at Triple-A and reached the show in August. OF Mason Williams (season review) rebounded well from his shoulder surgery and returned to MLB in September. He could get a pretty long look for a big league roster in Spring Training, especially if Brett Gardner gets traded.
LHP Ian Clarkin, who was one of the team's three first round picks in 2013 along with Judge and the since traded 3B Eric Jagielo, missed the entire 2015 regular season with an elbow injury. The 21-year-old was able to accumulate some innings in the AzFL after the season, and this season he was able to throw 98 innings at High-A before catching a spike and tearing the meniscus in his knee. Blah. Clarkin needed season-ending surgery in July. At least it wasn't his arm.
Before the injury Clarkin pitched to a 3.31 ERA (3.26 FIP) with 17.4% strikeouts and 7.3% walks in those 98 innings. I've seen mixed reports about his stuff. Some say it's all the way back following the elbow injury, others say it's down a tick. Both can be true — Clarkin was probably razor sharp some days and less than stellar on others. The fact he made it through the season with a healthy elbow is a big plus. Hopefully next season, which he should spend at Double-A, will give us some clarity about the quality of his stuff as he gets further away from the injury.
Further down in the minors is C Luis Torrens, 20, who missed the entire 2015 season following shoulder surgery. That was a brutal injury. He missed a year of development at a crucial age and shoulder injuries for catchers are significant because so much of their defensive value is tied up their arm. Torrens suffered a relatively minor setback in Spring Training, which was enough for the Yankees to really slow things down and take their time with him.
Torres made his season debut with Short Season Staten Island in mid-June, and he finished the year at Low-A. He hit .236/.336/.318 (97 wRC+) with two homers, 15.0% strikeouts, and 11.9% walks in 52 total games. There was some rust, for sure. Torrens has always stood out most for defense. He's a converted infielder and he took to catching extremely quickly, so much so that he already projects to be above-average at the position. Offensively, contact and walks are his game, not power. I'm looking forward to seeing what Torrens does as he gets further away from shoulder surgery in 2017. He has the talent to be a top ten organizational prospect, even in a farm system this deep.
Both RHP Domingo German and RHP Austin DeCarr returned at midseason after missing 2015 with Tommy John surgery. German, 24, had a 3.29 ERA (3.82 FIP) with 19.6% strikeouts and 5.9% walks in 54.2 innings split between Low-A and High-A. Baseball America says he hit 100 mph with his fastball, so the Yankees added him to their 40-man roster after the season to prevent him from becoming a minor league free agent. DeCarr, 21, had a 4.12 ERA (4.14 FIP) with 17.4% strikeouts and 9.6% walks in 39.1 innings with Short Season Staten Island. He struggled with location, which isn't unusual after elbow reconstruction.
The Inevitable Injuries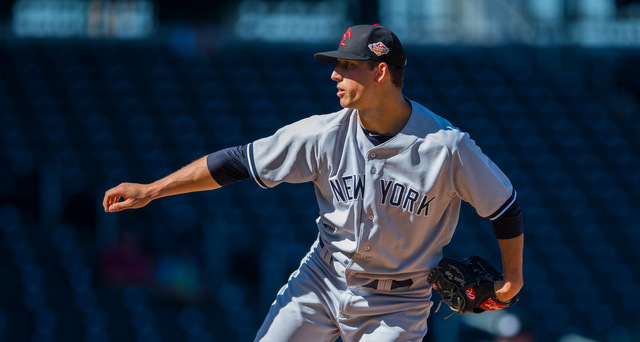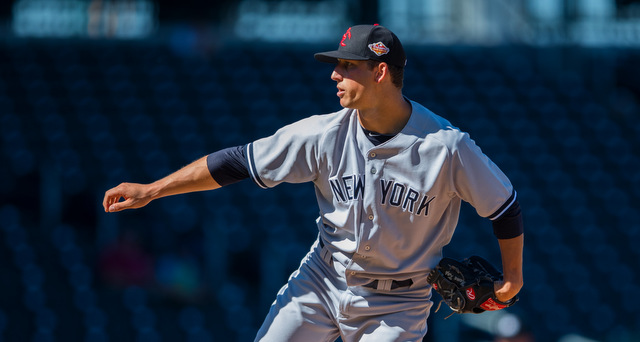 Like I said, injuries happen. To every farm system every year. They're unavoidable. Teams just hope to limit them. The biggest injury in the farm system this year was, by far, RHP James Kaprielian's flexor strain. He made only three starts with High-A Tampa before his elbow started barking. Kaprielian did not need surgery and he healed up in time to pitch in the AzFL, where he made seven starts. All told, the 22-year-old had a 3.20 ERA (3.61 FIP) with 27.3% strikeouts and 6.3% walks in 45 total innings.
The good news is every report from the AzFL said Kaprielian's stuff had returned following the flexor injury. His fastball was still living in the mid-90s and all three secondary pitches (slider, curveball, changeup) were there too. That's great news. Losing all that time stunk — there's a pretty good chance we'd be talking about Kaprielian as a 2017 Opening Day rotation candidate had he stayed healthy in 2016 — but at least Kaprielian finished the season strong and will go into next season with a healthy arm and feeling good about things.
Other pitchers weren't so lucky. The Yankees lost three relievers, all of whom pitched in MLB in 2015, to Tommy John surgery this year: RHP Nick Rumbelow, LHP Jacob Lindgren, and RHP Branden Pinder (season review). Rumbelow, 25, started the season in Triple-A and the Yankees were actually planning to try him as a starter this season, but during warms-up for the second inning of his first appearance of the Triple-A season, he felt the pop in his elbow. Blah.
The warning signs with Lindgren were there in Spring Training. He walked seven and hit two batters in 9.2 Grapefruit League innings, then went to High-A and walked nine in seven innings before the elbow started to bark. (He also hit a batter and uncorked six wild pitches.) Location issues are a common symptom of elbow trouble. Lindgren landed on the DL in April but didn't have his Tommy John surgery until August. He had been throwing bullpens as part of his rehab in Tampa when the elbow gave out. Lindgren will miss the entire 2017 season.
OF Carlos Vidal, 21, was a potential breakout prospect coming into the season, but a variety of injuries limited him to only 19 games, and in those 19 games he hit .194/.280/.239 (62 wRC+). LHP Chaz Hebert missed the entire season following Tommy John surgery. The 24-year-old broke out with a 2.73 ERA (3.19 FIP) with 20.0% strikeouts and 6.7% walks in 148.1 innings at four levels a year ago. He'll try to build on that with a new elbow in 2017.
Among the other prospects to lose significant time to injury this past season were RHP Brody Koerner (elbow), RHP James Pazos (unknown), RHP Drew Finley (elbow), and OF Trey Amburgey (hamstring). Koerner got hurt early in the season but returned in the AzFL. Pazos and Amburgey missed a chunk of the time early in the year but returned at midseason. Finley got hurt late in the year and has since returned to the mound during offseason workouts. I like Finley an awful lot, but in this farm system, I'm not sure he cracks the top 30 prospects after a relatively minor injury.
The Fond Farewells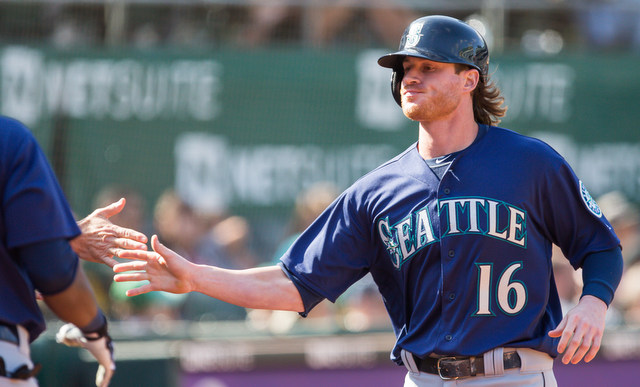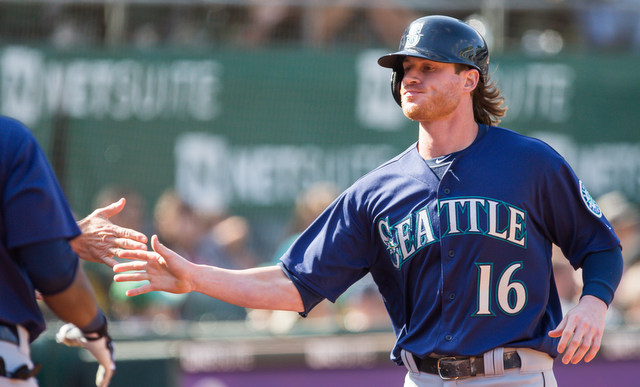 Inevitably, the Yankees said goodbye to several prospects this season. Former first round pick OF Slade Heathcott had a tough 23-game stint (58 wRC+) with Triple-A Scranton before hurting his knee again. The Yankees released him after that. Slade, now 26, hooked on with the White Sox and hit .258/.407/.366 (131 wRC+) in 34 Triple-A games. He became a minor league free agent after the season and remains unsigned.
RHP Vicente Campos, the second piece in the Jesus Montero-Michael Pineda trade back in the day, stayed healthy and pitched very well (3.20 ERA and 3.08 FIP) at Double-A Trenton and Triple-A Scranton before being traded for Tyler Clippard at the deadline. The Diamondbacks called the 24-year-old Campos up in September and he allowed three runs (two earned) in 5.2 innings. The poor kid broke his damn elbow throwing a pitch and will be out until midseason 2017. Arizona dropped Campos from the 40-man roster earlier this offseason and the Angels claimed him on waivers.
Both LHP James Pazos (season review) and RHP Conor Mullee (season review) spent the entire season in the Yankees organization. Mullee was lost on waivers to the Cubs last month — they claimed him a few hours before Game Seven of the World Series — and Pazos was traded to the Mariners in a minor deal to clear a 40-man roster spot for Rule 5 Draft eligible players a few weeks ago.
OF Ben Gamel (season review) spent most of the season with the Yankees and did make his Major League debut in May. He went up and down a few times before being traded to the Mariners for two pitching prospects on August 31st, the last day teams could acquire a player and have him be postseason eligible. Gamel had such a good season in Triple-A (126 wRC+) that he was named International League MVP. His few weeks in Seattle didn't go as well (72 wRC+).
It's worth noting the Yankees recently released Rumbelow, so he belongs in this group too, I suppose. He was designated for assignment to clear 40-man spot for Rule 5 Draft eligible guys last month. The Yankees will probably look to bring Rumbelow back on a minor league contract. Either that or his elbow rehab is not going well and they don't think he's worth bringing back. we'll see.
The Other New Additions
All told, the Yankees acquired 12 new prospects at the trade deadline, including Torres, Frazier, and Sheffield. They then brought in five additional prospects with the Gamel, McCann, and Pazos trades. Here are the 14 non-Torres/Frazier/Sheffield prospects: RHP Albert Abreu, OF Rashad Crawford, RHP Juan DePaula, RHP J.P. Feyereisen, RHP Nick Green, RHP Jorge Guzman, RHP Zack Littell, RHP Billy McKinney, RHP Jio Orozco, OF Tito Polo, LHP Stephen Tarpley, RHP Dillon Tate, RHP Erik Swanson, and RHP Ben Heller (season review). Got all that?
The best of those 14 prospects is Abreu, who came over in the McCann trade. He might pop up on some top 100 lists next spring, though it'll probably be a year too soon. The 21-year-old had a 3.71 ERA (4.07 FIP) with 26.3% strikeouts and 12.9% walks in 104.1 innings at mostly Low-A. Abreu throws really hard and flashes a dominant slider, plus his changeup is coming along. He needs to iron out his command more than anything. I don't think it's unreasonable to say he has the highest ceiling of any pitcher in the farm system right now. Abreu figures to open 2017 in High-A.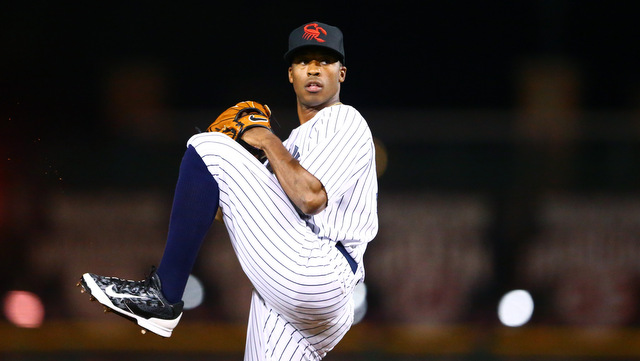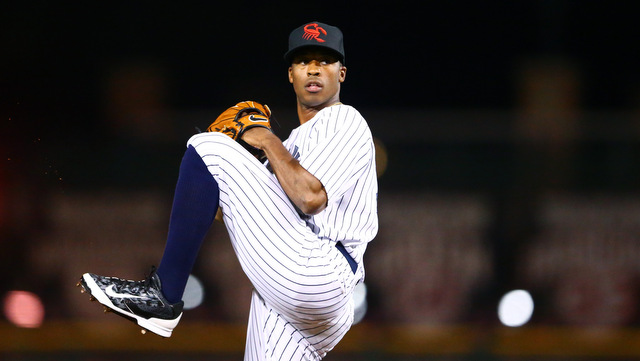 Tate (prospect profile), who was part of the Carlos Beltran trade, is probably the biggest "name" prospect among those 14. He was the fourth overall pick in the draft last year. Not three years ago. Last year. 2015. Tate, 22, had a hamstring injury this year and his stuff really backed up while with the Rangers. The Yankees put him in relief so he could work on his mechanics, his stuff reportedly ticked back up, and they're going to put him back in the rotation in 2017. Probably in High-A, where he'll presumably join Abreu, Kaprielian, and Acevedo in the rotation (/drools).
I have two personal favorites among these 14 trade pickups: McKinney (Chapman trade) and Littell (Pazos trade). McKinney was the 24th overall pick in the 2013 draft and the Athletics later traded him to the Cubs in the Addison Russell/Jeff Samardzija deal. This season the 22-year-old hit .256/.349/.363 (107 wRC+) with five homers in 130 total Double-A games. That's down from his .300/.371/.454 (135 wRC+) line at High-A and Double-A last year.
McKinney's 2015 season ended in August because he fouled a pitch off his knee and suffered a hairline fracture Mark Teixeira style, and he was coming back from the injury this season. McKinney's pure hit tool is excellent and the reason he was drafted so high. Whether he can hit for enough power and play enough defense to avoid becoming a 'tweener is another matter. I'm looking forward to seeing what he does next year, as he gets further away from knee surgery. The Yankees might start McKinney back at Double-A for the time being.
Littell, 21, threw an insane 173 innings between Low-A and High-A this year — the last Yankees farmhand to throw 170+ innings in a minor league season was Steven White in 2006 (175.1) — during which he had a 2.60 ERA (3.07 FIP) with 24.0% strikeouts and 5.0% walks. Littell is a low-90s fastball/curveball pitcher with an okay changeup and a very aggressive approach. He's a bulldog who goes right after hitters. That's a pretty nice return for a guy like Pazos, who was arguably the 40th man on the 40-man roster.
Swanson (Beltran trade) is the sleeper here. The 23-year-old missed most of the 2015 season with a flexor injury, and when he came back this year, he had a 3.46 ERA (3.07 FIP) with 23.1% strikeouts and 7.5% walks in 96.1 innings, all at Low-A. Swanson's velocity returned to the low-to-mid-90s this summer and he has three secondary pitches (slider, curveball, changeup) he can locate. With good health, he has a chance to climb the ladder quickly and be a swingman candidate in the David Phelps/Adam Warren mold.
Feyereisen (Miller trade) hit 100 mph with Double-A Trenton and could carve out a bullpen role long-term. Tarpley (Ivan Nova trade) has good stuff from the left side but needs to work on his location. Guzman (McCann trade) hit 103 mph this summer and is really raw. Domingo Acevedo two years ago raw. Crawford (Chapman trade) has crazy tools and is still working to put them together. Polo (Nova trade) has a fourth outfielder's skill set. Green (Beltran trade) has a big fastball and iffy secondary stuff. Orozco and DePaula (both Gamel trade) are rookie ball kids.
The Step Back Prospects
It's not all good news, of course. Some players had poor seasons overall and saw their prospect stock take a hit. RHP Brady Lail managed a 4.34 ERA (4.27 FIP) with 14.6% strikeouts and 7.5% walks in 137 innings at mostly Triple-A this season. The Yankees deserve a ton of credit for turning an 18th round pick out of a Utah high school into a legit prospect, but at this point Lail lacks the put-away pitch needed to be successful at the next level. Triple-A hitters have made it abundantly clear.
LHP Jeff Degano, the team's second round pick last year, developed a case of the yips in 2016. It was a bit odd when he wasn't assigned to Low-A Charleston to start the season despite being completely healthy, but when he showed up to rookie Pulaski in June and walked 25 batters with ten wild pitches in 5.2 innings, we knew why. Yeah. Degano throws hard and has a good breaking ball, at least when things are going right. The 24-year-old is dealing with extreme control issues right now though.
The Best of the Rest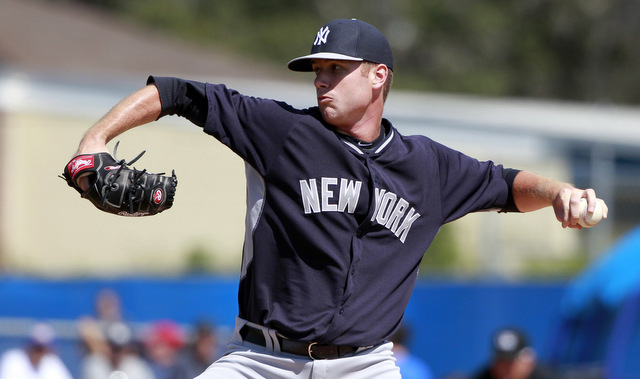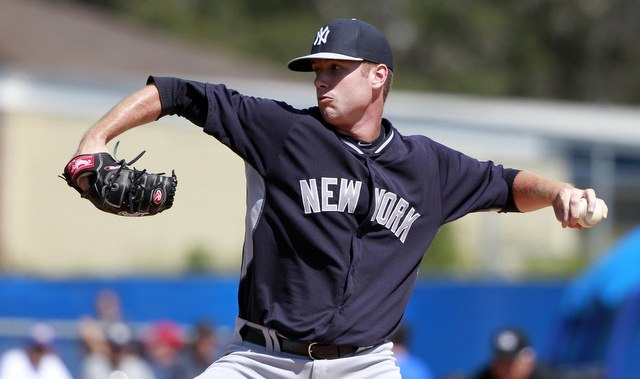 But wait! We're still not done. Callis wasn't joking when he said the Yankees have the deepest system in the game. In addition to everyone above, the Yankees have several others who deserve at least an acknowledgement of their status as prospects. Top prospects? No. But potential big leaguers in some form. Here's the best of the rest this season:
IF Abi Avelino, 21: Hit .252/.313/.352 (93 wRC+) with 21 steals between High-A and Low-A. Speedy middle infielder with maybe the best baseball instincts in the system. He'll be someone's utility infielder at some point. You watch.
RHP Will Carter, 23: Last year's 14th rounder reached Double-A and had a 4.76 ERA (3.63 FIP) in 117.1 total innings. It was worth trying him as a starter, but I'm guessing Carter and his 97 mph sinker (65.4% grounders in 2016) find themselves back in the bullpen soon.
OF Jake Cave, 23: Managed a .274/.339/.435 (119 wRC+) batting line in 124 games at Double-A and Triple-A. Lefty swinger with a little pop and good defense. He's Rule 5 Draft eligible again.
LHP Nestor Cortes, 21: A total of 553 pitchers threw 100+ innings in the minors in 2016. None had a lower ERA than Cortes (1.53). The finesse southpaw also had a 2.74 FIP and made it as high as Triple-A.
IF Thairo Estrada, 20: Personal fave hit .283/.338/.378 (110 wRC+) with eight homers and 18 steals at Low-A and High-A. Thairo makes consistent hard contact and has already shown he can play any non-first base infield position.
OF Isiah Gilliam, 20: Just a dude who hit ten homers in 57 rookie ball games. Gilliam hit .239/.301/.440 (102 wRC+) overall and has power from both sides of the plate. The Yankees moved him from first base to the outfield to get more value out of him.
1B Chris Gittens, 22: Tied Higashioka for the system lead with 21 homers. Hit .253/.359/.478 (140 wRC+) overall, but also struck out 27.9% of the time against Low-A pitchers. Huge power, questionably hit tool.
OF Jeff Hendrix, 23: Streakiest player in the system hit .293/.380/.378 (125 wRC+) between Low-A and High-A. At one point he went 53-for-113 (.469) during a 29-game span. Hendrix is a bit of a 'tweener. Not enough power for a corner and maybe not enough defense for center.
RHP Ronald Herrera, 21: Threw 132 innings with a 3.75 ERA (3.27 FIP) in Double-A. Finesse four-pitch pitcher with very good command. The Yankees got him in the Jose Pirela trade with the Padres and added him to the 40-man roster last month.
SS Kyle Holder, 22: Defensive whiz hit .290/.323/.347 (93 wRC+) in Low-A. Holder is a better prospect than he gets credit for. Dude can get the bat on the ball and save about 20 runs a year in the field.
OF Jhalan Jackson, 23: Muscled his way to a .236/.311/.415 (108 wRC+) line with eleven homers in Low-A. Jackson has power and a strong arm. It's just a question of whether he can refine his approach and hone his hit tool.
OF Leonardo Molina, 19: One of the most tooled up players in the system hit .226/.290/.382 (87 wRC+) between Short Season Staten Island and Low-A Charleston. A 19-year-old kid hitting nine homers in 85 games is no small feat.
OF Alex Palma, 21: Quietly hit .265/.292/.420 (102 wRC+) with six homers in 64 Low-A games. Also had ten outfield assists. Palma is a bit of a hacker, but he's got some tools, most notably his power and defense.
OF Mark Payton, 24: The 5-foot-8 outfielder hit .280/.356/.424 (119 wRC+) with 20 doubles and ten homers at three levels in 2016. He's a scrappy lefty hitter who does enough things to carve out a career as a fourth outfielder.
LHP Josh Rogers, 22: Had a 2.50 ERA (2.88 FIP) in 147 innings at Low-A and High-A. Low-90s heater from the left side with an okay slider and a much improved changeup. Definitely someone worth keeping an eye on.
C Donny Sands, 20: Hit .286/.328/.375 (102 wRC+) with only 10.7% strikeouts in 30 games with various rookie ball affiliates. The former third baseman converted to catching full-time this year. In most other systems, he's probably a top 20 prospect.
LHP Tyler Webb, 26: Had a 3.59 ERA (2.76 FIP) in 72.2 innings while repeating Triple-A. As a lefty with some velocity and a history of missing bats, he's as good as gone in the Rule 5 Draft.
Some players who had a strong statistical seasons and could be considered fringe prospects: LHP Daniel Camarena, RHP Simon De La Rosa, RHP Jordan Foley, RHP Mark Montgomery, LHP James Reeves, RHP Adonis Rosa, LHP Caleb Smith, RHP Daris Vargas, and OF Zack Zehner. Smith is probably a goner in the Rule 5 Draft as a hard-throwing southpaw who has had success at Double-A.
Keep in mind that even with all the players mentioned in this post — I unofficially count 83 of them, is that overkill? that seems like overkill — I didn't mention 2016 draft picks or the 2014-15 international free agent class at all. Those players got their own season review posts and yes, they include more very good prospects, including 2016 first rounder Blake Rutherford, who Keith Law recently said he'd take over every other hitter in the 2016 draft.
The Yankees have build their strongest farm system in a very long time. Since the early-1990s when they had two future Hall of Famers (Derek Jeter, Mariano Rivera) and two borderline Hall of Famers (Jorge Posada, Andy Pettitte) in the system, plus useful other dudes like Sterling Hitchcock, Carl Everett, Russ Springer, and Russ Davis. Does that mean the Yankees are going to pump out a few future Hall of Famers soon? Of course not. That's an unrealistic expectation. But the Yankees do have an incredible farm system right now, one loaded with high-end talent and an unbelievable amount of depth.