Even though it is not technically the halfway point of the season — the Yankees are 58% of the way through the 2014 season, in case you're wondering — there is no better time to review the first half than the All-Star break. Over the next few days we're going to hand out some real simple and straightforward grades, A through F, for the catchers, infielders, outfielders, rotation, and bullpen. These grades are totally subjective. Let's start with the backstops.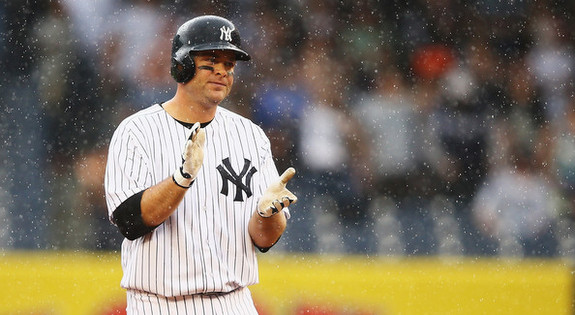 Brian McCann — Grade D
If the Yankees wanted a defensively sound catcher with a .294 OBP and an 83 wRC+, they could have simply played on of their young upper-level guys everyday instead of signing McCann to a five-year, $85M contract. His first half was a colossal disappointment overall, especially offensively. McCann's glovework and apparent leadership guiding the pitching staff are the reasons I'm giving him a D rather than a straight F.
From 2010-13, McCann posted either a 122 or a 123 wRC+. The one exception was the 2012 season, when he managed an 87 wRC+ while battling a right shoulder labrum injury that required offseason surgery. When healthy, he (very) consistently produced at the plate in recent years. This year though, McCann comes into the break with a .239/.294/.377 (83 wRC+) batting line, which ranks him ninth out of the ten catchers qualified for the batting title (only Dioner Navarro has been worse). Even with his strong first half-ending road trip, he's been that bad overall.
Unlike offense, catcher defense is a very thing to quantify even with all these fancy stats we have today. StatCorner says McCann has one again been an excellent pitch-framer, and he rates right in the middle of the pack when it comes to allowing wild pitches and passed balls. I don't think that's been a problem. I mean, we watched Jorge Posada for a very long time, we know what it looks like when a catcher struggles to keep the ball in front of him. Considering all the nasty breaking and offspeed pitches on the staff — Masahiro Tanaka's and Hiroki Kuroda's splitters, David Robertson's and Dellin Betances' curveballs, Shawn Kelley's slider, etc. — I have no complaints about McCann's receiving work at all. He's been solid, as expected.
One thing we can measure is the rate at which a catcher throws out attempted base-stealers, and McCann has gunned down 21 of 48 runners, or 43.8%. That's outstanding. It's fifth among catchers with at least 300 innings behind the plate and second only to (who else?) Yadier Molina among the 16 guys who have caught at least 500 innings. McCann came into the season with a below-average career 23.8% throw-out rate. Is this a fluke? I don't think so. I think this is Joe Girardi's and Tony Pena's work. They have helped some others improve their throwing in the past (Frankie Cervelli, most notably) and it appears they helped McCann this year. He might not sustain a 43.8% throw-out rate, that's pretty high, but I don't think the improvement is dumb luck.
Overall, McCann has undeniably been a disappointment this season. He was expected to provide not just more offense than he's given, but a lot more. He has not been able to fully take advantage of the short porch in right, perhaps because he's been focused on hitting to the opposite field to beat the shift — his 20 opposite field hits are already more than his total from 2011 (14), 2012 (15), and 2013 (19). Given his overall lack of production, maybe it's best for McCann to be himself and focus on ripping the ball to right. Trying to beat the shift seems to be dragging down his offense overall. The Yankees need more from McCann in the second half. There's zero doubt about it.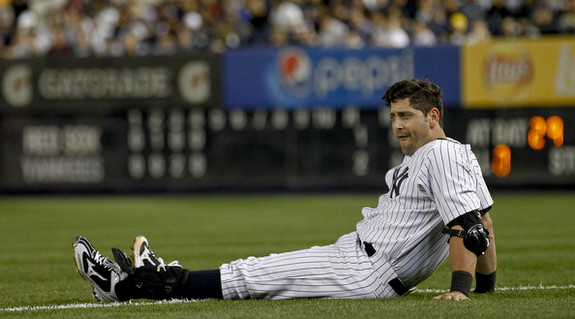 Francisco Cervelli — Grade C
The first half was a typical first half for Cervelli. He showed enough to keep you interested with the bat, hitting .273/.333/.364 (95 wRC+) in 48 plate appearances. He also threw out some attempted base-stealers, four of twelve (33.3%) to be exact. And he got hurt, missing two months with a Grade II hamstring strain. Cervelli actually played more games before getting hurt last April (17) than he did in the first half this year (16). I can't possibly go any higher than a C because of the injury and missing so much time. Cervelli is a perfectly cromulent backup catcher for a team with a clear number one (in theory) like McCann. I feel he has performed exactly as expected when healthy.
John Ryan Murphy — Grade C
When Cervelli got hurt, Murphy got the call and showed flashes of why he's expected to one day be an everyday catcher. He started off very well with that bat before slowing down and finishing his cameo with a .286/.308/.365 (85 wRC+) batting line in 63 plate appearances. Murphy threw out two of ten attempted base-stealers and did allow eight passed pitches in 159.2 defensive innings, so the superficial defensive stats aren't all that impressive. He looked very much like a young catcher getting his first extended taste of the show. There's a decent chance Murphy will be traded in the coming weeks, but right now he is a capable backup catcher stashed in Triple-A.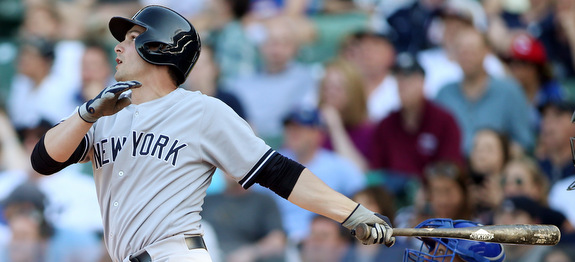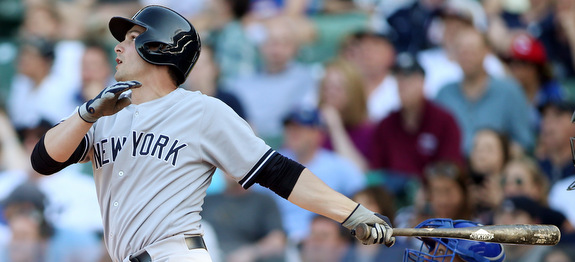 Austin Romine — incomplete
Yes, Romine did actually spend some time with the big league team this season. The Yankees called him up and briefly carried three catchers when Mark Teixeira landed on the 15-day disabled list with his hamstring injury in April. Romine spent four days with the team, played two innings behind the plate in a blowout and struck out on seven pitches in his lone plate appearance. That's it. Romine's prospect shine has dimmed considerably over the last year or two, and he is currently a part-time first baseman/Murphy's backup in Triple-A.
* * *
The bar behind the plate is rather low these days, so even with McCann being such a big disappointment, Yankees' catchers still rank only 19th out of the 30 teams with an 85 wRC+ this year. I thought it would be worse. They have collectively been very good defensively, throwing out 38.6% of attempted base-stealers (third best) while allowed one passed pitch every 22.2 innings (15th). StatCorner says McCann, Cervelli, and Murphy have all been better than average pitch-framers as well and I buy it based on the eye test.
The Yankees just need McCann to hit more, that's it. Cervelli staying healthy would be nice too, if for no other reason than possibly upping his trade value. On paper, this should be one of the best and most productive two-way catching units in baseball. They've gotten the defensive value in the first half. Now they need to offense to catch up in the second half.