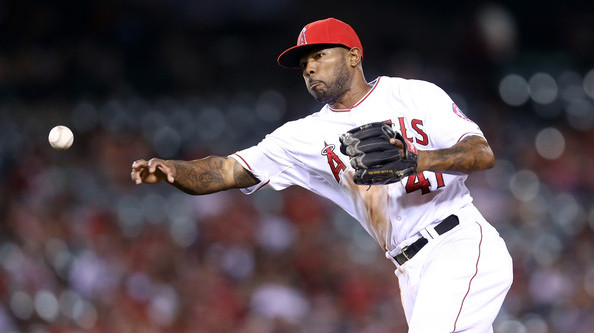 According to Jon Heyman, the Yankees are among the teams that have called the Angels to ask about second baseman Howie Kendrick. The Halos aren't necessarily shopping him, but they are open to offers and will consider moving him if they can get the right (i.e. young and cheap) pitcher in return. They open to moving third baseman David Freese as well.
The Angels are bumping up against the $189M luxury tax threshold and owner Arte Moreno has made it clear in recent years he does not intend to go over. Trading Kendrick and/or Freese would be as much about clearing payroll as it would be improving the pitching staff. Kendrick is owed $9.5M next year while Freese is projected to earn $6.3M through arbitration. Both will be free agents after the 2015 season. Here's a piece of what I wrote about Kendrick in last week's mailbag:
Trading for Kendrick would automatically add a win or two to the Yankees' season total because he flat out destroys them whenever they play the Angels. At least it feels like it would. The 31-year-old Kendrick hit .293/.347/.397 (115 wRC+) with seven homers this past season and has hit .292/.336/.410 (111 wRC+) over the last three years. He's also solidly above-average in the field and has been for years according to the various defensive stats. Kendrick isn't the multi-time batting champ most expected him to become when he was in the minors (seriously, look at his MiLB stats) but he's a damn good all-around second baseman.
The Yankees aren't exactly in position to give away young pitching considering the injury concerns with their rotation, though that doesn't automatically mean a trade for Kendrick is impossible. The Angels might like, say, David Phelps and/or Bryan Mitchell more than most, and it's early enough in the offseason that New York could replace the pitching depth via free agency.
Kendrick is a very good player and would be an enormous upgrade at second base, perhaps along the lines of three or four wins over the current in-house options. (Martin Prado would be at third in this scenario.) It wouldn't be a long-term commitment — Rob Refsnyder would still have a clear path to the long-term second base job — and it would take basically a total collapse in 2015 for the Yankees to not make Kendrick the qualifying offer next offseason. He's an excellent fit for the roster and the team's needs. I just don't know if the Yankees and Angels match up well for a trade.