Yesterday morning Joe posting his offseason wish list, so now it's time for me to do the same. The Yankees need help up and down the lineup this winter, plus they'll need to reinforce the pitching staff to protect against all their many injuries. My rough estimate has the team's payroll already at $190M heading into 2015, so either payroll is going to have to go way up, or the Yankees will have to limit themselves to smaller moves. It will probably be some combination of both.
Anyway, enough small talk. Here's my list of priorities and preferred targets for the 2014-15 offseason.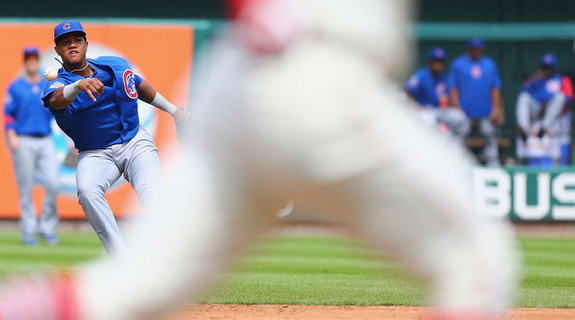 Priority #1: Shortstop
Derek Jeter has retired and the Yankees' only viable in-house shortstop is Brendan Ryan, who I'm sure is a swell guy, but isn't someone I want to see playing everyday. I'm guessing I'm not the only one who feels like that. The free agent market both does and does not offer some shortstop solutions. With J.J. Hardy off the board, that leaves Hanley Ramirez, Jed Lowrie, Asdrubal Cabrera, and Stephen Drew available. Drew is the only actually shortstop of the bunch. Hanley should be a third baseman while Lowrie and Asdrubal fit best at second. All three are below-average defensively at short. Given those options, the Yankees have to decide whether to wait it out and find a one year stopgap, or bite the bullet and sign an imperfect shortstop solution to a multi-year contract.
Plan A: Make A Trade: I'd absolutely love to the see the Yankees acquire Starlin Castro, a 24-year-old (!) who rebounded from a brutal 2013 season (72 wRC+) to hit .292/.339/.438 (115 wRC+) with 14 homers in 2014. His defense is a bit below-average but not disastrous. Also, Castro is signed through 2019 for a total of $43M (plus a $16M option for 2020), which is peanuts. The problem is the Cubs figure to look for high-end pitching this winter, and New York doesn't really have any to offer. They could put Michael Pineda on the table — I wouldn't necessarily be against it given his history of shoulder problems — though Pineda alone is unlikely to be enough.
With Castro unlikely, my next trade target is Diamondbacks shortstop Chris Owings, who can actually hit a little bit in addition to being a good gloveman. Didi Gregorius is the more talked about Arizona shortstop but he flat-out can't hit. I'm pretty sick of the defense-first profile at this point. My third trade target is Jimmy Rollins, who has one more year on his contract at $11M. It shouldn't cost a whole lot to acquire him, he can still hit some (102 wRC+ in 2014) and his defense hasn't faded. Plus it's a one-year deal. What's the problem with that? Rollins has said he'll waive his no-trade clause and the Phillies are finally talking about rebuilding this offseason. I doubt the Yankees will find a better one-year stopgap.
Plan B: Uh, Re-sign Drew?: I'd prefer to see the Yankees trade for a young shortstop like Castro or Owings, but if that isn't possible and they need to stick to free agency, I'd begrudgingly want them to bring Drew back rather than pay big-ish money to Hanley, Lowrie, or Cabrera. Maybe Drew will hit better with a regular Spring Training — he couldn't hit any worse, right? — and, as we saw last year, his defense is more than fine. If Ryan is my last resort at short, Drew on a one-year pillow contract is my second-to-last resort.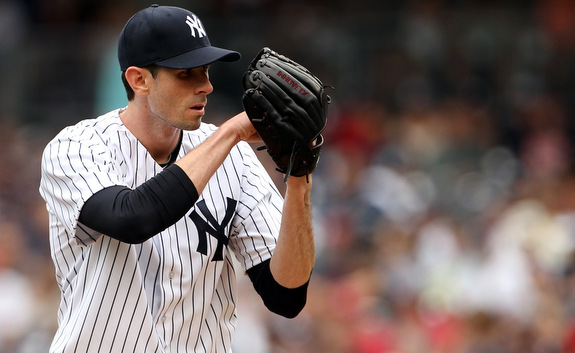 Priority #2: Rotation Help
The Yankees haven't used fewer than eight starters in a season since the strike-shortened 1994 campaign, and there's no reason to think 2015 will be the year that breaks the streak. Masahiro Tanaka (elbow), CC Sabathia (knee), and Pineda (shoulder) will all go into the season with injury concerns and Ivan Nova (elbow) won't be back until late-April on the earliest. I'd bet on it being May or June.
Shane Greene and David Phelps are tentatively penciled in as the number four and five starters at this very moment, but chances are the Yankees will add a starter and push them back into the fifth and sixth slots. I'd like to see them start the year in the sixth and seventh slots, personally. The Yankees reportedly will not pursue Jon Lester, Max Scherzer, or James Shields this winter, and I buy that. I understand being hesitant to hand out another $20M per year pitching contract given the status of Tanaka and Sabathia.
Plan A: Re-sign McCarthy: Re-signing Brandon McCarthy is a total no-brainer in my opinion. He's very good, had no trouble moving into hitter friendly Yankee Stadium and the AL East, and won't command the kind of massive contract it will take to land Lester, Scherzer, or Shields. McCarthy has his own injury concerns — this past season was the first time basically in his career that he didn't visit the disabled list with a shoulder problem — but unless you're going to pay top dollar, you're going to get someone risky. That's life.
Plan B: Reclamation Project: There aren't many quality starters expected to be available in a trade this winter, and the ones who will be available are either expensive (Cole Hamels) or less than perfect fits for Yankee Stadium (Ian Kennedy). I liked the idea of signing Francisco Liriano along with McCarthy, but the Pirates gave Liriano the qualifying offer on Monday, so forget that. I wouldn't give up a first rounder for someone that unpredictable.
Instead, I would like the Yankees to sign one (or two?) reclamation project starters in addition to McCarthy to build depth. My top target would be Brett Anderson, who is only 26 and racks up a ton of strikeouts and ground balls when healthy, which isn't often. He was limited to eight starts last year because of a broken finger (he was hit by a pitch) and surgery to repair a bulging disc in his lower back. An incentive-laden one-year contract sounds good to me. Other reclamation project types include (in order of preference) Justin Masterson, Brandon Morrow, Chad Billingsley, and Josh Johnson.
Priority #3: Big Bat
The Yankees need offense! They averaged only 3.91 runs per game this past season, comfortably below the 4.18 league average. Improving the offense starts with Mark Teixeira, Carlos Beltran, and Brian McCann being better than they were last year, but, aside from McCann, how reasonable is it to expect that? Not very, in my opinion. The club should definitely look to bring in an impact bat.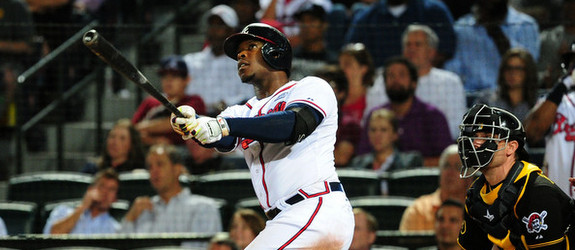 Plan A: Trade for Justin Upton: Upton and Jason Heyward are both due to become free agents next winter and are looking at nine-figure contracts. Easily. The Braves are perpetually up against their $100M-ish payroll limit and don't have the room to sign both long-term. Heck, they might not even be able to afford to sign one long-term unless they get a gift from the baseball gods and are able to unload B.J. Upton.
Heyward is the homegrown guy and better all-around player, plus he's two years younger, so I assume the Braves would prioritize signing him long-term. Upton is a considerably better hitter (133 wRC+ vs. 110 wRC+ in 2014) and he's right-handed, which fits the Yankees better. Their top right-handed power hitter right now is Martin Prado. The Yankees were unable to acquire Upton two offseasons ago because the D'Backs reportedly did not like their prospects, but two years have passed and Brian Cashman would be negotiating with an entirely different GM.
Now, would it be worth it to include Brett Gardner in a deal for Upton? One year of Upton for four of Gardner? Gardner just had a career year (certainly power-wise) and his days of stealing 40+ bases end three years ago. The Braves would get an outfielder with cost certainty, the Yankees would get a potential MVP-caliber producer in the prime of his career for one season before deciding whether to re-sign him. Upton would slide right into Gardner's salary slot too. Maybe the deal could be expanded somehow. Either way, Upton is among my top targets this winter.
Plan B: Mike Morse: On paper, Morse fits the roster wonderfully. He's a power right-handed bat, which the Yankees need, and he's also able to play right field and first base. Poorly, I should add, but he can play them. Beltran and Teixeira are perpetual injury risks and so is Alex Rodriguez at DH. There will be plenty of at-bats for Morse next year. That said, the guy just hit in the middle of the order for the World Series champs. Why would he take a role like this when another team will probably give him a set position no questions asked? Morse is a great fit for the Yankees, but the Yankees might not be a great fit for Morse.
Priority #4: Second or Third Base
In addition to shortstop, the Yankees need to find someone to play second or third base. Prado's flexibility allows them to pursue one or the other. They can't and shouldn't count on A-Rod playing the field at all. He's a DH between inevitable DL stints.
Plan A: Re-sign Headley: Man, Chase Headley was so good for the Yankees after the trade this year. He didn't produce like a star or anything, but he got on base (.371 OBP), hit for a little power (six homers in 58 games), and played the hell out of third base. Headley's a switch-hitter, he's only 30, and the general sense is he will only command a three or maybe four-year deal at a modest salary. He fit the team so well, giving them quality at-bats and excellent defense. Bringing him back and playing Prado at second is an easy call for me.
Plan B: Pirela or Refsnyder: If the Yankees are unable to re-sign Headley, they're left with the same choices as at shortstop. Do they find a stopgap or give out big contracts to Hanley, Lowrie, or Asdrubal? I am against that. If they can't re-sign Headley, I'd like to see them play Prado at third and let Jose Pirela and Rob Refsnyder battle it out at second base. Pirela's debut was short but impressive in September and Refsnyder's torn the cover of the ball the last two years in the minors. I'm not a fan of signing an imperfect free agent to fill a hole for the hell of it at this point. Let's the kids play if Headley bolts.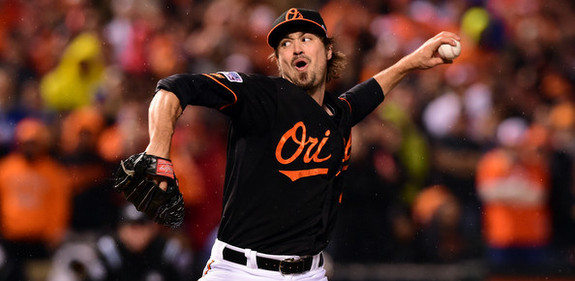 Priority #5: Bullpen Help
This is one of those things that applies to every team. All 30 clubs go into the offseason looking to add bullpen depth, but not all 30 clubs may lose their excellent closer to free agency. The Yankees slapped the $15.3M qualifying offer on David Robertson earlier this week, though that doesn't guarantee his return to New York. Far from it. It just means they won't lose him for nothing if he does sign elsewhere.
Plan A, Part One: Re-sign Robertson: Easy call, right? Robertson has shown a) he is an elite reliever, b) he can close, and c) pitching in New York doesn't bother him. What's left on the "free agent reliever who makes sense for the Yankees" checklist? A three or four-year deal in the $10M to $12M range annually seems like the most likely outcome here. Robertson's worth it.
Plan A, Part Two: Sign Andrew Miller: The power of a dominant bullpen got a lot of attention this postseason thanks to the Royals, but year after year we see how important it is to have multiple dominant relievers on the roster. Miller is more than a left-handed specialist. He's a bonafide high-leverage reliever who just so happens to throw with his left arm. Miller, Robertson, and Dellin Betances is one hell of an end-game trio.
Plan B: Sign Miller & Others: Moshe mentioned this yesterday and I thought it was interesting: the Yankees could probably sign Miller and, say, Luke Gregerson for what it would take to sign Robertson by himself, and gain a draft pick in the process. That sounds pretty good, actually. I'd still rather have Robertson and Miller instead of Miller, Gregerson, and a draft pick though.
If Robertson does bolt, signing Miller to replace him in the late innings almost becomes a must. I have no concerns about Betances closing if that's what it comes to, but the seventh and eighth innings would worry me in that case. Gregerson and Sergio Romo headline the second tier of free agent relievers and both have late-inning experience. I'd almost prefer letting someone like that start the ninth inning fresh and close while Miller and Betances handle the real messes.
One free agent reliever who I'd like to see the Yankees pursue regardless of what happens with Robertson is Luke Hochevar. He flopped as a starter with the Royals after being the first overall pick in the 2006 draft, but he found a niche in the bullpen in 2013 (1.92 ERA, 2.66 FIP, 31.3 K%) before missing all of 2014 following Tommy John surgery. Tommy John has a high success rate but it's still risky, so the Yankees couldn't count on Hochevar, but the potential is there for impact. His 2013 dominance sure makes him interesting.
* * *
I honestly think the Yankees are going to skip huge money contracts this winter in favor of many smaller deals — the McCarthy, Headley, and Robertson contracts won't be "small" no matter where they end up, but they won't be huge long-term deals either — that raise the floor of the roster. Fielding as many Major League caliber players as possible — did you know approximately 54% of the team's plate appearances this summer (not counting pitchers) went to players with a sub-100 OPS+? it's true — and build the deepest pitching staff possible. The Yankees are not one or two big free agents away from the postseason. They have a lot of areas that need to be improved.