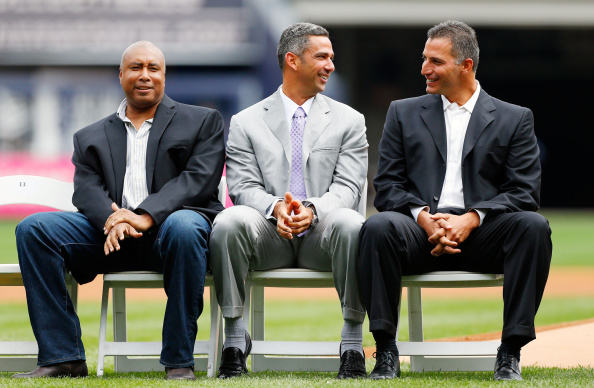 After about 24 hours of rumors, the Yankees have made it official this afternoon. Nos. 20, 46, and 51 will be retired this season in honor of Jorge Posada, Andy Pettitte, and Bernie Williams, the team announced. Willie Randolph will also be honored with a plaque in Monument Park. The Yankees didn't say anything about Derek Jeter in the press release. His day is probably coming in 2016.
Here are the dates for the individual ceremonies this summer:
Williams: Sunday, May 24th
Randolph: Saturday, June 20th (Old Timers' Day)
Posada: Saturday, August 22nd
Pettitte: Sunday, August 23rd
We heard Pettitte's number was being retired yesterday, when his son Josh spilled the beans. Earlier today we heard Posada and Williams were "likely" to have their numbers retired as well. The Yankees retired Joe Torre's No. 6 last year, and when they made the official announcement, they said Bernie would be honored in some way this season. Now we know the details.
It goes without saying Posada, Bernie, and Pettitte are all deserving of having their numbers retired. All three are borderline Hall of Famers — Williams has already fallen off the ballot, however, and I think Posada has a better chance of getting in than Pettitte, personally — and were linchpins during the most recent Yankees dynasty. They're all homegrown, they were all star-caliber performers … what's not to love about that?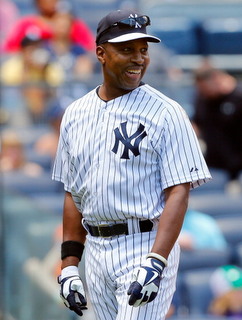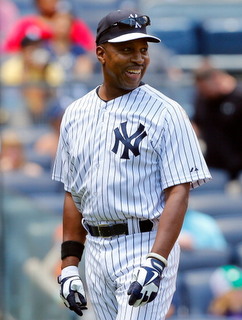 As for Randolph, it's about damn time he is being honored. He was a catalyst atop New York's lineup from 1976-88 and is the franchise's all-time leader in games (1,694) and WAR (53.6) by a second baseman. As I wrote during Retro Week two weeks ago, Randolph's path to greatness was unique for his era — he was an on-base guy and a defense-first player — but he was he was great nonetheless. The team isn't retiring his old No. 30 but a plaque is a fine honor.
Once Jeter's No. 2 is inevitably retired in a year or two, the Yankees will have officially closed the book on the most recent dynasty and honored all the deserving members in some way. Mariano Rivera and Torre had their numbers retired the last two years and both Tino Martinez and Paul O'Neill received plaques in Monument Park last year. Once No. 2 is taken out of circulation, it figures to be a while until another number is retired or another plaque is added to Monument Park.
Nos. 51, 20, and 46 will be the 18th, 19th, and 20th retired numbers in team history, respectively. Nos. 1 (Billy Martin), 3 (Babe Ruth), 4 (Lou Gehrig), 5 (Joe DiMaggio), 6 (Torre), 7 (Mickey Mantle), 8 (Yogi Berra and Bill Dickey), 9 (Roger Maris), 10 (Phil Rizzuto), 15 (Thurman Munson), 16 (Whitey Ford), 23 (Don Mattingly), 32 (Elston Howard), 37 (Casey Stengel), 42 (Rivera and Jackie Robinson), 44 (Reggie Jackson), 49 (Ron Guidry) are all retired.