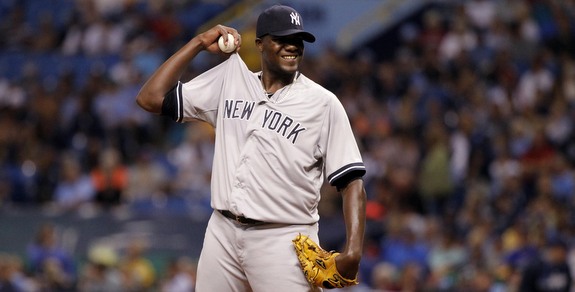 Michael Pineda may be the No. 2 starter according to Joe Girardi's binder, but after Masahiro Tanaka's unimpressive Opening Day performance and lingering concerns about his UCL injury, could Pineda jump up to the front of the rotation?
Based on his outstanding spring and last year's record-setting performance, the answer just might be yes. Pineda last season became the first Yankees starting pitcher to finish with a sub-2.00 ERA (min. 10 starts) since Ron Guidry in 1978, and his .200 batting average allowed was the lowest by a Yankee starter (min. 75 innings) since Dave Righetti in 1981.
Perhaps the most impressive number was 8.43, his strikeout-to-walk ratio. That was the best single-season mark by any Yankee in franchise history with at least 75 innings pitched.
Yet, it's important to remember that those numbers came in a very small sample size (13 starts, 76 1/3 innings) and there's still a few holes in his "ace" resume. So before we put the crown on Pineda – and as we await his first start of 2015 – let's take a look at one key thing the 26-year-old needs to do in order to take the next step during his second year in pinstripes.
***
Although there's no consensus definition of an ace, it usually is a pitcher that you can count on to go deep in games, a true workhorse who can give the bullpen a rest for the night and turn over the opposing lineup multiple times.
Pineda last season averaged fewer than six innings and just 87 pitches per start, a mark that ranked 80th out of 91 AL pitchers with at least 75 innings pitched in 2014. He recorded an out in the seventh inning or later in just five of his 13 outings, and only twice threw at least 100 pitches in a game.
Those averages are slightly skewed because of his April 23 appearance when he was ejected in the second inning for using pine tar, but it doesn't hide the fact that Pineda didn't give the Yankees length as a starter and Girardi rarely felt comfortable extending him beyond the sixth frame.
While some of that might be due to the fact he was coming off major shoulder surgery at the start of the season and then spent two-plus months on the disabled list with a back injury, there's also evidence that he wasn't as effective in the later innings and when facing hitters multiple times through the order.
Pineda held hitters to a .185 batting average with 48 strikeouts and four walks the first two times through the order. The average MLB starter allowed a batting average of .250 in those situations, so it was clear that Pineda was dominant early in games.
But when the lineup turned over a third time, those batters tagged him for a .246/.281/.443 line in 64 plate appearances. Frankly, those numbers more resemble an average major-league pitcher (.268/.327/.421) than an ace. Most of that damage was done by lefties, who slugged .543 and had a line drive rate of 23 percent when seeing him for the third or fourth time in a game.
Most concerning might be that his signature slider became increasing ineffective as he faced hitters a second and third time during a game:
MICHAEL PINEDA SLIDER BY TIMES THROUGH ORDER IN 2014
| | BA | Slug pct | ISO |
| --- | --- | --- | --- |
| 1st | 0.135 | 0.212 | 0.077 |
| 2nd | 0.200 | 0.314 | 0.114 |
| 3rd+ | 0.240 | 0.480 | 0.240 |
Pineda also inevitably was hit hard when he pitched beyond the sixth inning. Four of the 16 earned runs he gave up in 2014 came in the seventh frame or later, across only 4 1/3 innings pitched. That's an 8.31 ERA for those counting at home.
Batters were 8-for-21 with three doubles and two homers against Pineda after the sixth inning (.381/.435/.810), and it should be no surprise that he failed to hold his velocity on his four-seamer as he went deeper into games: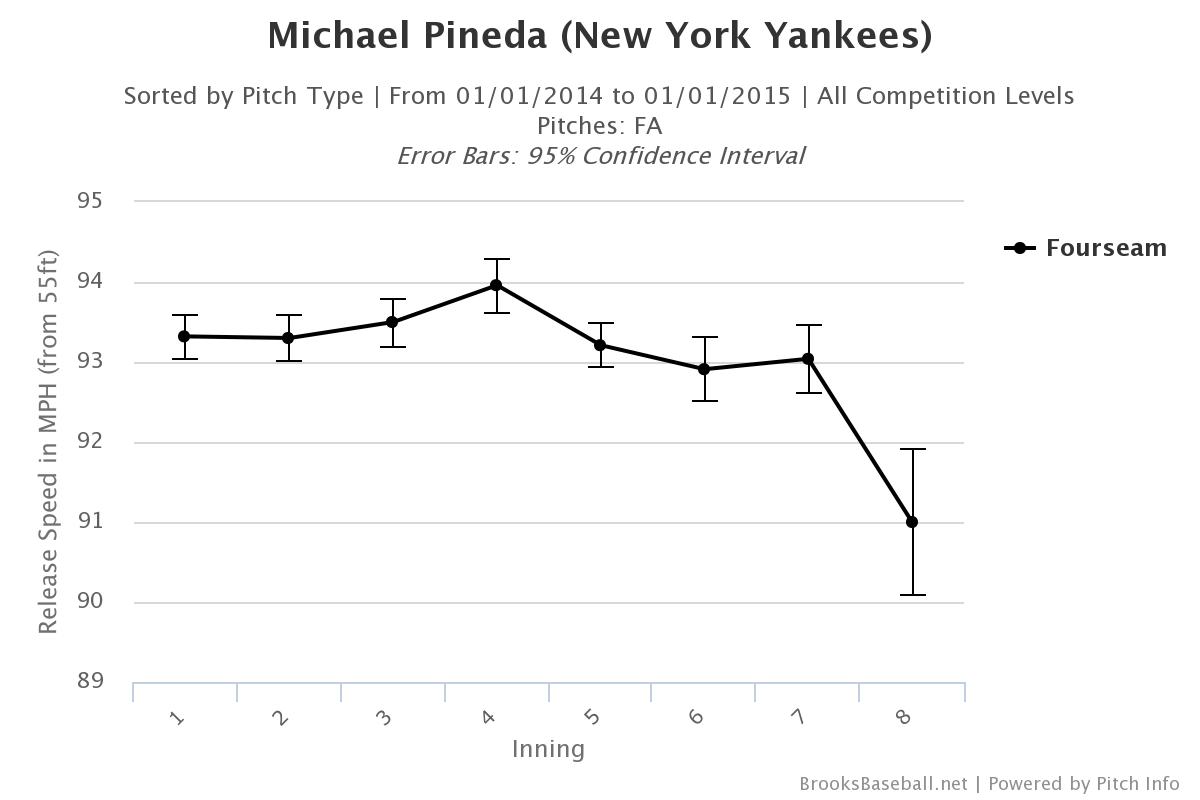 There is little doubt that Pineda has shown a ton of promise during his short stint as a Yankee, and appears to be on the cusp of being the next Yankees ace. However, the 26-year-old still has a ways to go before he can be viewed as a top-of-the-rotation starter.
Not only must Pineda prove that he can remain healthy for an entire season, he has to develop the stamina to give the Yankees length on a consistent basis and learn to pitch effectively in the later innings after batters have seen his stuff during a game.