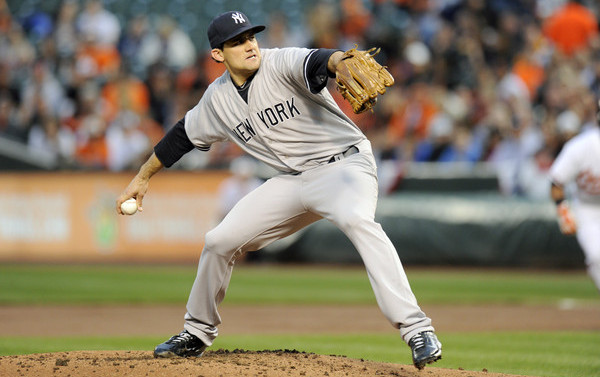 Nathan Eovaldi's most recent start last Friday night against the Angels was a game most Yankee fans would like to forget — that's what happens when you nearly blow a seven-run lead in the ninth inning — but it's one that could potentially be an important milestone in the development of the 25-year-old right-hander.
As Mike mentioned in his recap, the key takeaway from Eovaldi's outing was his surprisingly heavy splitter usage. According to the (revised) numbers from Brooksbaseball.net, 18 of his 93 pitches were splitters, the most he's ever thrown in a game and his highest percentage (19.4) as well.
Eovaldi had never before thrown more than 14 splitters in a game, so the question is whether this is a one-game blip or a new trend. Prior to his start on June 5, he told MLB.com's Bryan Hoch that he had "been working on" the splitter and that he's "built up a lot more confidence in it, the last few outings."
That last part of the quote is key — regardless of how nasty the pitch might be in terms of velocity or pure stuff, before a pitcher can really commit to using it, he has to be able to throw the offering with conviction. It's a two-step process, really, where the mind and the arm have to be in sync before you are able execute the pitch successfully on a consistent basis.
*************
During the first two months of the season, Eovaldi showed he can get the results he wants with the splitter, throwing it primarily when he's ahead in the count. It has been a really strong pitch for him, generating whiffs, grounders and outs at a high rate.
Eovaldi has thrown 90 splitters this season and batters have whiffed on nearly four out of every 10 swings against the pitch. When they do manage to make contact, it's usually been either a foul ball (13), grounder (13) or harmless pop-up (1). Eovaldi has yielded just three singles off his splitter, which has also netted him 25 outs, including 12 strikeouts.
As you can see in the chart below, it has been arguably his most effective out-pitch this season, albeit in a very limited sample size.

The key to the success he's had with the pitch is two-fold. First, his location — he's kept the splitter down and away to both righties and lefties — making it difficult for hitters to get solid wood on the ball.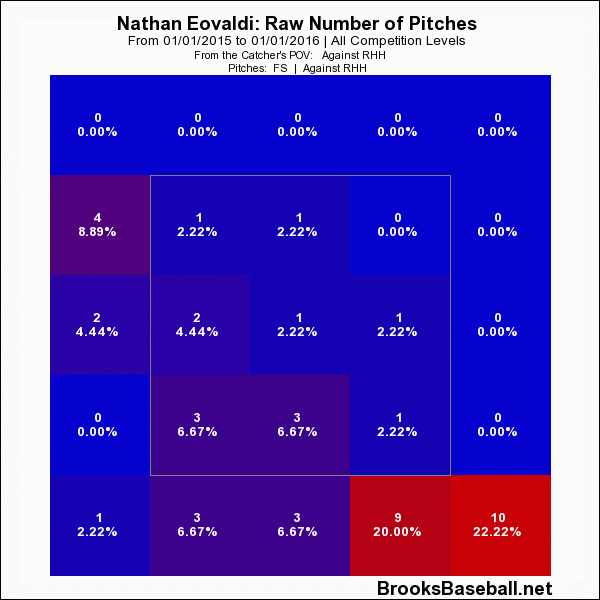 Second, his ability to get swings on the pitch, even though nearly three-quarters of his splitters have landed out of the strike zone. Batters have chased 40 percent of his out-of-zone splitters, indicating that the pitch has a ton of deception and good movement. More often than not, when a batter swings at a pitch off the plate, he's going to either come up empty or make weak contact. Curtis Granderson took the swing-and-miss route on this filthy 2-2 splitter in late April: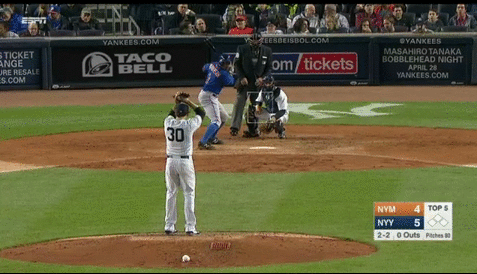 So we've seen that Eovaldi's splitter definitely has the "stuff" to get batters out and be an effective weapon for him in favorable counts. But, before this week, the missing ingredient was the confidence to be able to execute the pitch in a put-away count on a consistent basis.
While 43 of his 90 splitters have been thrown in two-strike counts, that still represents only 15 percent of his two-strike pitches this season. Instead, he's been heavily relying on his four-seamer (42 percent) and slider (38 percent) when getting to two strikes. That makes sense for Eovaldi — since he is very comfortable throwing those pitches — but it really hurts him when he's trying to finish off batters, because it makes him way too predictable in those situations.
If its true that he now has more trust in his splitter, he needs to also start throwing it more often — perhaps increasing its two-strike usage to 20 or 25 percent — and relying less on his fastball, which has been crushed this season. Batters have hit .375 and slugged .531 off his four-seamer, and the numbers are just as ugly in two-strike counts (.325/.550).
Armed with a blazing fastball and plus breaking ball, Eovaldi has often been labeled as a high-upside pitcher with limitless potential — if he could harness his raw talent and (among other things) add a third out-pitch.
That's why the recent development of this much-needed confidence in his splitter is so important, and could be the difference-maker in whether remains a back-end starter or can grow into a top-of-the rotation guy.